Does Prop 47 Apply to Strike a Sentencing Enhancement?
Ever since Proposition 47 became law on November 4, 2014, there have been many creative attorneys who sought to apply its minor ambiguities for lower sentences for clients. Other attorneys have analogized other laws with forgiving provisions to Prop 47 and ask judges to interpret Prop 47 likewise.
Brief Synopsis: Proposition 47 cannot be applied to remove a sentencing enhancement, such as a prison prior enhancement even if the court where the prison sentence was imposed does apply Prop 47 to change the conviction from a felony to a misdemeanor. The defendant cannot then use that ruling to ask another judge to remove a prison prior enhancement on a later case. Ironically, it should be pointed out for the reader in this case, the prison prior enhancement under PC § 667.5(b) was abolished by SB 136 in 2020.

The following case involving Casey Jones, Jr., exemplifies such lawyering. In 2013, Jones was arrested after trying to shoplift from a San Bernardino Walgreens. He was trying to steal three packages of Dove body wash and one 6-pack of Dove body soap. Together, the items were worth $35.46.
When he was arrested, he kicked a police dog and resisted the efforts of two police officers to arrest him. Due to his prior history, which included two prison priors, one within five years, prosecutors filed felony charges on most of the charges. He was charged with one felony count of commercial burglary (Penal Code § 459), a felony count of petty theft with three priors (Penal Code § 666(a)), a misdemeanor count of assault on a police animal (Penal Code § 600(a)) and two felony counts of resisting arrest (Penal Code § 69).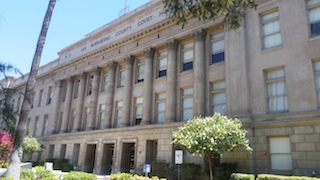 Old San Bernardino Courthouse
Jones later pled guilty to the felony commercial burglary count and the two resisting arrest charges and admitted the prison prior. All other charges were dismissed. The trial court judge, Michael A. Smith in San Bernardino Superior Court, sentenced Jones to three years in county jail on the commercial burglary count, as well as three years concurrent on each resisting arrest charge and a consecutive one-year term for the prison prior (under Penal Code § 667.5(b)), for a total of four years.
On November 4, 2014, voters passed Proposition 47, reducing some felony theft-related offenses to misdemeanors when the value of the items stolen does not exceed $950 and when the defendant is not otherwise disqualified.
Jones first petitioned to have his prison prior re-designated a misdemeanor, as it was petty theft as a felony with less than $950 at issue. This was granted by the trial court which handled that prior case.
Jones then turned to his San Bernardino case and his four-year prison sentence, petitioning the court to strike the one-year prison prior consecutive sentence imposed under Penal Code § 667.5(b). Jones argument was that had Proposition 47 been in effect earlier when he was otherwise sentenced to state prison, he would not have been sentenced to prison. Therefore, the one-year prison prior sentencing enhancement was barred by Proposition 47.
The trial court denied the motion to strike the one year sentencing enhancement and Jones appealed the ruling to the Fourth Appellate District.
The Fourth Appellate District, in
People v. Casey Jones, Jr.
(2016 DJDAR 6869), affirmed the trial court. The appellate court noted that the provisions of Prop 47 to contain a procedure under Penal Code § 1170.18 whereby a defendant can obtain reclassification and resentencing on convictions on a retroactive basis, but does not contain any provisions for striking or dismissing sentencing enhancements.
The appellate court noted in its analysis that "the fact that the underlying offense has now been re-classified as a misdemeanor does not change the fact that the person, in fact, did serve a prior prison term." This fact "does not change the public policy arguments behind § 667.5(b), that a person who did serve a prior prison term deserves an enhanced sentence for that effect, despite the fact that the underlying conviction has been reduced to a misdemeanor."
We understand the issue that the court describes, insofar as greater punishment should be ordered for those who served a prior term in prison, but then reoffend.
A footnote to the opinion, footnote 5, suggests that had Proposition 47 been passed earlier and had Jones had his conviction related to the prison prior re-designated a misdemeanor, the result may have been different. However, the appellate court refused to state that the prison prior would have been improper if the prior case had been lowered to a misdemeanor before Jones faced his San Bernardino case. We think, sadly, that it would not have made a difference.
The citation for the Fourth Appellate District Court ruling discussed above is People v. Casey Jones, Jr. (4th App. Dist., 2016) 1 Cal.5th 221.

For more information about Proposition 47 and sentencing enhancements, please click on the following articles:
Contact us.