Is a Certificate of Probable Cause Needed for SB620 Relief?
As the reader of this article may already be aware, Senate Bill 620, passed into law in 2017 and permits a trial court judge to exercise his or her discretion to strike a ten-year, twenty year or twenty-five year firearm sentence enhancement on any judgment that is not final. A judgment can be entered through a sentence imposed by the judge after a jury finding of guilt, but it can also be entered through a plea bargain.
About This Article Briefly: A petitioner must obtain a certificate of probable cause before seeking resentencing under SB 620, as the following case exemplified.

If one entered into a plea bargain, agreeing to a ten-year, twenty year or twenty-five year sentence enhancement, does one have to first obtain a certificate of probable cause? After all, it would only seem reasonable that if defendant agreed to the very sentence he or she later tries to reduce, he or she ought to establish probable cause for resentencing? This would seem particularly so if defendant faced life in prison, but resolved the case for 15 years instead. In other words, would it be fair to try to reduce what was negotiated by ten years and preserve all other terms of the plea bargain, rather than simply seeking to withdraw the plea as a whole.
This factual and legal situation was exemplified by the case of Brian K. Fox in an appeal to the First Appellate District Court in San Francisco,
People v. Brian K. Fox
(2019 DJDAR 3794).
In August of 2015, Mr. Fox and his friend, Eric Espanol, went to San Francisco. Espanol then stole a camera from a tourist and then punched the tourist in the face. Fox then pulled up his car and Espanol jumped in. One of the tourist's friends reached for the camera and Fox shot him. Fox and Espanol were later caught after they left the scene.
Fox was charged with eight felony counts in San Francisco County Superior Court: two counts of attempted murder, one count of second-degree robbery, two counts of assault with a semi-automatic firearm, one count of evading a police officer and two misdemeanors for delaying, obstructing and resisting a police officer. Numerous enhancements were alleged, including the ten-year sentence enhancement for use of a firearm that SB 620 later changed from mandatory to discretionary. Fox faced a sentence of twenty-five years to life if convicted and sentenced on all counts and allegations.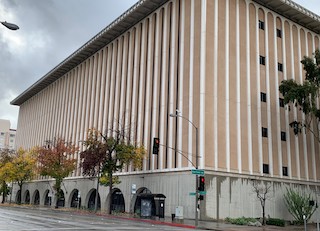 Pasadena Courthouse
Fox then entered into a plea bargain wherein he pleaded guilty to one count of robbery and admitted to personally using a firearm in the commission of the offense. He agreed to a prison term of fifteen years, including ten years for use of the firearm. All the other counts were dismissed and all other sentencing allegations were dismissed. The trial court accepted Fox's plea and sentenced Fox in accordance with it.
The plea took place a week after the California Legislature passed SB 620. He was sentenced the same day Governor Jerry Brown signed the law into effect.
After Fox became aware of the judge's discretionary power to reduce his sentence by up to ten years, he appealed for resentencing, but without first obtaining a certificate of probable cause.
Under Penal Code § 1237.5, a defendant cannot appeal after entering a plea or guilty or no contest unless "he or she has filed with the trial court a written statement, executed under oath or penalty of perjury showing reasonable constitutional , jurisdictional, or other grounds going to the legality of the proceedings and the trial court has executed and filed a certificate of probable cause with the clerk of the court.
The purpose of section 1237.5 is "to discourage and weed out frivolous or vexatious appeals challenging convictions following guilty or nolo contendere pleas."
People v. Espinoza
(2018) 22 Cal.App.5th 794, 798-799. The California Supreme Court has emphasized that the certificate rules must "be applied in a strict manner" and that a defendant cannot obtain review of certificate issues" except by complying with the rules "fully, and, specifically , in a timely fashion."
People v. Mendez
(1999) 19 Cal.4th 1084, 1099;
People v. Cole
(2001) 88 Cal.App.4th 850, 860.
However, under California Rules of Court, rule 8.304, a defendant who has entered a plea of guilty need not obtain a certificate of probable cause "if the notice of appeal states that the appeal is based on : . . . Grounds that arose after entry of the plea [that] do not affect the plea's validity."
Fox was denied a certificate of probable cause by the San Francisco County trial court judge to withdraw his plea in light of Senate Bill 620.
He therefore filed his appeal for resentencing on the gun enhancement only without filing a certificate of probable cause. The First Appellate Court then dismissed his appeal for failure to obtain a certificate of probable cause.
We think this reported opinion is worthwhile reading for anyone whose sentence is not yet final, but agreed to a plea bargain with the ten years personal use of a firearm enhancement.

The citation for the First Appellate District Court ruling discussed above is People v. Brian K. Fox (1st App. Dist., 2019) 34 Cal.App.5th 1124.

For more information about SB 620 issues, please click on the following articles:
Contact us.