Does SB 620 (New PC 12022.53) Apply to Insanity Defendants?
The amended Penal Code § 12022.53, permitting trial court judge's discretion to dismiss firearm enhancements (as proposed in Senate Bill (SB) 620) has sparked a great deal of interest and questions about how it applies.

Why This Article Matters: Senate Bill 620, which gives a judge discretion to strike a sentence enhancement of ten, twenty or twenty-five years for personal use of a firearm in the commission of a crime (Penal Code § 12022.53), does not apply to those found not guilty by reason of insanity (NGI) because such defendants are committed civilly and not sentenced.

Our office has probably received three phone calls per week for the last six months since this law came into effect, mostly from family members of prisoners whose sentences including the ten-year or twenty-five-year firearm enhancement that were final years or even decades ago. We sadly must tell such family members that the sentence is ineligible for re-evaluation because SB 620 does not apply to sentences that are final.
No one has called us about a friend or family member who pled not guilty by reason of insanity (under Penal Code § 1026) and who was then admitted to a state mental hospital such as Patton in San Bernardino County, Atascadero in San Luis Obispo County, Coalinga in Fresno County, Metropolitan Hospital in Norwalk or Napa State Hospital in Napa County.
Does SB 620 apply to someone who pled not guilty by reason of insanity? The following summary of a recent Fourth Appellate District decision our of Riverside County addresses this issue.
K.P., when age seventeen, was charged as an adult with murder in Riverside County Superior Court. He had shot his father five times with a shotgun after walking into his father's bedroom for that purpose. He then feared his father may have survived, so he left the bedroom and got an AR-15, which he then used to shoot his father five more times. He then sat down and calmly waited while his mom called 911 and the police arrived.
Police asked him why he killed his father. K.P. explained that his father had verbally bullied him and he just could not be around his father anymore. Yet K.P. also commented to police, that he "made a terrible decision."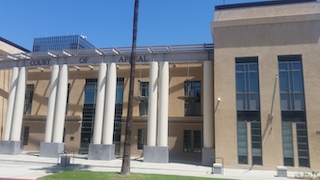 4th Appellate District Division 2 Riverside
At trial, K.P. pled not guilty and not guilty by reason of insanity under Penal Code § 1026. The jury found K.P. guilty of second-degree murder and found true the allegation that he personally used a firearm causing death (Penal Code §§ 12022.53(d) and 1192.7(c)(8)). In a subsequent bifurcated proceeding, the jury found that K.P. was insane when he committed the offense.
This meant that the jury found, "by a preponderance of the evidence that he or she was incapable of knowing or understanding the nature and quality of his or her act and of distinguishing between right and wrong at the time of the commission of the offense."
Once a person has been found not guilty by reason of insanity, the person "is no longer a criminal defendant, but a person subject to civil commitment." People v. Lara (2010) 48 Cal.4th 216, 222, fn 5.

The trial court judge, Ronald L. Taylor, committed K.P. to Patton State Hospital and fixed the maximum period of confinement at 40 years to life, representing 15 years to life for murder and consecutive terms of 25 years to life for K.P.'s use of a firearm causing death. At the time of sentencing for K.P., imposition of the 25 years to life enhancement was mandatory.
On October 11, 2017, Governor Brown signed Senate Bill 620, which amended Penal Code § 12022.53 to give trial court judges discretion to strike in the interests of justice a firearm enhancement found true under the statute.
K.P. then filed a timely appeal of his sentence (it was not yet final when he filed his appeal), arguing that the amended section 12022.53 applies to him and that the trial court judge should have used his discretion to strike his firearm enhancement.
The People opposed K.P.'s appeal, arguing that the amended 12022.53 does not apply to insanity defendants because the statute does not state that it so applies, but the Legislature was acutely aware of this issue because six months earlier, it had extended the benefits of Prop 47 to insanity acquittees. It also applied Proposition 36, allowing resentencing on a third strike, to insanity acquittees.
The Fourth Appellate District agreed with the People that 12022.53 did not apply to insanity acquittees, but for a different reason. In looking at the language of the amended statute, it noted that the amended 12022.53 applies to a defendant "at sentencing." This distinguished insanity acquittees from other defendants because insanity acquittee, like K.P., were not sentenced at all. They were committed. Once the jury found K.P. was not guilty by reason of insanity, he was no longer a criminal defendant. He was a person subject to civil commitment in a state mental hospital, as the judge did commit him to Patton.
Therefore, it was determined that SB 620 did not (and does not) apply to those defendants who were found not guilty by reason of insanity, such as K.P.

We have clients who have asked us about pleading not guilty by reason of insanity and we always explain that once one is civilly committed, it is very difficult to be released from a mental hospital due to public safety concerns. This ruling is yet another good example of why such a defense is not always a good idea.
The citation for the Second Appellate District Court ruling discussed above is Public Guardian of L.A. v. K.P. (In re Estate of K.P.) (2d App. Dist., 2019) 39 Cal.App.5th 254.

For more information about SB 620 and sentencing, please click on the following articles:
Contact us.