When & Why Can a Court Reduce Good Time Credits to 15%?
If one is placed on probation for a violent felony, there is a statutory anomaly that requires the court to calculate presentence conduct credits one way if there is no probation violation, but another way if defendant later violates probation and is sentenced to state prison. It is a little-known "gotcha" that really hurts because the probationer not only loses potentially significant pre-sentence credits on the probation violation matter, but also faces a new case.
The Gist of this Article: A judge must reduce pre-custody credits from "two-for-one" to 15% ("one for six") when a person serves pre-custody time on a probation violation for a violent crime, as the following article explains.

The case of People v. Rodrigo Arevalo exemplifies this situation, as described in the First Appellate Court's review (2018 DJDAR 1827) of this Napa County case when Arevalo claimed that the original award of 183 custody credits, plus 182 conduct credits (under Penal Code § 4019), should remain and apply to his prison sentence, rather than the award of just 15% custody credits, or 27 days, after his probation violation under Penal Code § 2933.1(c) when he was sent to prison.
The background facts are helpful toward understanding how such a reduction in custody and conduct credits took place.
In April of 2015, the Napa County District Attorney's office filed a complaint against then 18-year old Rodrigo Arevalo, charging him with seven felony counts of various sex offenses against a minor that took place over the prior two years. Arevalo negotiated a plea bargain to one charge of continuous sexual abuse of a child under age 14, which is a violent felony, and the remaining charges were dismissed. The maximum sentence he faced was sixteen years in state prison.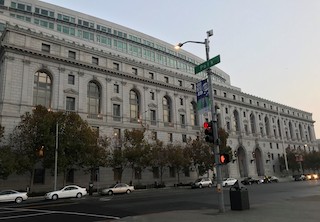 Court of Appeal First Appellate District San Francisco
The judge sentenced him to state prison, suspended imposition of the sentence, and placed Arevalo on formal probation for twelve years, including a term that he serve 365 days in county jail. To sentence him to probation for a violent felony, the judge was required to have Arevalo waive the excess custody credits he had in excess of 365 days. He had 968 days of custody credits at the time.
The waiver was required under People v. Johnson (1978) 82 Cal.App.3d 183 and its interpretation of Penal Code § 2900.5. Section 2900.5(a) provides that upon any conviction, when defendant has already served time in local custody, "all days of custody of the defendant, including days served as a condition of probation in compliance with a court order, credited toward the period of confinement under Penal Code § 4019 . . . shall be credited upon his or her term of imprisonment . . . if the total number of days in custody exceeds the number of days of the term of imprisonment to be imposed, the entire term of imprisonment shall be deemed to have been served."
In Arevalo's case, that was one year.
A Johnson waiver is a waiver of a statutory right to credit for time served against a subsequent county jail or state prison sentence under Penal Code § 2900.5. A primary reason for this is that a trial court judge is prohibited under Penal Code § 19.2 from sentencing a person to probation with a term that requires a person to serve more than a year in county jail.
This creates something of a dilemma for trial court judges arising from 19.2's one-year cap on the time that can be served in county jail as a condition of probation and the 1976 amendment to § 2900.5 requiring all local jail time to be credited against any subsequent county jail as a condition of reinstatement of probation. So, when a defendant has served more than a year in county jail already, this forces the trial court when handling a probation violation to choose between sentencing the defendant to state prison or imposing no new jail time as a condition of reinstating probation.

Johnson provides a way around this dilemma by allowing a defendant to waive custody credits for prior jail time so defendant can serve time in jail (rather than prison) if there is a subsequent probation violation.
So, under Johnson, Arevalo waived his excess custody credits and was placed on probation. He went home. He was surely happy to leave county jail.
However, a few months later, he was arrested for DUI and driving without a valid license. This was a probation violation and the judge in the sex case sentenced him to six years in state prison, while reducing his pre-custody credits from 183 days to fifteen percent of this, or 27 days.
Arevalo objected, arguing that he was entitled to 365 days of credit because that is what the judge awarded him when placing him on probation earlier. The First Appellate District overruled his objection, stating that under § 2933.1(c), a defendant convicted of a violent felony "cannot earn good behavior credits under section 4019 exceeding 15 percent of the actual time of confinement in a local facility prior to placement in state prison."
In other words, the Johnson waiver first reduced his total custody time to 365 days, but once he was sent off to state prison, section 2933.1 applied to drastically reduce his custody credits even farther, something every person allowed probation on a violent felony should be warned of, we think.
The citation for the First Appellate District Court ruling discussed above is People v. Rodrigo Arevalo (1st App. Dist., 2018) 20 Cal.App.5th 821.

For more information about how much time one will serve in custody, please click on the following articles:
Contact us.