Prop 57 Resentencing: Who Has Authority to Implement It?
In the wake of Proposition 57 being passed into law by voters in November, 2016, our office has received a steady stream of phone calls and e-mails asking us to help them with resentencing under this new law.
Why This Article Matters: There is no motion or petition for resentencing that one can file in the trial court to seek application of Prop 57 to increase one's custody credits or decide an earlier date for being parole eligible. Juvenile direct filing provision of Prop 57 are also not retroactive. Instead, the CDCR has exclusive authority to apply Prop 57 to its prisoners.

To each person, eager to have a shorter sentence, we sadly advise that Section 32 of the California Constitution, which Prop 57 added, did not create or authorize a right to be resentenced or provide a remedy by way of a statutory post-judgment motion. Instead, someone requesting Prop 57 relief must seek relief through the California Department of Corrections and Rehabilitation, once it has adopted the necessary regulations to implement Prop 57 (as of February 20, 2018, it has not yet done so).
This sad truth is exemplified in the recent Fifth Appellate District opinion involving John Ray Dynes (at 2018 DJDAR 1522), who asked a Fresno County judge to resentence him under Prop 57. We present this article to show by example how Prop 57 works (and does not work).
In December, 2013, Dynes pleaded guilty in Fresno Superior Court to second degree robbery (Penal Code § 211) and admitted three prior prison terms.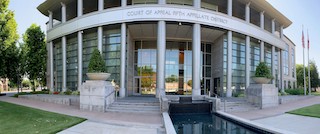 Court of Appeal Fifth Appellate District Fresno
His sentencing was put over to a future date, but before that date arrived, another case against him was filed for carrying a concealed dirk or dagger (Penal Code § 21310) and misdemeanor giving false information to a police officer (Penal Code § 148.9(a), with one prior strike conviction and six prior prison term enhancements.
In the second case, Dynes pleaded no contest to 21310 and admitted one prior strike and the six prior prison term enhancements were dismissed.
Sentencing in both cases then followed in April, 2014. The judge imposed a lower term of two years on the 211, doubled for the strike prior, for four years. The judge them imposed a consecutive eight-month term (one-third the mid-term of two years) for the 21310, doubled to sixteen months by the prior strike, and then three consecutive one-year terms for the prison priors, for a total of eight years and four months.
Prop 57 was then passed and in December, 2016, Dynes wrote a letter to the Fresno judge asking him to resentence him, as he believed second-degree robbery was not a violent offense, so Prop 57 would apply.
Indeed, if it did apply and the judge had jurisdiction over Dynes, a person under Prop 57 would be eligible for parole consideration after completing the full term for the primary offense. Under Section 32, subsection (a), subparagraph (1), subparagraph (A), "the full term for the primary offense means the longest term of imprisonment imposed by the court for any offense, excluding the imposition of any enhancement, consecutive sentence, or alternative sentence." For Dynes, this meant two years for the 211 and if Prop 57 applied, he would be past the date for consideration of early parole.
The judge in Fresno, however, looked at Section 32 and realized he could not act on Dynes' letter, saying the exclusive method for relief was through the Department of Corrections and Rehabilitation. The court treated as a motion for resentencing. The judge in Fresno told Dynes this by way of an order and Dynes appealed to the Fifth Appellate District.
The Fifth Appellate District agreed with the Fresno judge, holding that the court lacked jurisdiction to modify the sentence under Prop 57. Therefore, the superior court judge's order denying Dynes' request for relief is not an appealable order and the Fifth District dismissed the appeal.
Where does this leave Dynes? He must address his request for an early parole hearing to the Department of Corrections and Rehabilitation instead, as must many of the folks who call us seeking similar relief.
The citation for the Fifth Appellate District Court ruling discussed above is People v. John Ray Dynes (5th App. Dist., 2018) 20 Cal.App.5th 523.

For more information about Prop 57, please click on the following articles:
Contact us.