What Does Prop 57 Do for Juvenile Cases in Adult Court?
Brief Synopsis: For juvenile cases in adult court, Prop 57 permits a juvenile to request a remand of the case to juvenile court, wherein the prosecutor can allow the case to remain or request a transfer hearing to let the judge decide if the case may be transferred back to adult court.

On November 8, 2016, California voters enacted Proposition 57, "The Public Safety and Rehabilitation Act of 2016."
This ballot measure had two parts. The first part repealed statutory provisions permitting the direct filing of cases involving juveniles in criminal court (Ballot Pamp., Gen. Elec. (Nov. 8, 2016) text of Prop. 57, pp. 141-146, repealing Welf. & Inst. Code, §§ 602, subd. (b), 707, subd. (d).) In other words, it took away the prosecutor's power to decide if a juvenile would be tried as an adult and gave it to a judge, who would then conduct a "transfer hearing," which is hoped will be more deliberative and less political.
Second, the measure allows felons convicted of non-violent offenses to be eligible for parole after they complete their sentence on their primary charge (quite often a person is convicted of many charges, but one, usually the most serious is the primary charge). This could mean many convicted felons would be able to be released early.
This article will only address the effect Prop 57 has on juveniles now facing adult charges and how a juvenile can request a remand of his or her case to juvenile court, where Prop 57 directs all juvenile cases must originate. Once the case is in juvenile court, a prosecutor can then request transfer hearing to seek a transfer of the case to adult court, which has far more serious punishment.
A juvenile now in adult court should be able to request remand of his or her matter to juvenile court now, as the text of Proposition 57 did not specify an effective date. Presumably, it took effect November 9, 2016, the day after the November 8th election.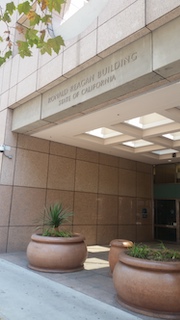 2nd Appellate District Court of Appeals Divions 1-5 7 and 8 Los Angeles
Before asking for remand, a fundamental threshold issue is whether the new law can apply to crimes or convictions that took place before Prop 57 was even passed. Generally speaking, changes in the law operate prospectively unless they are specifically retroactive (see, e.g., Civ. Code, § 3; Code Civ. Proc., § 3).
In Proposition 57, Section "2" states that the purpose of the law is to: "4. Stop the revolving door of crime by emphasizing rehabilitation, especially for juveniles; [and] 5. Require a judge, not a prosecutor, to decide whether juveniles should be tried in adult court." Ballot Pamp., Gen. Elec. (Nov. 8, 2016) text of Prop. 57, p. 141, Public Safety and Rehabilitation Act of 2016, § 2. Further, Section "5" of the initiative clearly informs the voters that "This act shall be broadly construed to accomplish its purposes."
Id
., § 5.
However, this text in the statute does not specifically say the statute should be applied retroactively. However, when the change in the law relates to a reduction in punishment, it is applied retroactively.
In re
Estrada
(1965) 63 Cal.2d 740.
Estrada
states, "It is an inevitable inference that the Legislature must have intended that the new statute imposing the new lighter penalty now deemed to be sufficient should apply to every case to which it constitutionally could apply. The amendatory act imposing the lighter punishment can be applied constitutionally to acts committed before its passage provided the judgment convicting the defendant of the act is not final."
Estrada
at p. 745. Cases are not final for purposes of determining retroactivity of a statute, until the expiration of the time for petitioning for a writ of certiorari in the United States Supreme Court.
In re
Pedro T.
(1994) 8 Cal.4th 1041, 1046, (1994), reh'g denied Feb.16,1995.
Indeed, punishment is the key issue when a prosecutor determines whether a young person is prosecuted in juvenile court or in the adult criminal. As
Kent v. United States
(1966) 383 U.S. 541 recognized, the waiver of juvenile court jurisdiction is a "critically important" action determining vitally important statutory rights of the juvenile (
Kent
at p. 551). In California, it determines whether a young person may be confined up to age twenty-three (Welf. & Inst. Code, § 1769, subd. (c)), or whether he or she may be subjected to the adult sentencing statutes, up to and including a sentence of life without the possibility of parole (Welf. & Inst. Code, § 707, subd. (d)(4), Pen. Code, §190.5, subd. (b).).
In our experience with juveniles facing the most serious charges, prosecutors seek to prosecute youth in adult court so they can ensure lengthier periods of incarceration and adult consequences for juvenile offenders because they feel that the individualized rehabilitative care and treatment required by Welfare and Institutions Code, section 202, subdivision. (a) is insufficient punishment for many crimes.
Consequently, the next step is for the juvenile (or his or her counsel) to file a motion to remand the case to juvenile court, asking the judge in the adult court to send the case down to the juvenile court. It should be understood that after this is granted, the prosecutor is still free to ask the juvenile court judge to order the case returned back up to adult court, but hopefully plea negotiations will find traction in juvenile court for considerably lighter punishment for the juvenile.
For more information about juvenile crimes, please click on the following articles:
Contact us.