Under Prop 57, What Is Full Term for the Primary Offense?
Proposition 57, known as the "Public Safety and Rehabilitation Act of 2016," amends the California Constitution in several very significant ways. For purposes of this article, however, we will only consider its provision that makes eligible for "parole consideration" prisoners who are convicted of a "nonviolent offense," when the "full term" for the "primary offense" is completed, exclusive of enhancements, consecutive sentences or alternative sentences. The proposition also gives the CDCR the power to award credits for approved rehabilitative or educational achievements and good behavior.
In a Nutshell: "Full term for the primary offense" under Prop 57 means the longest term of punishment for a conviction (excluding enhancements) within the total sentence, subject to conduct credits. This date is when the prisoner is first eligible for parole (but he or she may not be then granted parole).

How is "full term" and the "primary offense" defined? The text of the amendment states that "the full term for the primary offense means the longest term of imprisonment imposed . . . for any offense, excluding [any] enhancement, consecutive sentence, or alternative sentence." For example, when there is an aggregate sentence composed of a ten-year term, a consecutive eight-year term, a concurrent four-year term and two concurrent sixteen month terms, the primary offense term would be ten years. "Full term" would be ten years, subject to conduct credits and other credits that Prop 57 now permits the CDCR to award for educational and rehabilitative "milestones" reached.
The consequence of Prop 57, in other words, is that someone convicted of a nonviolent felony with an 18 year prison sentence, if it is composed of many terms added together, may be eligible for parole significantly earlier than before Prop 57 was passed because only the primary offense matters.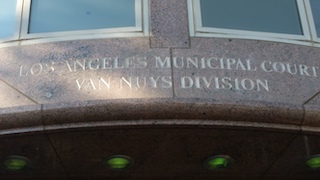 Van Nuys Courthouse
The eight-year term, as well as the four-year term and the two sixteen month terms are considered "subordinate terms." Enhancements, such as for committing the offense within five years of being last released from prison, would not delay eligibility for parole consideration, as they are defined by California Rules of Court, quite clearly, as "an additional term of imprisonment added to the base term." California Rules of Court, Rule 405(3).
The next big consideration in determining when someone has completed the full term is application of conduct credits, which the CDCR awards based on the conviction type and the prisoner's criminal history. Penal Code §§ 2930 to 2935, "Credit on Term of Imprisonment," controls in this regard. Section 2933 permits up to 50% credit for being in an appropriate work, education or training program. However, § 2933.1 limits such credits to 15% for violent felonies. Sections 2933.2 and 2933.5 both deny any credits to murderers and certain repeat offenders (recidivists) of specified significant felonies. Penal Code § 667(c)(5) limits credits for those serving time for a second or third strike to 20%.
Proposition 57 gives the CDCR authority to award further credits for approved educational or rehabilitative achievements and good behavior, which means that for "nonviolent" felonies, this hypothetically could mean a "nonviolent" felon might be eligible for "parole consideration" well before serving 50% of the "full term" for the "primary offense." In other words, such credits for educational or rehabilitative accomplishments might be "in addition to, rather than instead of, the statutory credits."
Brown v. Superior Court
(Calif. Dist. Atty's Assoc.) (June 6, 2016) 63 Cal.4th 335, at 361(dissent, considering Prop 57 before placement on the ballot).
Obviously, this means even murderers, rapists, child molesters, arsonists and human traffickers could be eligible for parole consideration before their statutory terms would otherwise allow now due to Prop 57, but we at Greg Hill & Associates believe the forthcoming CDCR regulations will be careful not to award such credits as liberally to such prisoners as those who are serving sentences for nonviolent offenses.
It is worth noting that Proposition 57 will have no effect on someone convicted of a single, nonviolent felony sentenced under Penal Code § 1170 (for example, someone who did not receive an alternative sentence), without any enhancements. Such prisoners will be eligible for normal parole or post-release community supervision at the end of their full term, or before that if conduct credits are used to reduce the term of their imprisonment, as is likely with most prisoners.

For more information about sentencing issues, please click on the following articles:
Contact us.