When Is Gang Expert's Testimony OK for Motive?
As the astute reader of any article concerning gang expert testimony in court is aware, such testimony can be used to smuggle in unduly prejudicial hearsay evidence of who the expert believes committed the crime.

The Gist of this Article: The Fourth Appellate District found no error in the admission of gang expert testimony as to the expert's knowledge about defendant in particular, as the judge considered such testimony relevant to motive and that such testimony did not offer an opinion as to defendant's guilt. We think this ruling was wrong, wrong, wrong, as it was certainly unduly prejudicial to defendant.

In other words, it is testimony that is helpful to the jury to understand certain things about the relationship between gangs, meanings attributed to certain phrases in the gang subculture and concepts of respect within gangs and between gangs, but a judge and defense counsel must be vigilant to prevent such testimony from crossing the line into testimony about defendant's guilt, which the jury alone must decide.
The slippery nature of such testimony was epitomized in the following January 2020 reported decision (People v. Salvador Yanez IV (2020 DJDAR 443)) arising from a Riverside County case ruled upon on appeal to the Fourth Appellate District in Riverside.
The underlying facts are important to understand. On March 11, 2015, Salvador Yanez IV and Gilbert Lopez got in an argument. Gilbert was visiting his brother, Angel Lopez, and the two were hanging out on the balcony of Angel's balcony when two men, one being Yanez, approached and called out to them from below.

Yanez asked Angel if he had seen someone named "Stoner," and Angel said he had not. Yanez then asked Gilbert Lopez where he was from. Such a question is generally understood to inquire into which gang one belongs. Gilbert answered, "I don't bang." Gilbert then asked, "Wait a minute . . . why are you guys coming over here and saying where you from?"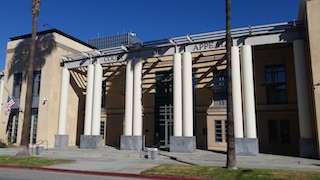 Fourth Appellate District Division 2 Riverside
Gilbert then walked downstairs to confront the two men. Yanez identified himself as "Downer" from "JT." Gilbert said, "Why are you coming over here gang banging to my brother? Let's get down then." In response, Yanez answered, "Nah, not with all of these kids here." At some point, Gilbert pulled out a gun and Yanez said, "What the fuck is wrong with you?" Yanez then walked away. Gilbert then returned inside the apartment.
A few minutes later, someone was yelling from the street up to the apartment and Gilbert went downstairs. Angel then heard several gunshots from close range. Gilbert died from the gunshots.
Yanez was soon thereafter arrested and charged with one count of murder (Penal Code § 187(a)) and one count of unlawful possession of a firearm (Penal Code § 29800(a)(1)). The information further charged that Yanez discharged a firearm causing great bodily injury or death (in violation of Penal Code §§ 12022.53(d) and 1192.7(c)(8)) and that Yanez had a prior serious felony (§ 667(a))) as well as a prior strike conviction (§§ 667((c), (e)(1) and 1170.12(c)(1)).

Yanez was convicted and sentenced to 60 years to life in state prison.
On appeal, Yanez contended that the judge erred in admitting testimony from the People's gang expert from the Indio Police Department to testify regarding Riverside County gangs. The expert testified that the question "where you from" is a question to another to identify his or her gang affiliation, show one wants to fight or assert dominance.

Then the expert testified that he personally knew Yanez and that Yanez was affiliated with the Jackson Terrace (JT) Street Gang, knew defendant bore tattoos associated with the JT gang and knew his moniker was Downer. He knew he was a long-time member of the gang or "OG," or original gangster (has grown up in the gang, put in work for the gang and earned his stripes). He also testified that the JT gang had engaged in homicide, theft and the sale of drugs.
The detective also testified that he knew the victim's brother, Gilbert, was a member of the Sur Town Locos street gang. The detective then testified that he was not aware of any rivalry between the two gangs at the time of the shooting. Defense counsel did not object to any of the questioning related to Gilbert's gang affiliation.
In response to Yanez's appeal, the Fourth Appellate District responded that such an argument was forfeited when counsel failed to assert sufficiently specific objections and the testimony was harmless anyways. The Fourth District explained that the testimony was relevant toward motive, if the crime is gang-related, as it apparently was in this case, citing to People v. Gonzalez (2005) 126 Cal.App.4th 1539 at 1550: "because a motive is ordinarily the incentive for criminal behavior, its probative value generally exceeds its prejudicial effect, and wide latitude is permitted in admitting evidence of its existence;" see also People v. Olguin (1994) 31 Cal.App.4th 1355, 1384 ["It is difficult to imagine a clearer need for expert explication that that presented by a subculture in which . . . mindless retaliation promotes 'respect.'"].
Therefore, on this argument, the appellate court found no error by the trial court in admitting such testimony.

We bring this summary to the reader's attention as an example of how a court found a gang expert's testimony about defendant in particular and his "OG" status as not unduly prejudicial and relevant for motive. We think this was a mistake because when the jury heard Yanez was an "OG" they probably understood this to mean Yanez was likely to act in a violent manner because it was a manner he was not uncomfortable with due to prior crimes he may have committed.

The citation for the Fourth Appellate District Court ruling discussed above is People v. Salvador Yanez IV (4th App. Dist., 2020) 44 Cal. App. 5th 452, 257 Cal. Rptr. 3d 551.

For more information about testimony from a gang expert, please click on the following articles: