Inadmissible Gang Expert Testimony Allows Reversal.
A prosecutor faces a good chance of a conviction if trying a gang case in Torrance Superior Court. Juries in Torrance are generally fearful of criminal street gangs and shocked at how gangs operate. Such cases often arise in Inglewood, only 15 miles to the north, and are transferred to Torrance. Other times, a case will arise somewhere within Los Angeles County and be transferred to Torrance for trial.

In a Nutshell: Under People v. Sanchez, it is error for a judge to permit a so-called "gang expert" to testify about another officer's field identification card contents that contained case specific out-of-court quotes from defendant, as it violated defendant's Sixth Amendment confrontation rights.

In December, 2002, in the early evening, Noe Martinez drove his car to the Jr. Market in Inglewood. Jose Tovar was in the market and stared at Noe. Noe got nervous and left. Tovar was a member of the Inglewood 13 gang.
Noe then left and had a few drinks with a friend. The two then decided to go another friend's house, but Noe was feeling drunk, so he let his friend, Michael Orozco, drive his car. Their route went by the Jr. Market.
Jose Tovar was still in the Jr. Market. He was talking with Carlos Iraheta, his pregnant girlfriend and his younger brother.
As Orozco drove by the market, Tovar saw Noe's car pass by and pointed at it. Noe saw Tovar point at them and told Orozco to "step on it," meaning accelerate away fast. Iraheta jumped in his Camaro and followed Noe's car. Noe could see that the Camaro was following them.
Noe then told Orozco to stop the car at 65th Street. Noe got out to talk to the people in the Camaro. Noe was wearing "Blood colors," a red hat and a red jacket. Iraheta pulled up slowly in his car and fired a single gunshot and missed Noe, but killed Michael Orozco, still sitting in Noe's car.
Officers rather quickly found the Camaro, the gun and arrested Iraheta.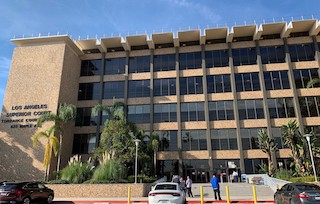 Torrance Courthouse
In Iraheta's trial for second-degree murder, with a firearm enhancement, a gang expert testified regarding the characteristics and activities of the Inglewood 13 gang. He opined that Iraheta was an Inglewood 13 gang, based on his "West L.A." tattoo, attire and association with other gang members. He described how the Inglewood 13 gang had about 500 members and was associated with the Mexican mafia.
When given a hypothetical based on the facts of the case, the expert opined that the motive for the shooting was gang-related because Iraheta believed Noe and Orozco were rival gang members. Other officers testified to contacts with and preparation of field identification (FI) cards regarding Iraheta and others persons they believed were gang members.

Field identification cards, as the reader may know, are small police reports prepared by police officers that record an officer's contact with an individual. The form contains personal information, the date and time of the contact, associates, nicknames, etc., and may record statements made at the time of the interaction.

The gang expert testified that twelve of the contacts in Iraheta's cell phone were gang members, including Tovar. Other officers also testified that FI cards connected Iraheta to the Inglewood 13 gang.
The first trial ended in a conviction for second degree murder, but was reversed on appeal.
In the second trial, a Torrance jury convicted Iraheta of shooting at an occupied motor vehicle in violation of Penal Code § 246 with a section 12022.53(d) firearm enhancement. The jury deadlocked on the murder charge and judge Steven Van Slicken declared a mistrial on that count.
Iraheta then filed a motion for a new trial on multiple grounds. Judge Van Slicken granted the new trial on grounds that he had erred in failing to instruct the jury on imperfect self-defense on the 246 count. The People appealed this ruling and the appellate court reversed the grant of the new trial, finding no error on the jury instruction issue.
Judge Van Slicken then sentenced Iraheta to five years on the shooting at an inhabited vehicle charge, plus 25 years on the 12022.53(d) firearm enhancement.
Iraheta appealed to the Second Appellate District in Downtown Los Angeles. He argued that under People v. Sanchez (2016) 63 Cal.4th 665, it was error for the judge to allow testimony from the prosecution's gang expert that relied upon "field identification" cards.

The Second Appellate District agreed. It agreed that Iraheta's Sixth Amendment confrontation rights were violated by the gang expert's reliance upon testimonial hearsay, insofar as the expert relied upon case specific statements made out of court about Iraheta's gang membership. The appellate court pointed out that such reliance was double hearsay in fact because they contain admissions that they were gang members.

The citation for the Second Appellate District Court ruling discussed above is People v.Carlos Iraheta (2d App. Dist., 2017) 14 Cal. App. 5th 1228, 222 Cal. Rptr. 3d 706.

For more information about gang experts, please click on the following articles: