Prosecutor's Gang Expert Testimony Is Hearsay – Reversal
In cases involving alleged gang activities, an expert on gangs must testify as to his opinion whether a crime is gang-related. This testimony often addresses what the law defines as how a defendant must act, specifically: "for the benefit of, at the direction of, or in association with any criminal street gang, with the specific intent to promote, further, or assist in" criminal activity by gang members.
About This Article Briefly: This article summarizes the Sanchez case, which is well-known for setting limits on the type of testimony a so-called gang expert can testify to without introducing hearsay and violating the Sixth Amendment right to cross-examine witnesses.

Such an expert will testify about facts in the case at issue in stating his opinion. Such testimony often includes descriptions of events adverse to the defendant by describing prior reports or statements of witnesses. This type of testimony can very likely violate the U.S. Supreme Court's holding in
Crawford v. Washington
(2004) 541 U.S. 36, wherein the court held that the admission of testimonial hearsay against a criminal defendant violates the Sixth Amendment right to confront and cross-examine witnesses.
The risk of this happening is common, as the case of Marcos Arturo Sanchez out of Santa Ana illustrated, resulting in reversal of the criminal street gang sentencing enhancements.
Sanchez was charged with possession of a firearm by a felon (Penal Code § 12021(a)(1)), possession of drugs while armed with a loaded firearm (Health and Safety Code § 11370.1(a)), active participating in the "Delhi" street gang (Penal Code § 186.22(a) and (b)) and commission of a felony for the benefit of the Delhi gang. It was also alleged that he had been convicted of a felony for which he served a state prison sentence (Penal Code § 667.5(b)).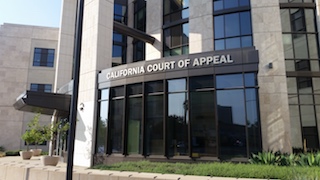 Court of Appeal 4th District Division 3 Orange County
Santa Ana Police Detective David Stow testified for the prosecution as a gang expert. He testified generally about gang culture, how one joins a gang and about the Delhi gang in particular. Then he testified that Sanchez had received a STEP notice in June of 2011. Such a notice warning the recipient that he is associating with known gang members and that the gang engages in criminal activity and that if he commits certain crimes with gang members, he could face increased penalties.
When Stow described this, the prosecutor asked if Sanchez had told the issuing officer that for four years he had "kicked it" with guys from Delhi and had been busted with two guys from Delhi? Stow answered he had. Stow then explained that this meant he associated with Delhi gang members.
The prosecutor then asked about four other contacts Sanchez had with police and Stow provided details of each, based on police reports he had read. Stow then opined that Sanchez was a Delhi member.
The prosecutor then described what Sanchez was arrested for and asked Stow if that conduct would benefit a criminal street gang and Stow said it would.
The jury then convicted Sanchez and Sanchez appealed arguing that the expert's description of Sanchez's past contacts with police was offered for its truth and thus constituted testimonial hearsay. Its admission therefore violated his Sixth Amendment right to confront the author and he never had an earlier opportunity to cross examine them.
The Fourth Appellate District agreed. It first noted what hearsay is and how multiple layers of hearsay may exist in a report. It explained the distinction between a report of a person and a laboratory measurement, noting "Only people can make hearsay statements; machines cannot."
People v. Leon
(2015) 61 Cal.4th 569, 603; see
People v. Goldsmith
(2014) 59 Cal.4th 258, 274.
It also explained how certain records may be an exception to the general inadmissibility of hearsay. It discussed the business record exception, as may apply when a patient makes a statement in an emergency room. However, when a record is not made to facilitate business operations but, instead, is primarily created for later use at trial, it does not qualify as a business record. See
People v. Lopez
(2012) 55 Cal.4th 569, at 587-590.
Turning to the evidentiary rules applicable to experts, it noted that greater latitude is given to the testimony of experts to testify to matters they may not have personally perceived, for example when expressing an opinion to matters beyond the competency of a lay person.
However, the expert had been traditionally barred from relating case-specific facts about which the expert had no independent knowledge.
People v. Coleman
(1985) 38 Cal.3d 69, 92.
Turning to the facts of this case, the appellate court found that the STEP notice was testimonial in nature and Stow's description about field investigation (FI) cards concerning Sanchez was testimonial. Thus, it was hearsay and Sanchez was not able to cross-examine the preparer of the documents. Moreover, the error in admitting this testimony was not harmless, so the appellate court reversed the jury's findings on the criminal street gang enhancements.
We very much like this opinion and regret that every day, in most every court, police officers testify to prior contacts with defendants and such testimony is admitted for its truth, in violation of the Sixth Amendment. Hopefully, this opinion will remind all criminal defense attorneys, prosecutors and judges of the need to enforce the Sixth Amendment right of confrontation.
The citation for the Fourth Appellate District Court ruling discussed above is People v. Marcos Arturo Sanchez (4th App. Dist., 2014) 167 Cal.Rptr.3d 9 (later affirmed by the California Supreme Court at People v. Marcos Arturo Sanchez (2016) 63 Cal.3d 655).

For more information about sentencing enhancements for gang activity, please click on the following articles:
Contact us.