When Is a Sex Case Sentence Cruel and Unusual Punishment?
To some, the answer to the rhetorical question posed in the title of this article may be "never," especially if it is a rape by force or other serious sex crimes. The Eighth Amendment prohibition against cruel or unusual punishment simply would not apply in such cases, according to such folks.
Summary in 45 Words or Less: A sentences in a sex offense case violates the Eighth Amendment prohibition on cruel and unusual punishment when it "grossly disproportionate to the offense of the culpability of the offender." To read some examples of when this is and is not so, read this article.

Fortunately, the Eighth Amendment to the U.S. Constitution and Article 1, section 17 of the California Constitution, banning cruel or unusual punishment, remains. However, what meets such a standard? The California Supreme Court has set forth a standard that punishment is unconstitutionally cruel or unusual "if it is grossly disproportionate to the offense as defined or as committed; and/or to the individual culpability of the offender." People v. Dillon (1983) 34 Cal.3d 441, 450.

In other words, if the punishment "is so disproportionate to the crime for which it is inflicted that it shocks the conscience and offends fundamental notions of human dignity," it is unconstitutionally excessive. In re Lynch (1972) 8 Cal.3d 410, 424; see People v. Leonard (2007) 40 Cal.4th 1370, 1426-1427.
Courts have found disproportionality by: (1) examining "the nature of the offense and / or the offender, with particular regard to the degree of danger both present to society; (2) comparing the punishment with punishments for more serious crimes in the same jurisdiction; or (3) comparing the punishment with punishments for the same offense in other jurisdictions. Lynch, supra, 8 Cal.3d at pp. 425-428. Any one of these methods "can be sufficient to demonstrate that a particular punishment is cruel and unusual." People v. Mendez (2010) 188 Cal.App.4th 47, 64-65.
In the recent Second Appellate Court case of People v. Boniface Cruz Cadena (2019 DJDAR 8282) originating out of the Pomona Superior Court in Los Angeles County, a jury convicted Mr. Cadena of six counts of lewd acts upon a child (Penal Code § 288(a)) with three acts against each of his two nieces.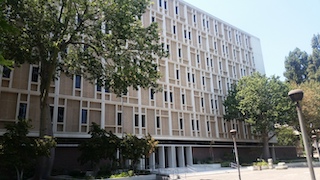 Pomona Courthouse
In 2014, Mr. Cadena was 44 years old with two children. He, his wife, and his two kids shared an apartment with his sister, his sister's husband and their five children, including twin sisters G. and M. All seven children slept in the living room.
During the summer of 2014, when G. and M. were 11 or 12, the girls would sometimes wake up at around 3:00 a.m. to see Mr. Cadena near their bed. One time, M. awoke to find Mr. Cadena removing a blanket that was covering her. Other times, G. and M. would awaken to find Mr. Cadena touching them over their clothes on their stomachs or their vaginas. This made G. feel uncomfortable because she had never been touched there. M. also felt uncomfortable.
G. and M. talked about this among themselves and found out each other had both been touched by Mr. Cadena at night in this manner.
They then told their father, who installed a video camera to video the girl's bed. The video then recorded an arm rubbing M. on top of her clothes in her pubic area for about 12 seconds.

The father then confronted Mr. Cadena about this and Mr. Cadena admitted this, but asked forgiveness.
More than a year later, G. told a tutor at her middle school about the incidents. The tutor then informed child protective services, who contacted the police and Mr. Cadena was arrested.
Mr. Cadena then admitted to police that he had done this "one or two times" over their clothes on their legs and their vaginas. When asked why he did this, he said, "the devil came into my mind. I don't know."

The case went to trial and after the jury found Mr. Cadena guilty of the six counts, the judge (Robert M. Martinez) sentenced Mr. Cadena under the One Strike Law (Penal Code § 667.61) to an aggregate term of 30 years to life in state prison, consisting of consecutive 15 years-to-life terms on two counts, and concurrent 15 year terms on the remaining four counts. Mr. Cadena had no prior criminal history except a conviction for misdemeanor DUI 23 years earlier.
Mr. Cadena appealed his sentence as cruel and unusual punishment. The Second Appellate District Court of Appeals agreed, after comparing the sentence to Mr. Cadena with other sex offense sentences that were found excessive for more serious crimes, but with shorter sentences that involved a weapon, force or fear, or even kidnapping to commit the offense. The court of appeal also noted that Mr. Cadena was remorseful and had virtually no criminal history. Therefore, the sentence violated California law prohibiting cruel and unusual punishment.
We present this summary not so much for the facts of this particular case, but for the general provisions of law that can be applied to other crimes.
The citation for the Second Appellate District Court ruling discussed above is People v. Boniface Cruz Cadena (2d App. Ct., 2019) 252 Cal. Rptr. 3d 135.

For more information about sentencing, please click on the following articles:
Contact us.