Teen Avoids Strike Under One Strike Law in Sex Crime
In many cases, a technical violation of a requirement is considered immaterial and excused. In other cases, even the mere attempt to decrease punishment or void a conviction based on prosecutorial oversight is scorned and ridiculed as seeking a windfall or reaching for a loophole.
The Reader's Digest Version: Twenty-six years to life portion of a fifty-two years to life sentence is vacated in a One Strike sex case because of how the conduct was alleged in the complaint, voiding application of the One Strike sentencing structure for a conviction on a certain charge.

In the following case, however, the prosecutorial mistake was not excused. In fact, the twenty-six year to life portion of a fifty-two year to life sentence was vacated. This meant the sentence was still potentially twenty-six years to life, but for a sixteen year old defendant, this meant a great change in his date for possible release from prison.
When age sixteen, Eduardo Lalo Perez kidnapped Raquel Doe at knifepoint while she was walking home at night. The events happened in Los Angeles. He then digitally penetrated her, placed his penis against her mouth and attempted to rape her from behind. A jury found him guilty of six crimes arising from this and the judge sentenced him to 52 years to life.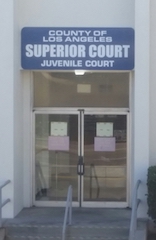 Juvenile Court Inglewood
The crime was horrible. Perez had worn a mask and gloves during the offenses. Raquel Doe had sobbed throughout the kidnapping. Perez took her cell phone and camera before assaulting her. He took her to an abandoned house, where he committed the offenses.
Raquel immediately contacted the police after Perez left her. Forensic technicians collected DNA of Perez from Raquel's body in several areas.
Approximately one year later, police collected Mr. Perez's DNA and matched it to the samples collected from Raquel Doe. Perez was then arrested, taken into custody, tried and convicted.
The complaint against Perez was interesting insofar as it was undisputed that Perez personally used a dangerous or deadly weapon throughout the events. Yet the complaint only alleged this took places as to the counts related to the kidnapping and sexual penetration by a foreign object. The complaint did not allege this as to the forcible oral copulation count, however, the jury was instructed to consider this and found that he had.
The judge then imposed a base sentence of twenty-five years to life under the "One Strike Law" (Penal Code § 667.61) as to the sexual penetration by a foreign object count. However, the People never pled as to the forcible oral copulation count any circumstances triggering application of § 667.61 and never moved to amend the information (the complaint after the preliminary hearing) to allege any such circumstance.
As to the sexual penetration count, the trial court also imposed a one year weapon enhancement (the knife) under Penal Code § 12022(b)(1). The court then imposed a consecutive sentence of 25 years to life on the forcible oral copulation count under the One Strike Law, as well as a consecutive one-year sentence on the attempted forcible rape count.
The court then imposed a concurrent, three year sentence on the second degree robbery count (Raquel's cell phone). It then stayed the sentences on the remaining two counts under Penal Code § 654. It also stayed the deadly weapon enhancement on all counts except the sexual penetration by a foreign object count.
Perez appealed the 25 year sentence component under the One Strike Law, which sets forth harsher sentences for specified sex crimes. Perez argued that, under
People v. Mancebo
(2002) 27 Cal. 4th 735, the information did not allow application of the One Strike Law because no qualifying circumstances were alleged to invoke such "One Strike" sentencing. Perez argued, as
People v.
Wutzke
(2002) 28 Cal. 4th 923, 930 stated, that such an outcome was dictated by due process notice requirements.
The Second Appellate District agreed with Perez, noting that such pleading is essential for defendant to assess his sentencing "exposure" and is "necessary for the defendant to know what he must admit to if he elects to enter a plea."
Mancebo
, pp. 746-747, 750, 752.
Accordingly, the sentence was modified by striking the twenty-five year consecutive term and striking the one year weapons enhancement on the sexual penetration by a foreign object.
We applaud this decision, although it surely must cause pain to the family of Raquel Doe and Raquel herself. Surely, one district attorney at least also felt less intelligent and powerful. Yet, it is extremely important that prosecutors strictly follow the rules, just as defendants must.
The citation for the Second Appellate District Court ruling discussed above is People v. Eduardo Lalo Perez (2d App. Dist., 2015) 240 Cal.App.4th 1218.

For more information about sentencing in serious juvenile offenses, click on the following articles:
Twenty Years of California Law Changed: Juveniles Who Commit Certain Serious Crimes Should Not Receive Presumptive Life Sentences.
Contact us.