Sentence of 50 Years for Teenager for Murder Proper
The Eighth Amendment to the U.S. Constitution, made applicable to the states through the Fourteenth Amendment, prohibits excessive bail, as well as cruel and unusual punishment.
In a Nutshell: The case summarized below was later overruled by the California Supreme Court and in doing so, established what is now known as a Franklin Hearing. However, it is wise to understand the path leading to the state Supreme Court establishing such a right to those convicted of committing crimes at age 25 or younger, to present the mitigating factors of youth.

In the last three years, the U.S. Supreme Court has ruled on several cases that have considered lengthy sentences imposed on juveniles and whether they violate the Eighth Amendment.
The challenges to the sentences have arisen due to recent recognition by courts that juveniles have a still-developing brain and the potential to correct anti-social behavior that their youth does not prevent. This special treatment parallels the judicial recognition that death sentences for a mentally retarded person is cruel and unusual punishment, as it is for a mentally insane person.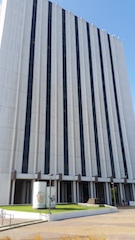 Compton Courthouse
While sentences for death are distinguishable from life in prison, a sentence that is so long that there is no realistic chance of parole is functionally equivalent to a life sentence without the possibility of parole (LWOP). These sentences can arise in first degree murder cases and sex offenses.
Under California law, since 1994 in the case of
People v. Guinn
(1994) 28 Cal.App. 4th 1130, 1141-1142, and later in
People v. Ybarra
(2008) 166 Cal.App. 4th 1069, 1089, 83 Cal. Rptr. 3d 340, California courts have presumed that an LWOP sentence is proper for anyone 16 or 17 who commit first degree murder with one or more special circumstance. If an LWOP sentence was not imposed, a sentence of at least 25 years to life was then imposed when the judge deemed an LWOP sentence too severe.
Tyris Lamar Franklin was 16 years old when he went to Crescent Park, a multi-unit high rise housing complex in Richmond, California. Franklin went there to avenge the beating his 13 year old brother suffered from several other boys. According to witness, Franklin got out of a car, calmly walked up to one of the boys who allegedly beat up his brother, and without saying anything, shot him with a shotgun several times. Back in the car on the way back home, Franklin said of his victim, "that Crescent Park dude is a sucker."
The jury found Franklin guilty of first degree murder and found the firearm personal use and discharge allegation to be true. The Contra Cost County judge hearing the case accordingly sentenced Franklin to 25 years to life for the murder and a consecutive 25 to life term on the firearm enhancement for a total of 50 years to life.
Franklin then appealed the sentence, contending among many grounds, that his sentence violated the Eighth Amendment prohibition against cruel and unusual punishment as interpreted by the recent U.S. Supreme Court case of
Miller v. Alabama
(2012) 567 U.S. 460, 132 S. Ct. 2455 and the recent California Supreme Court case of
People v. Caballero
(2012) 55 Cal. 4th 262.
The First Appellate District denied Franklin's appeal (2014 DJDAR 2518), stating that "the potential constitutional infirmity" has been "cured" by Penal Code § 3051, which was recently enacted and allows juvenile offenders a parole hearing sooner than if had they been an adult. Therefore, the sentence is not a defacto LWOP sentence that violates the Eighth Amendment.
Penal Code § 3051 provides that any juvenile offender shall be afforded a "youth offender parole hearing" before the Board of Parole Hearings. The hearing "shall provide for a meaningful opportunity to obtain release." The hearing will take place after 25 years of incarceration.
Therefore, in the case of Mr. Franklin, he would receive a youth offender parole hearing at age 41. Consequently, the appellate court decided he was not entitled to a new sentencing hearing under Miller or remand under Caballero to determine the time for parole eligibility. The conviction was thus affirmed.

The citation for the First Appellate District Court of Appeal ruling discussed above is People v. Tyris Lamar Franklin (1st App. Dist., 2014) 168 Cal.Rptr.3d 370, later overruled by the California Supreme Court in People v. Tyris Lamar Franklin (2016) 63 Cal.4th 261.

For more information about juvenile sentencing, click on the following articles: