When Is a Police Pat-Down Search Valid – Bulges in Pockets?
The Gist of this Article: A police officer can conduct a pat-down search of an individual when, under the totality of the circumstances, the officer believes the individual may be armed and dangerous to the officer. In the present case, the officer did not search the suspect's pockets under after he arrested him, so it was a lawful search incident to an arrest for being under the influence of a controlled substance.

In the case of Terry v. Ohio in 1968, the U.S. Supreme Court may pat down a suspect if there are "specific and articulable facts" that would have led a reasonable officer to conclude in light of his experience that defendant may be armed and presently dangerous. Terry v. Ohio (1968) 392 U.S. 1, 21, 31; see also Pennsylvania v. Mimms (1977) 434 U.S. 106, 107 (pat down search reasonable when officer fears that a bulge may be a weapon).
These landmark cases framed the issues in the Santa Clara County case of Irvin Sacrite, who was convicted of being in possession of methamphetamine (Health & Safety Code § 11377(a)) and using or being under the influence of a controlled substance (Health & Safety Code § 11550(a)), both misdemeanors after Prop 47 was passed in November, 2014.
Prior to entering a plea to both charges, Mr. Sacrite filed a motion to suppress evidence, arguing that on April 16, 2014, San Jose Police Officer John Prim was not justified in making a pat down search and then taking the item in his pocket. Thus, Officer Prim violated Sacrite's Fourth Amendment right to be free from unreasonable search and seizure.
On April 16, 2014, at about 4:00 p.m., Officer Prim and his partner were in an area of the city where they had conducted prior "clandestine operations" and had made prior arrests.

Primm observed Sacrite riding a bicycle the wrong way on a street in violation of Vehicle Code § 21650.1. He was also drinking from an open beer can, in violation of San Jose Municipal Code § 10.12.010.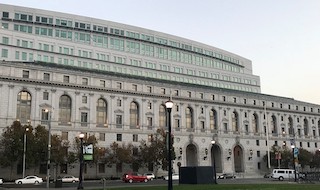 Court of Appeal First Appellate District San Francisco
Primm stopped Sacrite and took the can from him. He smelled the liquid in it, which was beer. Primm then allegedly noticed that Sacrite was sweating heavily, he had dried, chapped lips and had "fluttering eyelids." He formed the opinion that he thought Sacrite might be under the influence of a controlled substance.
Sacrite was six feet, two inches tall and weighed about 210 pounds. Primm was a few inches shorter and about 30 pounds lighter. Primm's partner was five feet, six inches tall and 160 pounds. Sacrite was wearing shorts and a t-shirt that hung down and covered Sacrite's waistband area. Primm could allegedly see that Primm had a large item with rounded edges in his shorts pocket. Primm estimated it was about as long as a cellular phone.

Sacrite was bigger than Primm and possibly under the influence of a stimulant that was a controlled substance. According to Primm, he was fearful for his personal safety, so he wanted to conduct a quick "pat down" of Sacrite to be sure there was no weapon in his pocket.
Primm then conducted a pat-down and removed the object from the pocket. It was a cell phone and in the case, there was a baggie containing methamphetamine. Primm then arrested Sacrite.
On Sacrite's motion to suppress, the People argued that Primm had reasonable suspicion to believe the object in Primm's pocket was a weapon and that Sacrite was dangerous because he appeared to be under the influence and the officers were smaller than him.
The trial court denied the motion to suppress and Sacrite appealed to the Sixth Appellate District. The appellate court noted that Primm could not determine if the object in Sacrite's pocket was a cell phone, but that was not required. In Terry, supra, an officer "need not be absolutely certain that the individual is armed" before conducting a pat search. Terry, supra, 392 U.S. at 27.
Primm's testimony constituted "specific and articulable facts which, taken together with rational inferences from those facts, reasonably warranted" the brief pat down for weapons prior to conducting any further investigation that required him to be near Sacrite.
The appellate court noted that Primm did not then reach his hands into Sacrite's pockets. Instead, he conducted some field sobriety tests on him and then decided to arrest him. The search that followed after the arrest was a lawful search incident to an arrest.
Consequently, the trial court's ruling on the motion to suppress was affirmed.
We present this case summary because many of our clients often tell us that the police conducted an unlawful search and seizure. This case traces the law as it applies to pat down searches and seizures and is meant to help our clients evaluate if their claim of an unlawful search is good.
The citation for the First Appellate District Court ruling discussed above is People v. Irvin Sacrite (1st App. Dist., 2018) 24 Cal.App.5th 77.

For more information about search and seizure issues, please click on the following articles:
Contact us.