When Can One Disqualify a Judge from Hearing a Case?
Our office often receives phone calls from people who strongly believe a particular judge is prejudiced against him or her, or a family member, and want to know if the judge can be removed from the case. Usually, this type of call comes too late. Nonetheless, we listen to the caller describe the basis for the belief of bias and why the caller wants to shop for a new judge on the case.
Brief Synopsis: One may ask to disqualify a judge within ten days of the case being assigned to a particular judge. This is called a peremptory challenge and is asserted through a document filed under California Code of Civil Procedure § 170.6(a)(2). No reason needs to be described. Such a challenge can only been made once in a case. After the ten days pass, the procedure for disqualifying a judge becomes more difficult and complicated, as the following article explains.

As a prefatory matter, it should be known that either a prosecutor or defense attorney (or both) can prevent a judge or commissioner form hearing any matter that involves a contested issue of fact or law by "challenging" him or her under California Code of Civil Procedure (C.C.P.) § 170.6. Although the statue is the Code of Civil Procedure, section 170.6 applies equally to criminal and civil matters.
This type of challenge is called a peremptory challenge. Counsel must allege the judge or commissioner is prejudiced against him, her or the party represented by counsel, but there is no requirement that prejudice be proven.
Solberg v. Superior Court
(1977) 19 Cal.3d 182, 193, 137 Cal.Rptr. 460.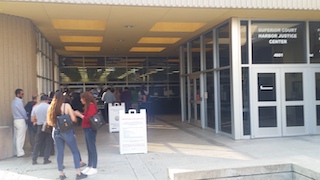 Newport Beach Courthouse Entrance
The judge or commissioner may only be challenged if he or she has not determined a contested issue of fact relating to the merits of the case. Usually, this means within ten days after a party receives notice of the judge's assignment to the case or within ten days of the party's appearance in court. C.C.P. § 170.6(a)(2). The challenge can be presented either to the presiding judge or to the assigned judge. Otherwise, a challenge is timely if it is filed before the hearing begins.
Villareal v. Superior Court
(1973) 35 Cal.App.3d 559, 110 Cal.Rptr. 861.
What exactly is a determination of contested issues of fact relating to the merits? Certainly, one could not challenge a judge on retrial after a mistrial declared by the judge.
People v. Richard
(1978) 85 Cal.App.3d 292, 149 Cal.Rptr. 344. Likewise, one could not seek to disqualify a judge on relitigation of a motion to suppress evidence after a judge granted such a motion. Penal Code § 1538.5(p). Also, one cannot seek to disqualify a judge after the judge ruled on a pretrial motion concerning admissibility of evidence.
People v. Bean
(1988) 46 Cal.3d 919, 948, 251 Cal.Rptr. 407. Once trial has begun, counsel also cannot move to disqualify a judge.
Richard, supra
. Lastly, one cannot seek to disqualify a judge presiding at a probation revocation hearing if the judge presided at trial.
People v. Barnfield
(1975) 52 Cal.App.3d 210, 123 Cal.Rptr. 859.
Such examples seem rather obvious, but when one can move to disqualify a judge is often counterintuitive or surprising. For example, one can seek to disqualify a judge at an arraignment, on the filing of an amended information, on a hearing of a continuance of a motion, at a demurrer, at a hearing to determine competence of defense counsel, when polygraph results are shown to a judge, on summary revocation of probation, at a Penal Code § 1368 motion to determine defendant's competence to stand trial or when a judge rejects a proposed plea agreement.
People v. Montalvo
(1981) 117 Cal.App.790, 796, 173 Cal.Rptr. 51 (in determining whether to accept or reject proposed plea bargain, judge does not determine contested issues of fact; therefore, defendant's motion to disqualify judge who rejected proposed plea agreement was timely).
Only one peremptory challenge can be made in any one case. C.C.P. § 170.6(a)(3). This is often not understood by folks calling our office, as they previously challenged a judge, became aware of this power, and want to do so again.
However, one can challenge a judge or commissioner for cause with no limit to the number of such challenges. C.C.P. § 170.1. A challenge for cause must be in writing and verified. C.C.P. § 170.3(c)(1). The judge alleged to be disqualified, or his or her clerk, must be personally served. Such a motion should be made immediately upon discovering facts supporting disqualification. C.C.P. § 170.3. The judge then must consent to disqualification or file a verified answer to the motion within ten calendar days. Within five days thereafter, the Judicial Council chairperson will select a judge to hear the motion. C.C.P. § 170.3(c)(5).
For more information about judicial bias or prejudice and disqualifying the judge, please click on the following articles:
Contact us.