Can I Disqualify the Judge If I Think He or She Is Prejudiced?
A criminal defendant has a constitutional right under the due process clause of the Fifth Amendment to a trial by an impartial judge.
However, it is almost impossible to have a judge replaced or a case reassigned based on a claim that a judge is unfairly prejudiced against one party regardless of the case facts. In fact, judicial disqualification on due process grounds will only be found in "exceptional cases presenting extreme facts." Such "extreme facts" must show that the probability of actual bias by a judge "is too high to be constitutionally tolerable."
People v. Cowan
(2010) 50 Cal.4th 401, at 456.
In a Nutshell: One can disqualify a judge from a case when defendant can prove it is an "exceptional case with extreme facts" that "show the probability of actual bias by a judge is too high to be constitutionally tolerable."

In our office's experience, a client of ours once presented us with Facebook photos of the judge and the DA at an Angel's game together with their wives. The case involved an attempted murder by one gang of another rival gang member. The client also found that the prosecutor had clerked for the same judge when the judge was a private attorney. The prosecutor had then worked as an attorney for the judge as a private attorney for six years before making and working as a partner with the judge. They obviously knew each other well and were good friends.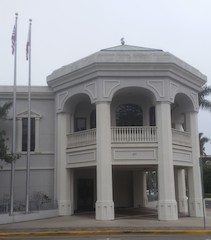 Second Appellate District Division 6 Ventura
Despite this remarkable personal connection, as well as comments on the record in court that suggested the court's bias against our client and in favor of the prosecutor, our motion to disqualify the judge was denied.
Our office then took the matter to the appellate court level, where the court again found the alleged bias to be insufficient to order disqualification of the judge.
Our office then appealed the ruling to the California Supreme Court, where the alleged bias was again found insufficient to merit disqualification. Ironically, after our attempts to disqualify the judge, the judge recused himself and the district attorney was replaced. For practical purposes, our disqualification efforts succeeded. The case was then ultimately dismissed, to our client's immense satisfaction.
The published case of
People v. Lee Edward Peyton
(2014 DJDAR 12805) also involved an attempt to disqualify a judge. However, Mr. Peyton was sentenced to ten years and eight months in state prison, despite his many attempts to disqualify Ventura County trial judge David Hirsch.
Mr. Peyton's case arose from two 2009 automobile burglary incidents. In one incident, he smashed a women's van window and took her purse, cell phone, iPod, wallet and Wells Fargo ATM card. He then went to Wells Fargo and withdrew $300 from an ATM after he found the victim's personal identification number. The withdrawal was captured on video tape.
The second incident involved a similar auto burglary, wherein Peyton smashed a car window, took a cell phone and several CD's.
Peyton then used both stolen cell phones and police were able to locate him and then arrest him. Peyton even sent texts to other people admitting to the auto burglaries. When he was being booked, Peyton hid himself from being photographed.
Once the identity theft and auto burglary case was assigned to Judge Hirsch, Peyton filed a peremptory challenge to the case assignment to Hirsch, but it was filed too late, so it was rejected. Two weeks later, Peyton filed a motion to disqualify Judge Hirsch for cause under California Code of Civil Procedure § 170.1, alleging that the judge "has been groomed in the art of judicial corruption and had a direct, personal and substantial interest in convicting" Peyton. Peyton then filed an answer to the motion, the case was assigned to an out-of-county judge in San Bernardino, who denied the motion on grounds that Peyton's claims were conclusory and devoid of facts.
A month later, Peyton filed a second motion under 170.1 and a
Caperton
(
Caperton v. A.T. Massey Coal Co., Inc.
(2009) 556 U.S. 868, 129 S.Ct. 2252, 173 L.Ed. 1208) motion for the judge to recuse himself on similar due process grounds. The motion was denied because it was untimely (filed too late), was factually inaccurate and disclosed no legal grounds for disqualification.
Peyton then filed seven more
Caperton
motions, each repeating the same conclusory allegations. One was stricken and denied because it was not served on the district attorney. In response to the last such motion, Hirsch found the allegations "absurd" and the alleged facts cited by Peyton as "fantasy."
Peyton also filed multiple complaints with the Commission of Judicial Performance against Hirsch and four other Ventura judges. He claimed that Hirsch's rulings were arbitrary and retaliatory. Peyton also threatened Hirsch in court with a civil rights lawsuit. Later, Peyton claimed he was Muslim and that since Hirsch was Jewish, Hirsch was prejudiced against him.
Peyton then appealed to the Second Appellate District, which methodically set forth the facts in
Caperton
and the standards that govern a motion under C.C.P. § 170.1. The appellate court also praised Hirsch for his patience in letting Peyton have his day in court. However, "the problem is, he has had too many days in court." Peyton "frustrated the orderly administration of justice under the umbrella of the due process right" to a fair trial. Peyton's right to self-representation should have been terminated, the appellate court said, for "his repetitious personal attacks on the integrity of the trial court and other personnel." The judgment of the trial judge, Judge Hirsch, was affirmed.
The citation for the Second Appellate District Court ruling discussed above is People v. Peyton (2d App. Dist., 2014) 229 Cal.App.4th 1063, 177 Cal. Rptr. 3d. 823.
For more information about the issues in this article, click on the following articles:
Contact us.