When Can a Vehicle Code Infraction Become a Misdemeanor?
Many people will say that a Vehicle Code violation is no big deal. The punishment is just a fine. One cannot go to jail over it, like one can over a misdemeanor (or prison for a felony) Although one may accumulate points with the DMV on one's license for certain Vehicle Code violation, one can avoid such points by opting for traffic school on one of the offenses (one cannot go to traffic school more than once every 18 months).
The Reader's Digest Version: Most people do not think of an infraction being elevated to a misdemeanor, but it can under the Vehicle Code when a driver violates a provision, otherwise punishable as an infraction, under certain circumstances allowing prosecution of its violation as a misdemeanor.

Such people who downplay a traffic violation are generally correct. However, a California Vehicle Code violation that would otherwise be an infraction becomes a misdemeanor if defendant has been convicted of three or more violations within the year preceding the current offense, and defendant admits the priors or they are alleged in the complaint and proven at trial. Vehicle Code § 40000.28.
The maximum fine on a first conviction for an infraction is generally $100, plus penalties and assessments that boost the total owed to perhaps $600. However, there are different, often higher penalties for specific infractions such as a violation of Vehicle Code § 21712 (riding on a vehicle in a place not designed or intended for the use of passengers, i.e. on the roof or hood of a car), Vehicle Code § 42001(a) through (d) (certain pedestrian and bicyclist fines are $50, plus penalties and assessments) and Vehicle Code § 21070 (when bodily injury is caused while a driver commits an infraction, the fine is $70 plus penalties and assessments and if great bodily injury, the fine is $95 plus penalties and assessments).
The fine on an infraction increases to $200 for a second offense on most infractions, plus penalties and assessments and $250 for a third offense, plus penalties and assessments. Vehicle Code § 42001(a).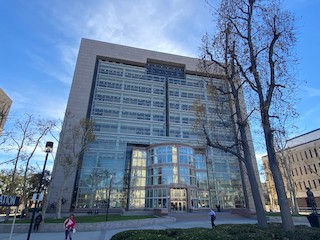 Van Nuys Courthouse
On a fourth offense, the charge becomes a misdemeanor and the judge will regard the defendant as quite unusual and with distrust, so the punishment then may include some form of limited county jail time and/or Cal-Trans labor, community labor, community service, traffic school and up to five years of informal, or summary probation. In other words, once the normally minor Vehicle Code case becomes a misdemeanor, defendant has distinguished himself or herself as something of a rebel or cavalier driver who disregards the rules of the road, so the punishment becomes much more individualized and severe.
Payment of a fine on a misdemeanor can be put off up to a year, but payment of the fine on an infraction is due immediately. If defendant fails to pay a fine or make an installment payment, the judge can impound defendant's vehicle or limit his or her driver's license for up to thirty days (Vehicle Code § 40508(d)).
Effective January 1, 2019, a driver can ask the judge to convert most of his or her fine(s) on an infraction to community service and can request an ability to pay hearing that can result in defendant paying less of the fine.
A willful failure to pay a fine is a misdemeanor form of contempt of the court, punishable by imprisonment in county jail for up to six months. Vehicle Code § 40508(b)-(c). The fine for such contempt can also be up to $1,000, plus penalties and assessments. The judge can also suspend the defendant's driver's license for up to thirty days and put a hold on the driver's license that may prevent the driver from renewing his license at the DMV. If the contempt involves failure to appear in court on such a violation, the judge can issue a bench warrant that an employer may notice and warn the employee to resolve immediately or end the employment.
A judge has the authority to place a defendant convicted of a Vehicle Code infraction on probation. Penal Code § 120366. In appropriate cases, as determined by a judge, the judge can require defendant to attend traffic school (under Vehicle Code § 42005(a)) and can suspend defendant's driver's license under Vehicle Code §§ 13200-13202.81.