Traffic Stop for Texting Proper When Driver Parked, Texting?
Newspaper and television recently gave large amounts of publicity to the death of a teenager who apparently was texting while driving and ran into another car, killing herself. A new law in California made such conduct while driving illegal. It is California Vehicle Code § 23123.5.
Summary in 50 Words or Less: A police officer can make a traffic stop if he observes the driver's hands actually moving while texting, looking down and moving.

Auto manufactures have responded to public concerns for safe driving by proposing new features on cars that disable cell phone use while the car is in operation.
Many drivers recognize how their cell phones can distract them while driving and pull over to finish phone calls or send e-mails or even texts.
The following case arising out of Van Nuys Superior Court addresses this issue. The basic facts were that on October 22, 2011, Officer William Lantz saw Defendant Anthony Corrales parked on the side of the road in North Hollywood. Lantz observed Corrales sitting in his silver Nissan, using his cell phone to send a text. Officers claimed they passed by him, very slowly.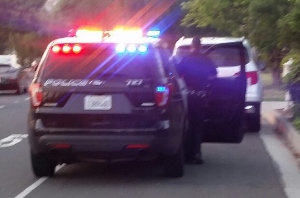 Traffic Stop

Five minutes later, they approached him again and Corrales pulled out into traffic, going southbound on Cahuenga Boulevard. According to officers observing him from behind, Corrales was leaning and looking down. He was making movements with his hands like he was texting, according to officers riding behind his car.
Officers then stopped Corrales and arrested him for being under the influence of a controlled substance, a violation of California Health and Safety Code § 11550(a). Then during a search incident to the arrest, officers found a baggie of methamphetamine in Corrales' shoe.
Corrales was then arrested and charged with possession of methamphetamine in violation of Health Safety Code § 11377(a). At trial, he admitted that he had served a prior prison term within the meaning of Penal Code § 667.5(b). He was then convicted and Corrales appealed the conviction, arguing that the initial traffic stop was improper.
While such an appeal may seem limited to the facts of this case, in today's world where nearly everyone carries a cell phone and uses text messages to communicate, this challenge of his traffic stop has implications for DUI stops, drug offenses, theft offenses and even stops related to violent crimes.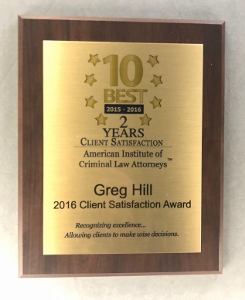 The Second Appellate Court began its analysis by noting that a police officer's reasonable suspicion that a driver has violated the Vehicle Code justifies a traffic stop and a detention.
Ornelas v. United States
(1996) 517 U.S. 690, 693;
People v. Wells
(2006) 38 Cal. 4th 1078, 1082;
People v. Vibanco
(2007) 151 Cal. App. 4th 1, 8. Reasonable suspicion is a lower standard than probable cause.
To be reasonable, the officer's suspicion must be supported by some specific, articulable facts that are reasonably consistent with criminal activity.
In re Tony C.
(1978) 21 Cal. 3d 888, 894.
Corrales argued that the fact that he was looking down and moving his arm did not, without more, support a reasonable suspicion that he was texting. In fact, on cross-examination at trial, one of the officers admitted that he really could not see Corrales' hand moving, so the stop was only based on Corrales looking down while driving.
The Appellate Court then denied Corrales appeal, saying that the officers had a reasonable suspicion Corrales was texting because earlier, they had in fact seen him texting while parked.
This case is actually a good case for defendants such as our clients because, while Corrales lost, it seems to suggest a traffic stop for texting is only going to be proper if the officer previously sees the driver parked while texting. This rarely occurs.

The citation for the Court of Appeals ruling discussed above is People v. Anthony Corrales (2013) 213 Cal.App.4th 696.

For more information about traffic stop issues, click on the following articles:
Good Faith Exception to Officer's Execution of an Improper Search Warrant Does Not Have Similar Application to an Improper Traffic Stop
Contact
Greg Hill & Associates