When Can a Judge Admit a Prior Conviction to Impeach?
Generally speaking, when a judge is considering whether to admit or exclude evidence, the judge must consider if the evidence is relevant to the issue is it being sought to introduce it for, whether it will confuse the jurors, whether it will require undue consumption of time and whether the risk of undue prejudice substantially outweighs its probative value. People v. Castro (1985) 38 Cal.3d 301.

It merits mention that a judge is not required to exclude prior convictions because there are too many. Under Evidence Code § 352, however, the judge has discretion in limiting the number of prior convictions admitted. People v. Castro, supra.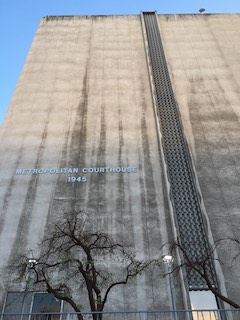 Metro Courthouse
In evaluating each of these factors, the judge is supposed to consider four "Beagle factors" concerning admission of a prior convictions for impeachment evidence, although it may also consider other factors as well. People v. Beagle (1972) 6 Cal.3d 441, 453. They are:
Does the prior conviction reflect negatively on defendant's honesty or truthfulness? It the crime one involving moral turpitude? It must involve moral turpitude. People v. Collins (1986) 42 Cal.3d 378, 389. It is significant to note that the following crimes are not crimes involving moral turpitude:
a. Battery resulting in serious bodily injury (Penal Code § 243(d); People v. Mansfield (1988) 200 Cal.App.2d 82, 89);
b. Child endangerment (Penal Code § 273a; People v. Sanders (1992) 10 Cal.App.4th 1268, 1274);
c. Involuntary manslaughter (People v. Solis (1985) 172 Cal.App.3d 877, 883);
d. Maintaining a place for the use of narcotics (People v. Vera (1999) 69 Cal.App.4th 1100, overruled on other grounds in People v. French (2008) 43 Cal.4th 36);
e. Marijuana possession (People v. Valdez (1986) 177 Cal.App.3d 680, 697);
f. Simple assault (Penal Code § 240; People v. Cavazos (1985) 172 Cal.App.3d 589);
g. Simple possession of a controlled substance (People v. Castro (1985) 38 Cal.3d 301, 317); and
h. Statutory rape conviction suffered before People v. Hernandez (1964) 61 Cal.2d 529 (which established defense of good faith belief in victim's age).
2. Is the prior near or remote in time? The judge can exclude a prior because it is too remote in time. People v. Collins, supra. In considering the "remoteness" issue, the judge should consider the following four factors:


a. The time that has elapsed since the conviction. See People v. Burns (1987) 189 Cal.App.3d 734 (20-year conviction not necessarily remote because of subsequent lawlessness); People v. DeCosse (1986) 183 Cal.App.3d 404 (no abuse of discretion to admit a burglary conviction from twelve years earlier);

b. The time that defendant was free between offenses. Prison time tolls remoteness. People v. Burns, supra. For example, if defendant was convicted 26 years ago, but spent 20 years in prison, the 20 years is tolled;

c. Defendant's age. If defendant was quite young at the time of the prior conviction and the conviction is old, the judge may consider the prior conviction less probative of defendant's credibility (Burns, supra); and

d. Defendant's subsequent conduct, i.e. whether he or she led a generally law-abiding life.


3. Is the prior for conduct substantially similar to that for which defendant is now standing trial? The danger of undue prejudice is highest in considering prior similar conduct because the jury will be more likely to consider defendant guilty of the pending crime if defendant committed it in the past. Beagle, supra. However, a judge is not required to exclude a prior conviction just because it is too similar to the current charge. People v. Tamborrino (1989) 215 Cal.App.3d 575, 590. Depending on the facts, a prior similar to the facts of the current offense may be more probative of defendant's credibility. People v. Johnson (1991) 233 Cal.App.3d 425, 443.

4. Will impeachment by a prior conviction influence defendant's decision to testify or remain silent? If admitting the prior will influence defendant not to testify, the court should consider excluding the evidence. This factor is given relatively less weight than the prior three factors. However, to raise an issue on appeal that the judge made a mistake in admitting a prior conviction for purposes of impeachment, defendant must testify (and suffer the resultant impeachment). People v. Collins, supra, relying on Luce v. U.S. (1984) 469 U.S. 38, 105 S. Ct. 450; see also People v. Sanghera (2016) 6 Cal.App.5th 365.

For more information about impeachment, please click on the following articles:
Contact us.