How Do I Prevent My Prior Conviction from Being Impeachment?
Whenever someone with a prior conviction approaches trial, there is often a concern that the jury will hear about an accused's prior conviction and draw the conclusion that the present offense is likely to have occurred because the prior one did.
The Gist of This Article: To prevent a prior conviction from being introduced for impeachment purposes, one must first know if the prior conviction was a felony or a misdemeanor. Next, one may not be able to fully exclude such evidence, but one often can limit its introduction to certain purposes and therefore seek to prevent it from being used as character evidence.
At the outset it is important to recognize the purpose for which such a prior conviction would be introduced. What is its relevance? In this regard, it is good to appreciate that there is a significant difference between a prior conviction that is a felony and one that is a misdemeanor. It can also matter on what type of misdemeanor conviction is was, i.e. was it for Penal Code § 273.5 (a wobbler), a conviction involving dishonesty within ten years, or something else. Indeed, not all prior convictions can be excluded from evidence, meaning preventing the jury from being notified of such facts. However, most misdemeanors can be excluded from evidence
.
Both defense and prosecution witnesses may be impeached, however, with prior felony convictions (Cal. Const. art I, § 28(f)(4), Evidence Code § 788). When either party seeks to do this, that party will also request a jury instruction that tells the jury it may consider the prior felony conviction only for the purpose of determining the believability of the witness.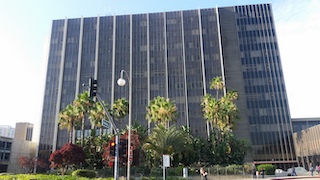 Santa Ana Courthouse
However, as is human nature, the jury may think about it more broadly. Indeed, sometimes, the prior offense is the same offense exactly or very similar, which the prosecutor may argue shows a modus operandi, or methodical system of committing the crime over and over. Evidence Code § 1101 (prior bad act); People v. Wheeler (1992) 4 Cal.4th 284. When this what the prosecution wants to do, defendant needs to show the prior crime is factually and or legally distinguishable from the pending case. People v. Foreman (1985) 174 Cal.App.3d 175.
Other times, it is a crime of moral turpitude that suggests the accused's truthfulness is less than perfect and thus, his defenses in the present case must be viewed with skepticism. When this is the reason the prosecutor seeks to introduce the prior conviction, the general rule is that a prior conviction is inadmissible if the least adjudicated elements of the conviction do not necessarily involve moral turpitude. People v. Collins (1986) 42 Cal.3d 378, 389 and People v. Castro (1985) 38 Cal.3d 301, 306.
Sometimes, the prior conviction is not a crime of moral turpitude and has no similarity to the pending offense, but the client remains nervous that if the jury hears about the prior offense (i.e. DUI), that the jury will find him or her guilty of the pending offense (embezzlement). This may be just because the jury may think the accused has little respect for the law in general. This can be especially true if the client has multiple prior convictions.
When our office is faced with these concerns, we consider filing a motion to preclude impeachment with a prior conviction. The fundamental reasoning is that that the probative value of a prior conviction may be outweighed by its prejudicial impact, making the risk of unfair prejudice too high to create an unfair trial. This has been statutorily recognized in Evidence Code § 352 and many, many reported decisions, the most commonly quoted being People v. Collins, supra and People v. Castro, supra.
In such a motion it is important to distinguish between the prior conviction and the present offense by its remoteness in time (how long ago was it?), whether the prior conviction involves similar conduct and whether impeachment will affect the defendant's ability to testify. People v. Beagle (1972) 6 Cal.3d 441, 453. The particular circumstances or facts of the pending case must also be discussed, if they seem to be relevant toward the danger of such a prior conviction causing unfair prejudice or of confusing the issues.

In short, a motion to preclude impeachment with a prior conviction must be thorough in its analysis, as a prior conviction is a powerful way for the prosecution to suggest guilt in the later offense.
For more information about trial in general, please click on the following articles:
Conviction for Felony Resisting Arrest (Penal Code § 69) Reversed for Improper Evidence or Prior Resisting Arrest Incidents Introduced
Contact us.