When Are Sentences on Multiple Convictions Concurrent?
The Gist of this Article: When someone is convicted of multiple crimes from a single act, the sentence is usually the longest one for any one crime and the other convictions arising from the same act are to run concurrent. The exception is in sex crimes or cases with multiple victims, where the sentences run consecutive, making for some very long sentences. Sentence enhancements are then added, or used as a multiplier when it is a second strike under the Three Strikes Law.

It is quite common for someone to be convicted of multiple counts in a case. The natural question most clients and the families or loved ones of the client then have is whether all the individual sentences for each count run consecutive or concurrently.
In other words, does the judge just add up all the sentences, or is there some other methodology?

Does it matter what kind of a case is at issue?

What about sentencing enhancements for one's criminal history, the conduct at issue or a status enhancement?
The answer, as it is to most legal questions, is it matters. First, it matters if there are multiple convictions related to a single incident. When that is the case, Penal Code § 654 prohibits multiple punishment for the same act. The judge can impose punishment for only one of the acts and must otherwise "stay" punishment for the others, meaning it is not imposed. The judge would then impose punishment for the longest term, looking at both the base term and any sentence enhancements.

For example, under Penal Code § 654, for a person with one prior strike conviction, the judge may impose a four-year term for one count, double it to eight years and then add a five-year enhancement for a prior serious felony conviction. Punishment on other convictions from the same incident at the same time would be at one-third of the mid-term punishment for the crime, then added to the underlying 13 years in this case, for example.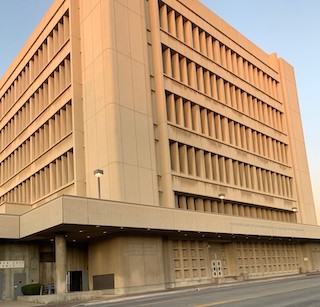 Inglewood Courthouse
Please note that by its terms, however, § 654 does not prohibit multiple punishment for multiple punishment of the same statute. For example, in People v. Correa (2012) 54 Cal.4th 331, 244, defendant, a felon, was found hiding with seven guns and the judge was punished for seven counts of felon-in-possession of a handgun.
When Penal Code § 654 is not an issue, special rules apply with respect to whether a defendant will serve sentences for multiple counts concurrently or consecutively. In general, unless a judge specifies to the contrary, sentences are presumed to run concurrently. Penal Code § 669.
It is good to note that when a judge imposes concurrent sentences and one or more of the crimes is required to be served in state prison and one or more of the crimes is to be served in county jail, the sentence is served in state prison. Penal Code § 669(d); People v. Torres (2013) 213 Cal.App.4th 1151, 1160.
If, however, a judge decides to impose consecutive (i.e. one after the other) sentences, the judge must follow the sentencing rules set out at Penal Code §§ 669 and 1170.1(b). The judge must first select a "principal term" and set out its reasoning on the record for that term. The principal term must be the longest punishment imposed for that conviction, including any additional time for applicable enhancements (Penal Code § 1170.1(a).
Then the judge would order consecutive terms on "subordinate terms," which are one-third of the middle term for additional offenses, plus one-third of the term for any applicable enhancements. Penal Code § 1170.1(a); People v. Hill (2004) 119 Cal.App.4th 85, 91. The judge must explain on the record why the "subordinate" term is to run consecutively. Cal. Rules of Court, Rule 4.425.

To impose consecutive sentences, the judge must find a minimum of one factor under the applicable statutes or court rules. People v. Forbes (1986) 182 Cal.App.3d 676, 679. The most common reason is that the "crimes involve separate victims or involve the same victim on separate occasions." Penal Code § 667.6(d). This type of consecutive sentence is most commonly seen in sex crimes involving the same victim such as in a child molestation case.
There are certain crimes for which a court must impose a consecutive sentence. For example, then sentence for any offense committed while defendant is incarcerated is to run consecutively to the existing sentence. Penal Code § 1170.1(c). Similarly, a violation of Penal Code § 139(b) (criminal threats against a victim of violence) must serve the full-term consecutive, not at one-third. Other exceptions to the one-third provision under 1170.1(a) include convictions for kidnapping under Penal Code § 207 (as specified in 1170.1(b)).
For more information about concurrent or consecutive sentences, please click on the following articles:
Contact us.