Are Consecutive 10-Year Gang Sentencing Enhancements Error?
No one will admit it, but there is a difference in how much attention is paid to sentencing for someone facing over 400 years to life in prison as compared to someone facing thirteen years in state prison. The person facing thirteen years in state prison most likely will be alive when released and therefore is quite interested in making sure his or her sentence involves not one year more than proper.
In a Nutshell: It is error for a judge to impose a total of ten ten-year gang enhancements, one for each of ten convictions, and instead should have ordered that he was not eligible for parole until having served a minimum of 15 years.

Humberto Salvador was a senior member of the Sureño criminal street gang and lived in Richmond, California. On the evening of December 13, 2008, he called Josue Gonzalez, who was on his way to church. Gonzalez had been a member of the Sureño gang for nine years, but was junior to Mr. Salvador. Mr. Salvador asked Mr. Gonzalez to join him in carjacking a few cars and "doing a couple licks (break-ins or robberies)." Mr. Gonzalez agreed and then called two more gang members, ages 15 and 16, to join him and Mr. Salvador.
The four then met up, drank beer, and set out. They first broke into a couple cars, but "just took what was inside." The four were standing by one of the cars when Jane Doe drove up, as she lived nearby and was looking for parking.
Jane Doe parked her car and as she walked toward her house, Mr. Salvador approached her and demanded her car keys and her money. Jane Doe told Salvador that she had no money, to which Salvador responded by smashing her head with a flashlight and demanding that she take off her clothes. Salvador then hit her on the head again with the flashlight and she began disrobing.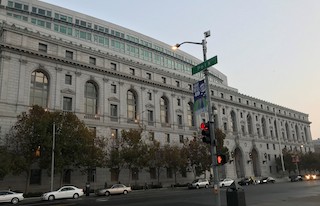 Court of Appeal First Appellate District San Francisco
Once she was completely nude, Salvador told her to drop to the ground, which she did. Salvador then digitally penetrated her anus for two or three minutes, ignoring her protest that it was hurting her. He then told her to get up and marched her over to her car and told her to get in.

Mr. Salvador then had one of the other gang members drive the car to a burned-out apartment complex about five blocks away. On the way, Salvador had Jane Doe orally copulate him. The four gang members then took her out of the car and into the apartment complex, where they (except Gonzalez) each had her orally copulate them and they each (except Gonzalez) sodomized her. The four gang members then left her and drove away.

The Richmond Police rather quickly arrested all four Sureños and they were later prosecuted. The jury convicted Mr. Salvador of fifteen felonies (kidnapping for sexual purposes (Penal Code § 209(b)(1)), kidnapping during a carjacking (§ 209.5(a)), second degree robbery (§ 211, 212.5(c)), active participation in a criminal street gang (§ 186.22(a)), forcible sexual penetration (§ 289), forcible sodomy in concert (§ 286(d)(1)), forcible rape in concert (§ 264.1(a)) and forcible oral copulation in concert (§ 288a(d)(1)) with multiple enhancements (criminal street gang (§ 186.22(b)), personal use of a deadly weapon (§ 12022(b)(1)), personal infliction of great bodily injury (§ 12022.7(a)), that it was hate crime (§ 422.75). The jury was also advised that Mr. Salvador had three prior convictions for violating Vehicle Code § 10851 (joyriding).

The judge sentenced Mr. Salvador to life without the possibility of parole on each of the kidnapping charges; 15 years to life for the carjacking count; 19 years for the robbery; and two years for the substantive offense of active gang participation. He then also received 15 years to life for each of the two forcible sexual penetration counts (to be served consecutive to each other).

On each of the remaining counts, the two rape counts, the two sodomy counts and the four oral copulation counts, the trial court imposed consecutive terms of 25 years to life as specified by Penal Code § 667.61. The jury then found that each of the offenses were committed for the benefit of a street gang, so the judge imposed a 10-year consecutive term to the 25 years to life term for each of the forcible rape counts, the two sodomy counts and the forcible oral copulation counts and to the 15 year to life term for each of the two forcible sexual penetration counts. In other words, defendant was sentenced to 100 years of gang enhancements to be served consecutively to two indeterminate terms of 15 years to life and eight indeterminate terms of 25 years to life.

Mr. Salvador appealed the sentencing to the First Appellate District, arguing that under People v. Lopez (2005) 34 Cal.4th 1002, the trial court erred in imposing separate 10-year gang enhancements on each of the ten counts carrying indeterminate life terms. Instead, Mr. Salvador argued, the court should have imposed a minimum parole eligibility term of 15 years.

As the reader may know, a normal life term sentence is eligible for parole after seven years, but if it gang related, 15 years is the minimum time by which one is parole eligible.

In Lopez, the California Supreme Court ruled that a gang-related first-degree murder carries with it a 15-year minimum parole eligibility term under Penal Code § 186.22(b)(5) and not a ten-year gang enhancement at all since the crime was punishable by life in prison.

Applying this to Mr. Salvador's case, the First Appellate Court agreed with Mr. Salvador that the trial court erred in sentencing, so it remanded the case for resentencing.

We look upon this case with unease, as Mr. Salvador will never live long enough to be parole eligible due to the consecutive terms on each of the sex offense convictions, unless they are vacated, which the evidence does not seem to suggest will happen.
The citation for the First Appellate District Court ruling discussed above is People v. Humberto Salvador (1st App. Dist., 2017) 11 Cal.App.5th 584, 217 Cal. Rptr. 3d 682.