When are Consecutive, i.e., Not Concurrent, Sentences O.K.?
After one reads Sinclair Lewis' The Jungle, it is easy to understand how the raw realities of factory life would make one never want to eat sausage ever again. Yet, many families, blindly trusting that factories are clean and orderly, happily devour sausage every day. While factories have certainly improved their procedures since the 1890's, largely as a result of The Jungle's impact, factories remain prone to economic realities that still make eating sausage, for example, better if one is unaware of actual factory conditions.
The same naïve trust in a perfection within our judicial system exists in the minds of many. Those who work within the legal system, however, will soberly explain that our system falls far short of perfection.
About This Article Briefly: Concurrent sentences for terms arising from the same crime are imposed in all cases except those involving sex offenses, offenses committed in prison as well as certain other specified crimes. In the following case, the judge made a flagrant error in sentencing defendant to current terms when consecutive terms were proper.

The following summary of the sentencing in two criminal cases involving Richard Abel Mirmon seems to exemplify how our legal system is likened by many to a factory in The Jungle.

In April of 2010, a judge in Pomona sentenced Mr. Mirmon to 12 years in state prison for attempted first-degree robbery.
Over a year later in Riverside County, while acting on an anonymous tip, guards searched his wife who had come to prison to visit Mirmon. On her, they found three bindles of heroin and five bindles of methamphetamine on her. They then searched Mirmon and found fresh needle marks on his arms. They then searched his bunk and found a cell phone and pay-owe sheets, as are commonly used to track purchases and amounts paid.
As a result of Mirmon's conduct in prison for the Pomona case (Mirmon was at the California Rehabilitation Center in Norco), the Riverside District Attorney's Office charged Mirmon with conspiracy to bring a controlled substance into prison in violation of Penal Code § 182(a)(1), bringing a controlled substance into prison in violation of Penal Code § 4573, possession of heroin in violation of Health and Safety Code § 11351 and possession of methamphetamine in violation of Health and Safety Code § 11378. The information also alleged that defendant had served a prison prior within the last five years of being released from prison and two "Strike" priors under Penal Code § 667(c) – (e).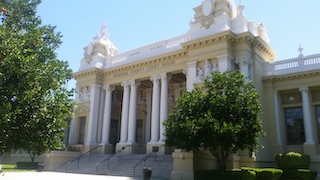 Old Riverside Courthouse
As charged, because he had two prior strikes, he faced a maximum of 101 years to life in state prison. If one of the prior strikes was not counted (i.e. via a Romero motion being granted), he still faced 14 years and four months.

However, pursuant to a plea agreement on September 6, 2011, Mirmon resolved the case for eight years and four months in state prison. He was then sentenced on December 2, 2011 (19 months after his twelve-year sentence to state prison). In doing so, Bernard Schwartz, the Riverside judge handling the matter, made no reference to Mirmon's Pomona sentence, but stated that his eight-year, four-month sentence was to be served concurrent with any other sentence. Judge Schwartz obviously knew that Mirmon was in state prison, so this was unusual.
Seven years later, in 2018, Mirmon filed a petition under Penal Code § 47 to reduce his felony convictions in the Riverside case for possession of heroin under Health and Safety Code § 11351 and for possession of methamphetamine under Health and Safety Code § 11378 to misdemeanors.
In response to this request, the California Department of Corrections and Rehabilitation (CDCR) stated that Mirmon's sentence from Riverside Superior Court for his offenses while in prison should have been consecutive, not concurrent, to the Pomona sentence for 12 years for first-degree robbery.

In response, the trial court held a hearing and denied Mirmon's petition for resentencing under Prop 47 and then clarified that Mirmon's sentence from Riverside County court was consecutive, not concurrent, to his Pomona sentence.
Mirmon then appealed this change in his sentence.
The Fourth Appellate District affirmed the change in the sentence from concurrent to consecutive, explaining in an August 10, 2020 opinion that the trial court did not even have discretion to impose a concurrent sentence. "The determinate sentencing law treats in-prison offenses offenses differently than out-of-prison offenses." People v. McCart (1982) 32 Cal.3d 338, 340. "The difference is simple and understandable. The Legislature wanted in-prison crimes to be punished more severely than crimes committed on the outside." People v. White (1988) 202 Cal.App.3d 862, 869.

Section 1170.1(c) applies to felonies committed when the defendant is confined in a state prison. The statutory scheme makes it clear that such felonies, i.e. those felonies committed in prison, are exempt from the general statutory scheme under 1170.1(a) because a sentence imposed is full consecutive to the offense for which defendant was in prison. Under sentencing jargon, 'the in-prison offense is treated as a new principal term rather than as a subordinate term to the out-of-prison offense." White, supra, at 869-870; see also In re Tate (2006) 135 Cal.App.4th 756, 764-765; People v. Cardenas (1987) 192 Cal.App.3d 51, 58; see generally People v. Langston (2004) 33 Cal.4th 1237, 1242-1244).
We bring this summary to the reader's attention because our clients often underestimate the havoc that an in-prison offense can create with one's estimated release date, even if Prop 57 is of great relief in moving up such a release date prior to suffering an in-prison offense.
The citation for the Fourth Appellate District Court ruling discussed above is People v. Richard Abel Mirmon (4th App. Dist., 2020) 267 Cal. Rptr. 3d 488.

For more information about concurrent and consecutive sentencing, please click on the following articles: