What's Specific Intent to Assist Criminal Street Gang?
Defendants Liberty Danielle Landowski and Michael Anthony Reyes, Jr., stayed at a motel in West Sacramento on the evening of November 17, 2014. Reyes and Landowski had just begun a sexual relationship.
Mr. Reyes was an active member of the Broderick Boys criminal street gang, which was a subset of the Norteño street gang.

In a Nutshell: Being romantically involved with a gang member, as described in the following summary, seems to be equated with having knowledge of the sexual partner's gang membership and any help given to that sexual partner is promoting the gang. We find this ruling troubling.

S. was much older than Reyes and had been a member of the Franklin Boys subset of the Norteño gang for about 20 years. S., however, dropped out of the Franklin Boys while he was serving time at High Desert State Prison in 2003. He dropped out after he was required to "do a removal" on another Norteno gang member, i.e., stab him or beat him up to "get him off the yard." He was then released from prison in 2005 and returned to Sacramento. The Franklin Boys did not accept him back into the gang.
In 2013, S. met Reyes' stepfather, D. S. and D. ended up getting in two fist fights over money.
S. then went back to prison in 2014 and when he got out, he met Reyes. S. was looking for R., his wife, and Reyes knew R., so he helped S. look for R. Soon, S. realized that Reyes was D.'s stepson and told Reyes that he and D. had gotten in two fights over money in the past. S. told Reyes that D. "is going to get it" whenever he saw him again. Reyes responded, "Well, that's fine with me. Just leave my family out of it. D. can take care of himself. He's not a punk."

On the evening of November 17, 2014, Reyes was using methamphetamine and ran out. So early in the morning on November 18, 2014, he left the motel to buy more meth. Landowski gave him a ride in her white Mustang.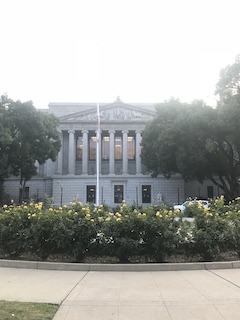 Court of Appeal Third Appellate District Sacramento
When the two approached an intersection, Reyes saw S. and R. riding their bicycles down the street. Reyes told Landowski to stop the car, which she did. Reyes then got out to confront S. Reyes was mad because apparently S. had recently gotten in a fight with D. and tried to stab D. with a screwdriver. D. was present with Reyes' little brother, who is autistic. Reyes had earlier told S. to "leave my family out of it," but S. fighting with D. while the autistic youth was present violated that. It certainly upset Reyes' younger brother.
Reyes then fired six rounds at S., from behind, hitting him once in the back, once in the back of his leg and once in the back of the arm. Reyes then got back in the white Mustang and Landowski drove away.

Police came to the scene and S. identified Reyes as the shooter and that he got in a white Mustang with a female driving. He then described Landowski.

Police then searched Reyes' Facebook page and figured out who Landowski was by a photo posted of her white Mustang, which showed the license plate number. Police then found out Landowski's cell phone number and were able to "ping" the phone using GPS technology to find out it was in the vicinity of the shooting at the time and date of the shooting. They then went to the hotel room where the phone was located the next day.
Police then found the gun that Reyes used to shoot S. Landowski's Mustang was never found, however, its license plate was found five months later on a Pontiac Grand Am.
However, while Landowski was in jail awaiting trial, she made several phone calls referring to the Mustang. Landowski was subsequently convicted of being an accessory after the fact with gang enhancements.
Landowski then appealed her conviction to the Third Appellate District, arguing that there was insufficient evidence to show she knew Reyes was associated with a criminal street gang.

The Third Appellate District denied her appeal, explaining that since she was in a sexual relationship with Reyes, she "would have had an up-close view of each of his gang-related tattoos." Moreover, "there is no requirement that Landowski knew she was assisting Reyes in gang-related criminal conduct, rather she need only have intended to 'assist in any criminal conduct by gang members.'"

We find this ruling troubling on multiple levels, most fundamentally that it appears Reyes shot S. because S. got in a fight with Reyes' stepfather while Reyes' autistic little brother was present. The shooting was to avenge that harm to his little brother and for S. breaching his promise not to involve Reyes' family in the financial dispute S. had with Reyes' stepdad. Moreover, S. was no longer in a Norteño gang and Reyes' shooting of S. was not to punish S. for refusing to beat up someone years earlier in High Desert State Prison. The shooting had no purpose to promote, support or further Reyes' gang and therefore, Landowski's sentence enhancement should not have been alleged or found true.
What we think may have been influencing the judge and the prosecutor is simply frustration that Landowski was able to hide or dispose of the white Mustang with success, so the judge and the prosecutor felt significant punishment of her was based on evidence.

The citation for the Third Appellate District Court ruling discussed above is People v. Liberty Danielle Landowski (3d App. Dist., 2020) 261 Cal. Rptr. 3d 541.

For more information about assisting, promoting or furthering the interests of a criminal street gang, please click on the following articles: