What's a Tahl Waiver for a Plea Bargain & Why Is It So Long?
If you are reading this article, it may very well be because you or a loved one has decided to enter into a plea bargain to resolve a criminal case. As part of that step, one must show to the judge that the defendant is mentally clear on the terms and to do this, a written agreement is formalized that recites the terms and tells the defendant what rights associated with trial are being waived and what the consequences of a plea bargain can be.
Summary in 50 Words or Less: A Tahl waiver is a listing of the rights given up by someone entering into a plea bargain to resolve a criminal case. It is quite long because there are many rights involved and there are other warnings the judge wants given in writing.
However, not all judges require written plea bargains, signed by the defendant. Some judges permit an oral plea bargain to be entered into if defendant is present in court.
In the majority of cases, however, a written agreement is preferred. In the case of most misdemeanor plea bargains, a written agreement can be executed outside of court, notarized, and entered into the record by one's attorney so defendant does not need to appear in court and consequently miss work or simply experience anxiety or humiliation by appearing in court, where one's neighbors or business contacts might see defendant.
What exactly is in such a plea bargain?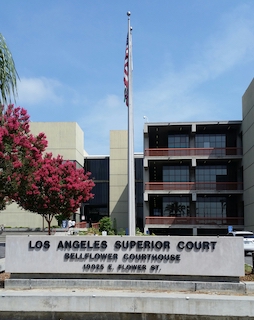 Bellflower Courthouse
In In re Tahl (1969) 1 Cal.3d 122, 130-133, and in Boykin v. Alabama (1969) 395 U.S. 238, 242-244, the court set forth rules that to ensure a defendant's "guilty plea" is knowing and voluntary, the trial court judge is required to inform the defendant of three constitutional rights (right to a jury trial, right to cross-examine witnesses, and right to remain silent) and obtain a waiver of each. In re Yarko (1974) 10 Cal.3d 857 extended this procedure to the defendant's admission of a prior conviction allegation, which increases punishment. Id., at 863.
In what is known as a Tahl waiver, named appropriately after the 1969 Tahl matter cited above, these rights are set forth in writing for defendant to acknowledge by initialing alongside the right described. Later, in waiving each such right, the defendant then initials a waiver of each right separately. The initials are usually in a small box to the left or right margin of the waiver form.
The waiver then also warns defendant that the conviction may have immigration consequences, may have consequences in other cases (if defendant is on parole or probation in any other case elsewhere), and that the judge will find defendant guilty although the plea may be "no contest."
In Orange County courts, the plea form will include a narrative section that is preceded by the sentence, "I offer the following factual basis for my plea." The narrative then states something such as, "On March 22, 2018, in the City of Fullerton, I unlawfully stole . . ." This description is important for its consequences in an immigration court or licensing board and sentencing (is it a serious and violent felony, or just serious felony).
Often, this narrative is subject to careful drafting by an immigration attorney or licensing attorney and then given to the handling criminal defense attorney, when there are potential immigration or licensing consequences of the conviction. We often enter such a written statement in other counties in a similar manner when licensing or immigration issues are likely to follow the case for our client.
No matter what, finality is the goal in entering a plea. No judge wants to entertain a motion to withdraw a plea unless there has been a change in the law that permits this. Otherwise, the judge does not want to hear a month later from someone who has entered a plea that he or she "had no idea" that the conviction would have certain adverse consequences or that when the plea was entered, the defense attorney failed to advise the defendant about certain defenses or factual issues.
For more information about plea bargaining issues, please click on the following articles:
Contact us.