Can One Agree to a Plea Bargain Waiving Future Good Time Credits?
Generally speaking, an experienced and creative defense attorney can craft a plea bargain that resolves a case that a rookie defense attorney cannot. Split sentencing for example, has helped avoid trials in many cases based on creative plea bargains. An experienced, good defense attorney, as another example, can "horse trade" Cal Trans and other classes for jail time, permitting his or her client to keep his job and avoid jail or even prison.
There are limits, however, on what can be negotiated, as the following case involving Marcia Lareah Tate out of San Diego County exemplified.
Brief Synopsis: A plea bargain may not waive future (post-sentence) good time / work time credits. In contrast, a plea bargain can waive past (pre-sentence) good-time work time credits and this is commonly done. The following case reinforced this fundamental, but suggested under proper conditions of a knowing, intelligent and voluntary waiver properly entered into, one could waive future "good time / work time" credits.

In 2012, Ms. Tate was charged with felony child abuse (Penal Code § 273a(a)), possession of methamphetamine (Health and Safety Code § 11377(a)), and being under the influence of methamphetamine (Health and Safety Code § 11509(a)). The complaint also alleged that she had three prison priors (Penal Code § 667.5(b)).
Nine days later, Tate entered into a plea bargain that allowed her to be released from jail soon. The court sentenced her to seven years in state prison, suspended, and placed her on probation, conditioned on a requirement that she first serve 90 days in county jail. Tate then served the time (probably quite a bit less than 90 days) and was released.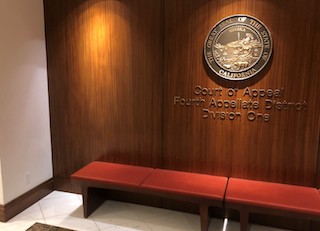 Fourth Appellate District Court of Appeal Division 1 San Diego
A year later, in October, 2013, she was arrested for violating probation. During the hearing, the court reinstated her on probation, but on the condition that she agree to waive her good-time credits. The court then sentenced her to 365 days in county jail, with credit for 269 days, but waiving her good-time of 268 days that she had earned. This meant she still had to serve 96 more days in county jail. The judge further authorized Tate's release by the county sheriff to a residential (inpatient) drug treatment program.
Six weeks later, Tate admitted another probation violation and the judge reinstated her again on probation, but ordered her to attend a child-abuse treatment program.
Five months later, Tate violated probation for a third time and the judge imposed the seven-year prison sentence. The judge awarded Tate 423 days of actual custody credits and zero days of good-time credits. The 423 days was computed based on her 269 days in custody, plus 154 days in a residential drug treatment program.
Tate appealed the order waiving all her good-time credits, arguing that her waiver was only for good time earned prior to October, 2013 and not after that date.
In
People v. Marcia Lareah Tate
(2016 DJDAR 6050), the Fourth Appellate District agreed with Ms. Tate. The appellate court looked at the transcript from the October, 2013 hearing at which Tate agreed to waive her good-time credits under Penal Code § 4019 (such credits are awarded for good conduct in custody.
People v. Brown
(2013) 54 Cal. 4th 314), finding that Tate only agreed to waive past good conduct credits.
The appellate court explained its ruling, first noting that "a prisoner may waive presentence credits, including conduct credits, as part of a negotiated disposition."
People v. Lara
(2012) 54 Cal. 4th 896, 903, fn. 3. Such a waiver must be "knowing and intelligent, " such that defendant understood he was relinquishing or giving up custody credits to which he was otherwise entitled."
People v. Black
(2009) 176 Cal. App. 4th 145, 154.
The court looked to
Black
, wherein a similar waiver was entered into by defendant in that case. In
Black
, defendant argued that her waiver of already earned credits was not entered into intelligently because her attorney had not explained it to her thoroughly. The People responded that the waiver was after exhaustive negotiations, but that no waiver could be effective as to time spent in custody after the waiver. The
Black
court agreed with the People's position.
The court in
Tate
then noted that the waiver in
Black
was "essentially indistinguishable." Moreover, in
Tate
, the judge proceeded to quantify how many good time credits Tate had waived, but said nothing about the waiver effecting future good-time credits to be earned.
The appellate court's analysis suggests a person can waive good-time credits that someone might earn in the future. This is significant for anyone plea bargaining.
Therefore, the appellate court remanded the case to the trial court to determine Tate's eligibility for good time conduct credits for the time she served after October, 2013, when she entered into the waiver.
The citation for the Fourth Appellate District Court ruling discussed above is People v. Marcia Lareah Tate (4th App. Dist., 2016) 248 Cal.App.4th 332.

For more information about serving time in jail, please click on the following articles:
Contact us.