What Are Some Affirmative Defenses for a Preliminary Hearing?
If you or a loved one have been to a preliminary hearing, the judge will usually inquire of defense counsel at the end of testimony if there are any affirmative defenses. Most often, defense counsel will respond, "[n]o affirmative defense, Your Honor."
Did defense counsel just commit malpractice? Did he or she overlook something? Is not defense counsel supposed to say something to defend the client? Is defense counsel sleepwalking through this and just does not care a bit about the client? But what is an affirmative defense? What are some examples of affirmative defenses that defense counsel can assert?
What One Should Learn from This Article: Not all affirmative defenses apply at a preliminary hearing, but depending upon the facts and law, one or more affirmative defenses may apply. The following affirmative defenses are the more common ones, but others may exist, depending on the charges and the facts.

Generally speaking, defenses are broken into two types. The first type, the most common type, disputes the sufficiency of the evidence to establish one or more elements (requirements, like items in a recipe) of the offense. The second type affirmatively asserts facts that if true, defeats the prosecutions allegations. This second type of defense, an affirmative defense, requires the defense to produce some argument or evidence of the facts to support the defense.
The second type of defense, a "silver bullet argument" or dispositive evidence, is what the judge in a preliminary hearing is asking for. Defendant has the burden of producing some evidence of the facts establishing the defense. This can be done by simply raising a reasonable doubt about the prosecution's facts. People v. Figueroa (1986) 41 Cal.3d 714, 721; 224 Cal.Rptr. 719; Comment to Evidence Code § 501.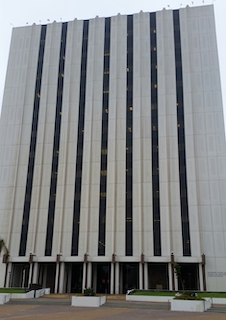 Compton Courthouse
What are some affirmative defenses then?

Alibi. In other words, it was not me. I was somewhere else at the time and I have proof. People v. Costello (1943) 21 Cal.2d 760, 765, 135 P.2d 164. A witness to seeing defendant at another location at the same time as the crime would suffice;
Accident. People v. Gonzalez (1999) 74 Cal.App.4th 382, 389. A person must have a mental state of intending to commit a crime or such reckless indifference to the consequences of his or her conduct, but negligence (i.e. a typical car accident) is not a crime (it is a civil case);
Self Defense. The amount of force used to defend oneself must be reasonable under the circumstances and not exceed what is necessary. People v. Adrian (1982) 135 Cal.App. 3d 335, 337, 185 Cal.Rptr. 506;
Necessity. The person admits to committing the crime, but alleges that he had a good reason for doing so. For example, a person may steal a hammer from a hardware store to go to a car, break the window and open the car door to help rescue a dog appearing to be suffering from heat stroke inside. People v. Kearns (1997) 55 Cal.App.4th 1128, 1135, 64 Cal.Rptr. 654.
Entrapment. Generally speaking, it is when a police officer lures, induces or encourages a defendant into committing a crime that he or she expresses a desire not to commit. People v. Moran (1970) 1 Cal.3d 755, 760, 83 Cal.Rptr. 411.
Mistake of Fact. This could be an assertion of consent for a battery or other crime. People v. Mayberry (1975) 15 Cal.3d 143, 157, 125 Cal.Rptr. 745 (reasonable and good faith belief in consent, against charge of kidnapping and rape);
Duress. This means defendant acted based on a threat of harm, which compelled the defendant to act against his better judgment or will. People v. Graham (1976) 57 Cal.App.3d 238, 240, 129 Cal.Rptr. 31;
Defense of another. People v. Roe (1922) 189 Cal. 548, 560, 209 P.560;
Unconsciousness. People v. Babbitt (1988) 45 Cal.3d 660, 689, 248 Cal.Rptr. 69;
Insanity. People v. Hernandez (2000) 22 Cal.4th 512, 522; and
Lawful arrest, i.e. against a charge of false imprisonment. People v. Agnew (1940) 16 Cal.2d 655, 664, 107 P.2d 601.
For more information about preliminary hearings, please click on the following articles:
Contact us.