What to Do If One Is Questioned by an ICE Agent in Jail?
If one has been reading the newspapers, listening to the radio, watching news or viewing the Internet, it should come as no surprise that Immigration and Customs Enforcement (ICE) agents are present in conty jails to interview certain people in custody. This is not something new that only happened after Donald Trump became President.
Such agents hope to identify certain prisoners for deportation proceedings based on information about one's criminal and or immigration history.
This article's purpose is to tell you be careful, especially if you are not a U.S. citizen, you came to the U.S. illegally and you have a criminal history.
About This Article Briefly: The best advice about interacting with any government agent, including an ICE agent, is to be respectful toward them, even perhaps saying "I respect you and the job you have." However, then keep quiet, unless you feel you absolutely must speak for some extraordinary, unusual reason. Never, never try to get sympathy from the agent.

If you feel like you are being cornered and must talk (which may be exactly the goal of the ICE agent), think twice about doing so. You still have your Fifth Amendment right to remain silent. That is not lost just because you are in custody. It is also critical that one understand that agreeing to talk is often presented as a smart thing to do, as if one in custody earns some type of special treatment by doing so. This is simply not true.
California law, at California Government Code § 7283.1(a), now requires that jailers must give you a consent form advising you of your rights before an ICE agent questions someone in custody. The form may be tough to understand or the jailer may imply that if you cooperate or agree to questioning, you may be released early, avoid discomforts or inconvenience in jail or otherwise earn goodwill that may be valuable later. Do not agree to talk if you believe this is so.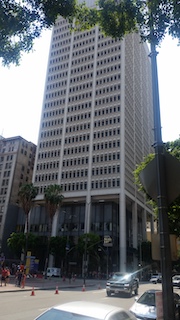 Immigration Court Downtown LA
The form seeking the prisoner's consent to speak with an ICE agent should first and foremost state why ICE wants to conduct an interview. If you do not know who the person is that is requesting an interview with you, ask that person to identify himself or herself.
Second, the consent form should state that you have the right to refuse to be interviewed. However, if you agree to be interviewed by ICE, it should warn you that absolutely anything you say can be used against you to deport you or to prosecute you more severely. We find that a great percentage of our clients "convict themselves" by trying to explain what happened to the police when doing so only causes them to be help their own prosecution. We try to remind them that one's Fifth Amendment right to remain silent is not abandoned once one goes into custody and that this right is only useful if one uses it.
Third, the consent form should explain that you may request to have an attorney present during any ICE interview. You can demand a public defender from the public defender's office or you can ask for a specific private criminal defense or immigration attorney, if you know that attorney's name. If you do make the demand, don't talk until the attorney arrives.
If ICE does not respect this request, you still have the right to remain silent, so use it. This right does not disappear or leave you just because you are in county jail. Tell the jailer or the ICE agent that you have opting to remain silent until your attorney is present with you.
Lastly, the reader of this article may notice that our advice is repetitive here. We don't apologize for this. This redundancy is not because of poor writing or lack of editing. Instead, it is because we believe that the information is so important that it merits being stated more than once.
For more information about immigration issues, please click on the following articles:
Contact us.