What's Grand Theft (PC 487) & the Defenses to This Charge?
For many people, an arrest for shoplifting can result in a charge of grand theft. This certainly can be quite a shock, as grand theft suggests a theft of a large amount of money, personal property or services. It also suggests a professional thief, or a hardened felon.
Summary in 55 Words or Less: Grand theft (Penal Code § 487) is a "wobber," meaning it can be prosecuted as a felony or a misdemeanor. A conviction for felony grand theft can be punished by up to three years in state prison, before any sentencing enhancements apply. Restitution to the victim is usually one of the prosecutor's top concerns.

However, shoplifting a nice watch or jewelry valued over $950 qualifies as grand theft, carrying with it a possible jail sentence up to one year or, if filed as a felony, a prison sentence of sixteen months, two years or even three years, depending upon the circumstances.
Grand theft, distinguished from petty theft ($950 is generally the petty theft limit), is the taking away, carrying away or driving away with the property of another without consent or the fraudulent appropriation of property entrusted to him or her. The fraud can be by an affirmative representation or pretense, when done knowingly and intentionally, to deceive another to into giving him or her money, labor, real property (i.e. land or a house) or personal property.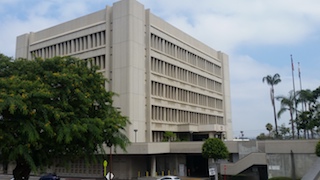 Inglewood Superior Court
Grand theft can include conduct classified also as embezzlement, defrauding an innkeeper, insider trading or many other theft-related crimes, including shoplifting. It can include defrauding a housing program of a public housing authority if the value of lodging exceeds $400 (Penal Code § 487i), stealing an animal carcass (Penal Code § 487a), conversion of real estate to personal property, for example by selling it (Penal Code § 487b), stealing gold dust, amalagam or quicksilver (Penal Code § 487d) or stealing cargo (Penal Code § 487h).
It is a serious offense because a conviction for grand theft certainly is a crime of moral turpitude. Therefore, merely being charged can have immigration consequences such as deportation or denial of naturalization. A conviction for grand theft also can have consequences for licensing for doctors, dentists, CPA's, real estate agents, real estate brokers, pharmacists, attorneys, registered nurses and anyone else with a state license related to a profession. As such, a conviction for grand theft can impose unemployment due to a suspension or revocation of one's license.
The defenses to grand theft start with lack of specific intent to steal or defraud. This defense is often not realistic in light of the circumstantial evidence in store security video of someone walking out of a store with merchandise taken out of a package, stuffed into a purse or jammed into one's pockets. The defense, in larger cases, also is a mere academic nicety when there are loads of e-mails showing an intent to permanently deprive someone else of property.
The second defense is that the property actually belonged to the client. This can be shown through receipts or otherwise.
The third defense is that the victim consented to the taking, perhaps even in order to set up a prosecution. This is rare, but it does happen, especially in cases involving a long contentious history between the client and the victim, including between those who had a romantic relationship.
No theft case would be properly defended or handled without a discussion of restitution when the client lacks a viable defense, as is often the case. The more restitution a client can pay the victim toward making the victim "whole again," the easier it is to negotiate a plea bargain where no jail or no prison is possible.
In addition, when the theft is charged as a misdemeanor, a motion for civil compromise under Penal Code § 1377 and 1378 must be considered, as well as a motion for imposition of diversion in Los Angeles County under Assembly Bill (AB) 2124 and Penal Code §§ 1001.94 to 1001.98.
When the theft is charged as a felony and the client has no prior criminal history, or a minimal criminal history, and the amount of loss is relatively low, a motion to reclassify the case as a misdemeanor under Penal Code § 17(b) must be considered.
For more information about the issues in this article, click on the following articles:
Multiple Convictions For Embezzlement (Grand Theft) From Employer Proper When Takings Distinguishable.
Court Rules Change in Petty Theft Limit Is Retroactive, Turning Certain Grand Theft Convictions Into Petty Theft.
Contact us.