What Rights Do Pro Per Defendants Have for Their Defense?
Abraham Lincoln is often quoted as saying that, "He who represents himself has a fool for a client." Nonetheless, some people in custody choose to represent themselves. This decision may result from a deep distrust of public defenders or even attorneys in general, to a belief that an attorney's experience and education is irrelevant, or a supreme confidence in one's own intellect. Some would say this decision can only be the result of insanity.
Summary in 50 Words or Less: If one decides to represent oneself, instead of being defended by an experienced criminal defense attorney, defendant can request and the judge can order the jail to permit defendant certain extra privileges, as described in this article.

In the course of defending oneself, the pro per defendant has certain rights that many attorneys only learn of in watching judges rule on the pro per's requests. These requests may be for the appointment of an expert, an investigator, library privileges in jail, telephone privileges, clothing privileges and access to a typewriter.
What rights do such pro pers have and on what basis? The answer starts with the Sixth Amendment's right to present a defense (think Gideon's Trumpet in
Gideon v. Wainwright
(1963) 372 U.S. 335; see also
People v. Williams
(2006) 40 Cal.287), but is tempered by a judge's discretion to deny requests that are too expensive or will cause undue delay in trial.
In re Gary U.
(1982) 136 Cal.App.3d 494. The judge also may deny a request that presents security concerns.
People v. Jenkins
(2000) 22 Cal.4th 900.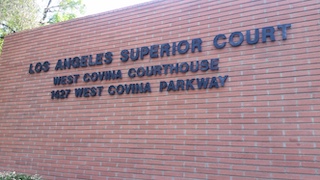 West Covina Courthouse
The most common request that the in pro per defendant is likely to make is for access to a law library. It is important to know from the outset that judges consider access to a law library a privilege and not a right. However, the right to a library may not be arbitrarily denied. When access is approved, the next question is how much time can the inmate have in the library. In
People v. Davis
(1987) 189 Cal.App.3d 1177, the pro per defendant has access to the jail library for three days per week for several hours at a time and this was found sufficient. When certain books are missing or more authorities are needed, the inmate can ask the judge for access to the local county law library for such books.
People v. Smith
(1985) 38 Cal.3d 945.
The next most common request is for appointment of an investigator and /or an expert witness. Judges often interpret such requests as fishing expeditions and camouflaged requests for legal advice from an expert, so such requests are often given careful, if not skeptical consideration. Judges will first and foremost make sure the investigator and/or expert witness is necessary.
Williams, supra
;
Corenevsky v. Superior Court
(1984) 36 Cal.3d 307;
Lucero v. Superior Court
(1981) 122 Cal.App. 3d 484 (appointment of a jury expert denied as a waste of public funds). Sometimes, an in pro per will seek the appointment of a legal research firm as an expert, which some judges will deny.
Smith, supra.


Expanded telephone privileges are the next most common request, which judges carefully consider for potential misuse. For example, in
People v. Harbolt
(1988) 206 Cal.App.3d 140, a pro per's expanded phone access was denied when it was brought to the court's attention that the pro per had made 1,703 telephone calls from jail, including 27 to pornographic telephone services. In requesting such privileges, the pro per should realize that a judge may deny any such request that is extremely generous, commenting that the court is not compelled to manage a case according to a defendant's whims.
People v. Horton
(1995) 11 Cal.4th 1068.
Lastly, the pro per does have a due process right to be tried in civilian clothing, rather than jail clothing that may suggest to the jury that he or she is in custody for good reason, i.e. to protect public safety. Moreover, courts have agreed that jail clothing "robs a defendant of respect and dignity."
Estelle v. Williams
(1976) 425 U.S. 501. Recognizing that there is a right to wear civilian clothing in trial suggests that the court may be required to furnish such clothing.
People v Zapata
(1963) 220 Cal.App.2d 903. However, usually the pro per has a family member or friend who can bring such clothing to court for defendant.
Judges are not allowed to presume a defendant wants to wear civilian clothing in trial. Indeed, some pro pers may choose to appear in jail garb for sympathy or other defense tactics.
People v. Pena
(1992) 7 Cal.App.4th 1294. Thus, if the pro per defendant wants to wear civilian clothes during trial, before the jury, he or she should make this request to the judge before trial.
This article is written for those who are pro per, as well as those who are part of a multi-defendant case where one or more defendants are representing themselves. In such a case, the party represented by counsel may be held to a higher standard by the judge and jury, so it is best to let the pro per defendant know his rights so the contrast between the self-represented and the attorney-represented defendant is less pronounced and all parties are judged by the same standard.
For more information about attorney-related issues, please click on the following articles:
Contact us.