My Attorney Won't Do What I Tell Him to Do – Fire Him?
In many cases, a client may suggest the attorney do something. Sometimes, the suggestion is very good and the attorney follows the suggestion. Other times, the client tells the attorney to do something and the attorney, because of his or her experience and training, tells the client no. The attorney then may explain why such a suggestion is not a good idea, based on his experience, knowledge of the case facts, knowledge of the judge on the case, the prosecutor assigned, criminal procedure and how the laws of evidence apply to the charges at issue.
In a Nutshell: Depending upon what one asks an attorney to do, the attorney's refusal to do something may be ethically proper or tactically prudent. Other times, such a refusal may be grounds for termination or reporting to the State Bar.

The client can handle this well, by thanking the attorney for protecting the client from himself. The client can also respond by telling the attorney, "I hired you. I paid you. So I want you to do what I tell you to do. If you do not want to obey your client, I am firing you."
This article is written to prevent a client from hurting himself or herself based on such a belief that the role of an attorney is to follow the commands of the client. It is not meant to defend the attorney's decisions, as the client actually may have a very helpful suggestion after all, but clarify the authority that the attorney has in handling the case and specify those areas that the client retains absolute authority over in the defense of a criminal case. California Rules of Professional Conduct, Rule 2-100.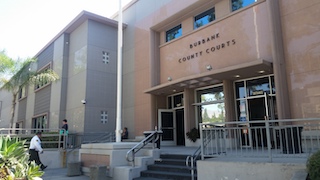 Burbank Courthouse
Counsel for a criminal defendant, generally speaking, controls all decisions regarding trial tactics and court proceedings.
People v. Masterson
(1994) 8 Cal.4th 965, 35 Cal.Rptr. 2d 679;
People v. Whittington
(1977) 74 Cal.App.3d 806, 820, 141 Cal.Rptr. 742. What exactly are "trial tactics?" Obviously, this would include things such as whether to give an opening statement (or not), when to exercise peremptory challenges during voir dire and what experts to retain for trial.
Other courts have considered other decisions and found these decisions to be within the scope of trial tactics:
1. Whether to object to evidence (People v Lanphear (1980) 26 Cal.3d 814, 828, 163 Cal.Rptr. 601, vacated and remanded (1980) 449 U.S. 810, reaff'd (1980) 28 Cal.3d 463, 171 Cal.Rptr. 505);

2. Whether to introduce particular evidence (People v. Murphy (1972) 8 Cal.3d 349, 366, 105 Cal.Rptr. 138);

3. Whether to call a particular witness to testify in court (People v. Williams (1970) 2 Cal.3d 894, 905, 88 Cal.Rptr. 208);

4. Whether to "declare a doubt," i.e. request a determination of defendant's competence to stand trial (Penal Code § 1368);

5. Whether to waive time to trial within 60 days of the superior court arraignment (Penal Code § 1382(a)(2)). However, there are limitations. For example, the waiver cannot be simply to accommodate defense counsel's calendar if it results in trial beyond statutory deadlines (People v. Johnson (1980) 26 Cal.3d 557, 568, 162 Cal.Rptr. 431).

6. Whether to challenge a particular trial judge and request another judge (People v. Jackson (1960) 186 Cal.App.2d 307, 317, 8 Cal.Rptr. 849); and

7. Whether to request a change of venue (People v. Guzman (1988) 45 Cal.3d 915, 937, 248 Cal.Rptr. 467, overruled on other grounds in Price v. Superior Court (2001) 25 Cal.4th 1046, 1069, n 13, 108 Cal.Rptr.2d 409).

The client, however, retains the following rights to decide certain issues.
People v. Robles
(1970) 2 Cal.3d 205, 214, 85 Cal.Rptr. 166. These include:
1. The right whether to testify. Robles, supra;

2. The right to enter an insanity plea (Penal Code § 1018; People v. Gauze (1975) 15 Cal.3d 709, 717, 125 Cal.Rptr. 773);

3. Whether to plead guilty (Penal Code § 1018; People v. Rogers (1961) 56 Cal.2d 301, 305, 14 Cal.Rptr. 660); and

4. Whether to demand a jury trial (People v. Holmes (1960) 54 Cal.2d 442, 5 Cal.Rptr. 81).

For more information about legal representation and court in general, please click on the following articles:
Contact us.