Can I Sue My Criminal Defense Attorney for Malpractice?
Our office often receives phone calls from people who already are represented by counsel in a pending or recently concluded criminal case and seek a second opinion about some issue because the present attorney is not giving them an answer they trust or like. The issue of suing their criminal defense attorney for malpractice often arises, as the person may comment, "I ought to sue my attorney for malpractice."
This statement is usually a rhetorical question meant to elicit some response from us. This article is perhaps that response in a general way.
The Reader's Digest Version: One can sue another person for almost anything at any time, but the real question is whether doing so is likely to lead to a verdict or settlement in one's favor that exceeds the cost of doing so. This article is more focused on the legal barriers and requirements for suing an attorney for malpractice in a criminal case.
The caller may be outraged that his attorney entered into a plea bargain with 100 hours of community service, rather than 20 hours like his friend agreed to in a similar, earlier case. It may be that the attorney did not file a motion to reduce a wobbler from a felony to a misdemeanor. It may be that the client was extensively involved with his church and the attorney chose not to introduce this to the prosecutor to lessen the punishment.
Our response is first to acknowledge the caller's disappointment. Next we ask the caller if they are indeed serious about a malpractice action against their former criminal defense attorney. Sometimes the caller says no, he was just angry and disappointed.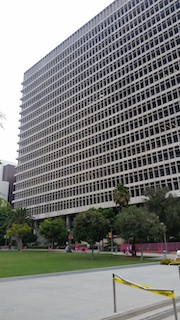 Clara Shortridge Foltz CCB
When the caller says he does want to sue the attorney, we ask the caller if he was actually innocent of all the charges. The caller usually says he was not, but felt that his or her attorney did not try hard enough.
We then have to explain that actual innocence is required to bring a legal malpractice action against a criminal defense attorney.
Put another way, in a legal malpractice case in California arising out of a criminal proceeding, California requires "proof of actual innocence." Wilkinson v. Zelen (2008) 167 Cal.App.4th 37, 45 [83 Cal.Rptr.3d 779], internal citations omitted; see also Sangha v. LaBarbera (2006) 146 Cal.App.4th 79, 87 [52 Cal.Rptr.3d 640].
In your civil lawsuit for malpractice, an essential element that you must plead is that you were found factually innocent. If you do not plead this, your complaint would be subject to demurrer and dismissal.
To prove actual innocence, the plaintiff must first prove legal exoneration. See Coscia v. McKenna & Cuneo (2001) 25 Cal.4th 1194, 1201 [108 Cal.Rptr.2d 471, 25 P.3d 670]. Exoneration will be decided by the court as a matter of law. This can be through Penal Code section 851.8 ultimately, but first one must obtain an acquittal after retrial, reversal on appeal with directions to dismiss the charges, reversal followed by the People's refusal to continue the prosecution, or a grant of habeas corpus relief. These are tough things to achieve.
Factual innocence, moreover, is for all charges. "[Plaintiff] must be exonerated of all transactionally related offenses in order to satisfy the holding in Coscia. Because the judicially noticed facts unequivocally demonstrate that [plaintiff] plead no contest to two offenses transactionally related to the felony charge of battery on a custodial officer in order to settle the criminal action, and she was placed on probation for those offenses, she cannot in good faith plead exoneration." Wilkinson, supra, 167 Cal.App.4th at p. 48.
The policy considerations [underlying the actual-innocence requirement] are as follows. First, the courts should not permit a guilty defendant to profit from his or her own wrong. Khodayari v. Mashburn (2011) 200 Cal.App.4th 1184, 1193 [132 Cal.Rptr.3d 903]. Second, to allow guilty defendants to shift their punishment to their former attorneys would undermine the criminal justice system. Id. Third, "a defendant's own criminal act remains the ultimate source of his predicament irrespective of counsel's subsequent negligence." Id.
When we explain these requirements and the policies underlying these, the caller usually feels alienated by us, as we are telling him or her the truth that is not well-known. We do not like to tell our client's such cold, hard law, but to be candid and correct in the legal standards, our answer must include such a discussion.
For more information about malpractice issues, please click on the following articles:
Contact us.