What Must Be Said by Police to Advise One of Miranda Rights?
If one watches enough TV or movies, he or she is familiar with the following admonition or warning:
1. You have the right to remain silent.
2. If you give up the right to remain silent, anything you do say can and will be used in court against you.
3. You have the right to speak with an attorney of your choice before questioning, and to have the attorney present during questioning.
4. If you cannot afford an attorney, one will be appointed for you by the court before any questioning, if you so desire. The attorney will not cost you anything; the services are free.
Summary in 50 Words or Less: There is no strict requirement that a Miranda rights warning be given in a specific way, however, for the prosecution to introduce statements made by a suspect after the warning, the prosecution must establish that the person was clearly told and understood he could remain silent, that anything he said could be used against him later, that he had the right to an attorney and if he could not afford an attorney, one would be appointed at no cost.

Since the prosecution has the burden of proving that defendant made a knowing and intelligent waiver of his or her rights (People v. Matthews (1989) 49 Cal.3d 63, 71), police should ask two more questions:
5. Do you understand each of these rights that I have explained to you?
6. Having in mind and understanding your rights as I have told you, are you willing to talk to me?
When defendant cannot understand English, the "advisement" of rights must be given in the language that the suspect understands. It must also be done properly, preferably with an expert interpreter, certified interpreter or registered interpreter under Government Code §§ 68560 to 68566. When this is done, usually the police will record the procedure. People v. Marquez (1992) 1 Cal.4th 553, 571.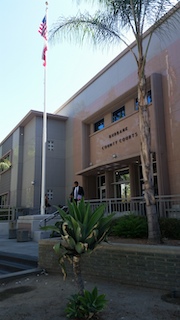 Burbank Courthouse
If it is done by someone who's foreign language skills are suspect, "close" is not good enough. For example, in People v. Diaz (1983) 140 Cal.App.3d 813, 822, the advisement was ruled insufficient because the Spanish word for "to get" was used instead of the word for "to afford" (an attorney); see also U.S. v. Perez-Lopez (9th Cir. 2003) 348 F.3d 839, 848 (Miranda warning as translated from Spanish that defendant had the right to "solicit" court for attorney if he had no funds implied that the request might be rejected and thus did not properly convey the government's obligation).
The most important thing in in giving the advisement is that it be given in clear and unequivocal terms that the person has the right to remain silent, that anything said can and will be used against him or her in court, that the person has a right to consult with an attorney before questioning and to have the lawyer present during any interrogation and, lastly, that an attorney will be appointed to represent the defendant if he or she is indigent.

No magic wording is required, however. It only need to be given in clear and unequivocal terms. People v. Bradford (2008) 169 Cal.App.4th 843, 854 (omission of one of the four warnings made admission inadmissible). For this reason, most law enforcement agencies use a preprinted card from which they read the suspect his or her rights, which contains the six parts listed above.
There is no requirement that defendant be told of the actual charge(s) pending against him or her.
People v. Boyde
(1988) 46 Cal.3d 212, 240, overruled on other grounds in
People v. Johnson
(2016) 62 Cal.4th 600, 648. Likewise, the police have no obligation to tell defendant of all possible crimes which he or she may be questioned about. This is important to note because often a defendant will respond to the police, "well, I can't make a decision unless I know what I'm being charged with" or suspected of. The police would usually respond that they do not know what the prosecutor will later decide to charge the suspect with. Our advice in such a situation is to simply remain silent in such a situation.
For more information about Fifth and Sixth Amendment issues, please click on the following articles:
Warning: If You Receive Miranda Warnings, Your Talking and Then Silence to Questions Can Be Used Against You As Adoptive Admissions
Contact us.