Four Facts About Miranda Rights That Everyone Should Know
Clients and potential clients that come in contact with our office frequently comment to us that "the officer did not even read me my rights before he started asking me questions." This comment is usually in the context of a traffic stop, perhaps for a DUI, or after someone is suspected of shoplifting. It may also be when a police officer reports to a residence after a 911 call reporting domestic violence.
Summary in 55 Words or Less: The duty of police to read a suspect his or her Miranda rights does not arise until the police make a custodial detention of a suspect. The police may ask a suspect initial questions to "dispel suspicions" at first, for a few minutes, without reading the suspect his or her Miranda rights.

What exactly are the obligations of a police officer to give
Miranda
warnings that one has the right to remain silent? When must such warnings be given? One key requirement is that the suspect be detained by police in some way, but what does this mean? How long does the detention have to last before
Miranda
warnings are required? After all, in movies and on television, they are often given almost immediately after police contact the suspect.
Each case is factually unique, so there are hundreds of reported decisions by courts about whether a suspect's rights were violated by police who did not give such warnings. Such a violation can result in exclusion of a suspect's statement (that may have been an admission or confession) or even dismissal of a case.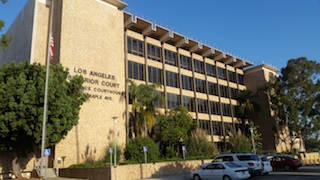 Torrance Courthouse
However, of the hundreds of cases, four stand out and merit attention:
1.
Berkemer
(1984). As defense attorneys, we hate this U.S. Supreme Court case. It says that
Miranda
warnings are not required on a temporary detention for investigation by an officer who lacks probable cause for an arrest, but whose observations lead to reasonable suspicion that the person detained may have committed or was about to commit a crime. The officer may ask the detainee a moderate number of questions to determine the detainee's identity and to try to obtain information confirming or dispelling the officer's suspicions.
Berkemer v. McCarty
(1984) 468 U.S. 420, 104 S.Ct. 3138, 3151, 82 L.Ed.2d 317, 334;
People v. Clair
(1992) 2 Cal.4th 629, 675, 7 Cal.Rptr.2d 564, 828 P.2d 705.
2.
Manis
(1969). In
People v. Manis
(1969) 268 Cal.App.2d 653, 74 Cal.Rptr. 423, police were patrolling a downtown Los Angeles area in which typewriters had been stolen by burglars. They observed defendant carrying a new portable typewriter case and headed for the pawnshop area. Defendant's conduct, after discovering their observation, was evasive; he reversed his direction and went into a park. Accordingly, police stopped him and asked where he was going and what was in the case. He answered that they were radios. They asked whether he had a receipt, and he replied, "No, I stole them." They then arrested him and gave the
Miranda
warnings. The conviction was affirmed by the appellate court. It reasoned that the temporary detention without arrest was justified by the suspicious circumstances and general on-the-scene questioning is a legally useful procedure. The lengthy formal warning prescribed by
Miranda
is essential when the suspect is taken into custody, actual or constructive, i.e., deprived of his or her freedom in a "significant way." It should not be required in every transitory, informal, or casual exchange between the police and the person questioned.
3.
People v. Lopez
(1985): An officer who sees evidence of possible contraband during a routine traffic stop is free to ask about it without a
Miranda
warning. Thus, a fifteen minute detention of the occupants of a vehicle stopped for speeding and failing to yield to police sirens did not become custodial when one of the passengers was asked about suspected stolen property located in the vehicle.
People v. Lopez
(1985) 163 Cal.App.3d 602, 608, 209 Cal.Rptr. 575. See also
People v. Montoya
(1981) 125 Cal.App.3d 807, 808, 178 Cal.Rptr. 211 (when a bottle of white pills fell out of the glove compartment during traffic stop, proper for officer to ask nature of contents).
4.
People v. Hubbard
(1970) 9 Cal.App.3d 827, [88 Cal.Rptr. 411] Officers stopped a vehicle for a traffic violation, conducted a pat-search of the occupants on suspicion of concealed weapons, and in the process detected what seemed to be a plastic bag containing capsules in the pocket of the defendant. One of the officers asked the defendant if he had any pills in his pocket, and defendant responded, "They're reds. They belong to my mother." The Second District upheld the trial court's ruling that evidence of this statement was admissible, despite absence of
Miranda
warnings. The court observed that "while a person who has been stopped for a traffic offense and is awaiting citation is technically an 'arrested person,' and is 'not free to depart until he has satisfactorily identified himself and has signed the written promise to appear,' the "detention which results is ordinarily brief, and the conditions of restraint are minimal."
Hubbard
, at 833.
Our office shares a certain uneasiness about the wide limits afforded to police before being required to give
Miranda
warnings. We believe that when an ordinary person is pulled over by the police, armed with a gun, that that person feels great pressure to answer every question, regardless of how critical it may be to an ultimate issue of guilt. To the average person, any type of contact with police is serious, especially in light of well-documented, recent episodes of police quickly resorting to shooting motorists at traffic stops.
For more information about the Fifth Amendment and your Miranda rights, please click on the following articles:
Police Must Give Suspect Miranda Warnings Before Asking Him If He is a Gang Member While Booking Him into Jail
Contact us.