What Must be Proven for a Firearm Enhancement to Apply?
As the reader of this article may surmise, a sentencing enhancement for use of a firearm can apply even if the firearm is not discharged or even loaded. Indeed, defendant's completion of a crime may be easier if the victim believes the suspect is armed.

A firearm can also be used to hit another person ("pistol whip") and cause pain.
However, to prove a firearm was involved at all, the prosecution must establish that defendant had in possession "a device designed to be used as a weapon from which a projectile is discharged or expelled through a barrel by the force of an explosion or other form of combustion." Penal Code § 16520(a); CALCRIM 3115.
In a Nutshell: For a firearm enhancement to apply, the prosecution must prove beyond a reasonable doubt that, at the time the crime was committed, defendant had in his or her possession a device from which a projectile is expelled by an explosive force or another form of combustion.

Contrary to the comments of several of our clients saying, "I can't be convicted; they never found the gun" or "I can't be convicted, I threw the gun in the ocean" (or in one case, "I took it to a foundry and had it melted down"), a gun does not need to be recovered for a firearm enhancement to apply. The evidence of a firearm may be proven by circumstantial evidence.
Thus, evidence of a gun being used in a crime may be proven by the testimony of the victim or a witness describing the gun used in the commission of the crimes. See, e.g., Bovaries v. Giubino (C.D. Cal. 2008) 558 F. Supp. 2d 1030 (firearms allegation upheld on basis of witness' description of unrecovered firearms and how suspects used them); People v. Law (2011) 195 Cal.App.4th 976, 982 (victim's testimony that she saw, heard, and felt gun sufficient to establish that weapon was firearm and to sustain enhancement under Penal Code § 12022.53(b)); People v. Monjaras (2008) 164 Cal.App.4th 1432, 1437 (displaying handle of pistol in waistband and menacing conduct sufficient to sustain firearm enhancement even though there was no further evidence gun was real); People v. Williams (1976) 56 Cal.App.3d 253, 255 (witness' description of unrecovered gun and assertions that pellet gun found on defendant was not weapon used during offense were sufficient to uphold firearm enhancement).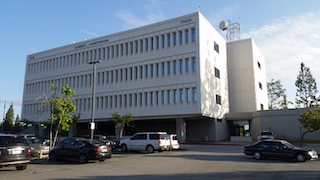 Downey Courthouse
Testimony that a firearm was heard but not seen by an assault victim likewise is sufficient for a firearm enhancement. People v. Escobar (1992) 11 Cal.App.4th 502, 505 (firearm use allegation upheld on basis of testimony that victim heard sound of gun being cocked).

Such pro-prosecution law, however, does have its limits. In People v. Hunter (2011) 202 Cal.App.4th 261, 275, the appellate court held that the trial court judge erred in instructing the jury that an "object's appearance and defendant's conduct and words in using it may constitute sufficient circumstantial evidence to support a finding that it was a firearm" and "[a] victim's inability to say conclusively that the gun was real and not a toy does not create a reasonable doubt as a matter of law that the gun was a firearm." The appellate court commented that the pinpoint jury instruction on this issue to clarify the sufficiency of proof was improperly argumentative and unconstitutional.
The issue of whether an object was a toy, loaded or operational has been heavily litigated as well, as one might expect. If a firearm is recovered, it does not need to be loaded or operable for an enhancement to apply. People v. Nelums (1982) 31 Cal.3d 355, 359 (inoperable firearm creates risk of harm because its display may stimulate resistance). See, e.g., People v. Bland (1995) 10 Cal.4th 991, 1000 (unloaded gun found in close proximity to drug inside bedroom when defendant was outside with police sufficient for armed enhancement); People v. Steele (1991) 235 Cal.App.3d 788, 795 (firearm-use enhancement sustained even though defendant had shown victim that gun was unloaded).
It may come as some relief to the reader that toy guns, pellet guns and BB guns are not firearms for purposes of firearm enhancements. Penal Code § 16520(a); but see Monjaras, supra, at 1435 (jury entitled to infer from defendant's conduct that gun was not a toy, but a real, loaded firearm); People v. Vasquez (1992) 7 Cal.App.4th 763, 768 (after amendment to statute, definition of firearm no longer includes gas-pressured pellet gun used by defendant).

However, a toy gun, pellet gun and a BB gun can be considered dangerous weapons for sentencing enhancement under Penal Code § 12022(b). In re Bartholomew D. (2005) 131 Cal.App. 4th 317, 325 (pellet guns have inherent capacity for physical injury and are dangerous weapons under enhancement statute). Compare People v. Dixon (2007) 153 Cal.App.4th 985 (insufficient evidence to sustain firearm-use enhancement but sufficient to sustain lesser included enhancement of deadly weapon) with People v. Reid (1982) 133 Cal.App.3d 354, 366 (in absence of substantial evidence defendant intended to use toy gun as club, deadly weapon enhancement stricken).
We present this article the firearm-use enhancement is often a murky area of understanding for attorneys, which means it is only more so for the general population.
For more information about firearm issues, please click on the following articles: