Does Carrying a Loaded Firearm on His Person Include in a Backpack?
In a Nutshell: Penal Code § 25850 can include carrying a loaded firearm in a backpack defendant is wearing because he or she has ready access to the weapon.

Penal Code § 25850(a) states that a person is guilty of carrying a loaded firearm when the person "carries a loaded firearm on the person or in a vehicle while in any public place or on any public street…"
Section 25850 is the successor statute to section 12031(a)(1), which was repealed in 2010. Section 12031(a)(1) was enacted in 1967, so it and § 12031(a)(1) have had almost fifty years of legal challenges to what this law really means. Moreover, it is a crime that all fifty states have enacted in one form or another, mostly in extremely similar language.
Yet in the last ten years of so, people have increasingly began using small backpacks to carry personal items, i.e. a laptop, maybe a book, similar to how people in the past used briefcases or purses. Indeed, no legal challenge exists to whether wearing a loaded firearm in a backpack constitutes carrying a loaded firearm "on one's person."
The California Supreme Court, however, in
People v. Steven Wade
(2016 DJDAR 4403), recently addressed the issue.
Wade was wearing a backpack while being pursued by a police officer. The backpack included a loaded firearm. Police eventually arrested Wade and found the loaded firearm in the backpack. The Los Angeles County District Attorney's office then charged Wade with carrying a loaded firearm on his person.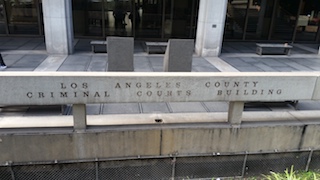 Clara Shortridge Foltz Criminal Courts Building CCB
After a preliminary hearing wherein the judge ruled Wade was not carrying the firearm on his person (under People v. Pellecer (2013) 215 Cal.App.4th 508 (carrying a knife in a backpack is not carrying the knife "on the person"), the prosecution appealed to the appellate court.
The appellate court agreed with the prosecution, finding that having "ready access" to the loaded revolver was important and thus, brought the conduct within the statutory intent of § 25850(a). In other words, carrying the loaded gun in a backpack being worn was carrying it on his person.
Mr. Wade then appealed to the California Supreme Court, which noted no prior California case had directly considered the issue of a person wearing a backpack and being charged with carrying a weapon on his person.
Thus, it considered a string of cases from California and other states that made similar challenges to this law. For example, in
People v. Dunn
(1976) 61 Cal.App.3d Supp 12, defendant was carrying a firearm in a suitcase at an airport. He was convicted of carrying a concealed firearm "upon his person." Because the firearm was in a suitcase, he argued it was not "on his person." The court of appeal disagreed, citing to a New York Court of Appeals decision in
People v. Pugach
(1964) 204 N.E.2d 176, holding that a handgun in a suitcase and carried by defendant was sufficiently "upon his person" to violate the law.
Several cases post-dating
Dunn
cite to
Dunn
with approval, the California Supreme Court noted. In Oregon, for example, in
State v. Anfield
(Or. 1992) 836 P.2d 1337, defendant carried a black bag with two loaded pistols. In resolving a search and seizure question, the Oregon Supreme Court held that defendant there had violated a statute prohibiting the carrying of a "firearm concealed upon the person." The court cited to
Dunn
and
Pugach
, saying that "the analysis of other courts that have concluded that the language, 'upon the person,' includes purses, handbags, bags and their contents."
In
DeNardo v. State
(Alaska Ct. App. 1991) 819 P.2d 903, similarly, a defendant carried an eleven-inch knife in a briefcase. He was convicted of possessing a deadly weapon that was "carried on the person." The appellate court affirmed his conviction.
Lastly, the California Supreme Court noted that in oral argument, Wade agreed that carrying a loaded weapon in his clothing, in a pocket would be carrying it on his person. The Supreme Court then noted how some pants and jackets have large zippered cargo pockets, which for all practical purposes are akin to a backpack with its large zippered carrying area.
Thus, the Supreme Court affirmed the appellate court, finding that wearing a backpack with a loaded firearm inside was carrying a firearm on "one's person" under California law.
The citation for the California Supreme Court ruling discussed above is People v. Steven Wade (2016) 63 Cal.4th 137.

For more information about carrying a loaded firearm and unlawful possession of a firearm, please click on the following articles:
Conviction Reversed for Driver Permitting Another Person to Carry a Loaded Firearm in a Vehicle Because Crime Requires Driver's Knowledge That Gun Was Loaded
Contact us
.