What Is Unlawful Use of Tear Gas (Penal Code § 22810(g)(1))?
Did you use pepper spray or mace in self-defense to stop an attack? Did you use it to stop a vicious dog from biting you? If so, Penal Code § 22810(g)(1) should not apply to you.
However, if you used tear gas (including mace or pepper spray) to defend property, or to move a trespasser from your property or place of employment, you may face criminal prosecution.
Why This Article Matters: Unlawful Use of Tear Gas, i.e. mace, can be a violation of Penal Code § 22810(g)(1). It can be charged as a felony or a misdemeanor, depending upon the facts and the defendant's criminal history. The maximum punishment for a felony violation of 22810(g)(1) is three years in state prison. Self-defense can be a defense.

Penal Code § 22810(g)(1) is titled unlawful use of tear gas. Its use in any context other than self-defense is illegal. Its mere possession, even if for self-defense, is also illegal (even if the canister is empty) by anyone previously convicted of a felony or crime involving assault (including misdemeanor domestic violence) under any state or federal law, juveniles under age 16 (a person under 18, but 16 or 17 may possess this with parental approval at time of purchase), or anyone addicted to any narcotic drug.
A violation of Penal Code § 22810(g)(1) is fundamentally a form of assault and can be a battery, too. It can be charged under 22810(g)(1) as a felony or a misdemeanor (it is a "wobbler"), depending upon the facts of the case, the defendant's prior record and the prosecutor's discretion. If the defendant has been convicted of using pepper spray in the past in an offensive manner, or has prior convictions for violent crimes, it is certainly more likely that a felony will be charged.
Punishment for violating this section as a felony is a minimum of sixteen months in state prison (not eligible under AB109 for county jail) to a maximum of three years, exclusive of sentencing enhancements. Probation is possible, including under a joint suspended, but not guaranteed.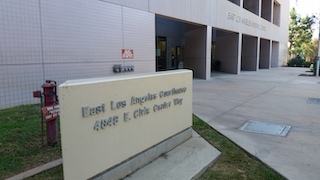 East LA Courthouse
Punishment for violating this code section as a misdemeanor involves up to one year in county jail and a fine of up to $1,000.00. Probation is also possible, but not guaranteed.
Typical terms of probation include anger management classes, community service and a stay away order from a particular location or a protective order in favor of the "victim."
Similarly, if someone is a registered narcotics offender and is caught while transporting or selling a controlled substance while having pepper spray in one's pocket, the charges will most likely be filed as a felony.
In our experience with this offense, a misdemeanor will be charged when there are mitigating circumstances that may involve imperfect self-defense. For example, the client may have used it as self-help because police were not responding fast enough, even though our client had called 911. A liquor store, nail salon or other type of small shop owner, for example, may have used pepper spray to detain a thief until police came (this type of use would be illegal). Likewise, the circumstances may be that the real aggressor is not our client, but the "victim" and our client acted to protect property from imminent vandalism or theft, which does not qualify as self-defense.
The offense is somewhat rare although pepper spray and mace are often carried by women in their purse. In each case we have handled, the prosecutor has remarked to us that "we don't see many of these," or "I've never seen this charged before."

This is a good thing, as it implies a table rosa (blank slate) for educating the prosecutor about the offense. This means a skilled defense attorney can present the mitigating circumstances of the offense, the good reputation of the client, the bad reputation of the victim, the use of tear gas (or mace or pepper spray) not to necessarily inflict suffering in the victim (if this applies) and the client's proactive enrollment in anger management classes.
For more information about criminal issues, please click on the following articles:
Contact us.