What is Threatening a Public Official (Penal Code 76)?
If you or a loved one have been charged with threatening a public official, there are most likely many questions you may have. Is it a felony or a misdemeanor? What must the jury find to convict one of this charge? Is the First Amendment right to free speech a defense? Who is a public official? What if the person was not elected to the job?
In answering these questions and presenting this article, we wish to make clear from the outset that this article only covers California superior cases for this offense. In federal court, the U.S. District Court can entertain this offense under 18 United States Code (U.S.C.) § 871 when the official is a federal official such as the President. A violation of this offense, if found convicted in federal court, is punishable by up to five years in federal prison.
The Reader's Digest Version: Threatening a public official (Penal Code § 76) is a wobbler, meaning it can be prosecuted as a misdemeanor or a felony, depending upon the facts of the case. The threat must be of death or serious bodily injury to an official, including a DA or public defender, or their immediate family.

In California state court, in contrast, the offense is a wobbler under Penal Code § 76(a)(1) for a first-time offender, meaning it can be punished as a misdemeanor or a felony depending upon the case facts and defendant's criminal history. The punishment for a misdemeanor is up to one year in county jail and a fine up to $5,000. As a felony, it is punished as sixteen months, two years or three years in state prison (served in local county jail under AB109) before any sentencing enhancements, if any apply, are added.
If probation were granted, we would anticipate that punishment would include a protective order to order defendant to stay away from the government official, including any electronic or telephonic contact. Other likely terms of probation would include anger management classes and either Cal-Trans or community labor, as well as significant court fines and fees. A short jail term may also be included as a term of probation, as well as a Fourth Amendment waiver to permit a search of defendant's electronic communication devices (cell phone and computer).
For a second-time or greater offender, the punishment is always as a felony, with the same sixteen months, two years or three years in state prison (to be served in local county jail under AB109) as the term, before any enhancements, if applicable, are added. There is also a fine up to $5,000.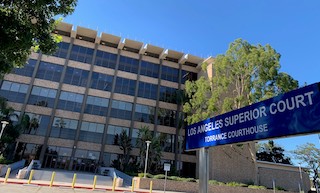 Torrance Court
We would expect that if probation were granted to a second-time or greater offender, a joint suspended sentence would be considered to deter the defendant from repeating such conduct, as well as anger management classes, a stay-away protective order and significant community service or Cal-Trans labor to perform. A Fourth Amendment waiver would certainly specify the ability of any police officer or probation officer to search one's cell phone and computer.
What conduct suffices for violation of Penal Code § 76? The statute reads, "[e]very person who knowingly and willingly threatens the life of, or serious bodily injury to any elected public official, county public defender, county clerk, exempt employee of the Governor, judge, or Deputy Commissioner of the Board of Prison Terms, or the staff, immediate family or immediate family of the staff" violates Penal Code § 76.
"Serious bodily injury" is defined within the statute at Penal Code § 76(a)(2) as serious physical injury or serious traumatic condition.
"Threats" is defined at Penal Code § 76(a)(5) as verbal or written threat or a threat implied by a pattern of conduct with the intent and apparent ability to carry out the threat as to cause the person who is the target of the threat to reasonably fear for his or safety. When defendant uttered or conducted himself so as to communicate a threat, he or she must have done so with the intent that his or her target understood such as a threat. In other words, this is a specific intent crime.

If the threat is ambiguous or vague, that can be a defense. Was the communication taken out of context or was it unclear? Was defendant just angry or frustrated and using hyperbole to make a point or get the victim's attention? Did defendant have the ability to carry out the threat and did the victim know that defendant did not have such an ability?
Defendant further must know of the person's government position in making the threat or engaging in such conduct.

In addition, the person threatened must have reasonably feared for his or her safety or that of his or her immediate family. The reasonableness of the victim's fear or anxiety must be closely scrutinized.
Lastly, the threat must have been communicated or the conduct intended to relate to the public official's government duties.
The First Amendment's freedom of speech clause is not a defense to this crime.
For more information about threats made to others, please click on the following articles: