What Is the Law on Self Defense? What Are the Limitations?
In domestic violence cases and many other violent crimes, including criminal threats, there is often an issue of self defense as a justification for why our client acted as he or she did. Often, this defense is not considered by police, who may even acknowledge it, but who would rather defer to the prosecutor or judge on whether this defense bars prosecution.
Summary in 40 Words or Less: Self-defense is legal is reasonable in scope to the danger of the threat; it is illegal if the victim uses more force than the force shown by the threat. There is no duty to retreat from a threat.

So what can one hope to expect the prosecutor or judge will follow? What is the law on self-defense in California?
Perhaps the most well-known fundamental is that one is not required to retreat when faced with another person acting aggressively. As stated by our courts, "a defendant is not required to retreat. He or she is entitled to stand his or her ground and defend himself or herself and, if reasonably necessary, to pursue an assailant until the danger of death or bodily injury has passed. This is so even if safety could have been achieved by retreating."
People v. Hughes
(1951) 107 Cal.App.2d 487, 493;
People v. Hatchett
(1942) 56 Cal.App.2d 20, 22; see CALCRIM No. 3470. The defendant need not retreat and may pursue the assailant until the danger of injury or unlawful touching has passed.
People v. Collins
(1961) 189 Cal.App.2d 575, 588-589.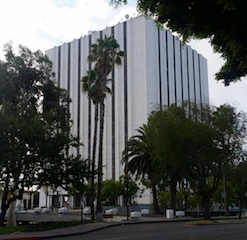 Compton Courthouse
Other areas of the Penal Code take self-defense perhaps a step further. Penal Code § 26 states, "[a]ll persons are capable of committing crimes except those belonging to the following classes: .... 6. --Persons (unless the crime be punishable with death) who committed the act or made the omission charged under threats or menaces sufficient to show that they had reasonable cause to and did believe their lives would be endangered if they refused." In other words, if someone reasonably believes that he or she is threatened with death and one acts in response, that person is deemed not capable of having committed a crime. It is what the law calls an affirmative defense or total defense.
When less than the threat of death is perceived, Penal Code § 692 says "Lawful resistance, by whom made. Lawful resistance to the commission of a public offense may be made: 1. By the party about to be injured; 2. By other parties." Lawful resistance is considered resistance that is reasonable in scope. For example, if someone is about to hit you with his or her fist, it is lawful to push the person away. It would not be lawful, however, to shoot that person in the head. Shooting the person would not be reasonable in scope.
Section 692 also addresses the defense of others and makes it permissible to use lawful resistance to protect another person. Penal Code § 694 addresses this more directly, ". . . Any other person, in aid or defense of the person about to be injured, may make resistance sufficient to prevent the offense." Again, the amount of force authorized is only that much which is enough to stop the threat and no more. For example, "[t]he defense of others is a defense to a charge of brandishing a weapon under Penal Code § 417(a)(2).
People v. Kirk
(1986) 192 Cal.App.3d Supp. 15, 19 [238 Cal.Rptr. 42]."
In certain situations, self-defense can be part of a "necessity" defense. A jury will be instructed that this defense applies and that the defendant is not guilty of domestic violence (or whatever offense) if (he/ she) acted because of legal necessity.
In order to establish this defense, the defendant must prove that:
1. (he/she) acted in an emergency to prevent a significant bodily harm or evil to (himself/herself/ [or] someone else);

2. (he/she) had no adequate legal alternative;

3. The defendant's acts did not create a greater danger than the one avoided;

4. When the defendant acted, (he/she) actually believed that the act was necessary to prevent the threatened harm or evil;

5. A reasonable person would also have believed that the act was necessary under the circumstance;

AND

6. The defendant did not substantially contribute to the emergency.

The defendant has the burden of proving this defense by a preponderance of the evidence. This is a different standard of proof than proof beyond a reasonable doubt. To meet the burden of proof by a preponderance of the evidence, the defendant must prove that it is more likely than not that each of the six listed items is true.
The court has a sua sponte (duty to act on its own, without a request from defendant) duty to instruct on necessity when there is sufficient evidence supporting each of the factors establishing the defense. (
People v. Pepper
(1996) 41 Cal.App.4th 1029, 1035 [48 Cal.Rptr.2d 877] [no duty to instruct sua sponte where evidence did not, as a matter of law, support this defense]; see
In re Eichorn
(1998) 69 Cal.App.4th 382, 389 [871 Cal.Rptr.2d 535] [defendant requested instruction on necessity and court, citing
Pepper
, supra, held that "an instruction on necessity was required," where sufficient evidence established the defense].)
For more information about the issues in this article, click on the following articles:
Does the Law Against Carrying a Dirk or Dagger Violate My Constitutional Right to Bear Arms for Self Defense?
Defendant's Use of Booby Trap to Kill Detective Warrants Sentence Increase as Personal Use of Firearm Even If Defendant Gone When Trap Fires Gun.
Contact us.