What Is the Law on Brass Knuckles? Punishment? Defenses?
A lot of our clients with prior criminal histories (especially those who have been to prison), as well as younger clients, carry brass knuckles. If one has ever been punched by someone holding brass knuckles, we are told that the injury is far worse than a punch from someone not holding them. The knuckles are not always necessarily made of brass (they can be made of plastic or another metal), but they are generally still referred to as brass knuckles.
Having brass knuckles, even if for self-defense, is illegal, much to the shock of most people.
The Reader's Digest Version: The mere possession of brass knuckles is illegal under two separate sections of the Penal Code in California. It is a wobbler. When charged as a felony, one faces three years in prison. The most common defense is that the alleged brass knuckles are not functional, i.e. they are too small or in an odd shape that prevent their use.

Some people like to use brass knuckles as a paperweight or as a belt buckle, but one should avoid doing so if the belt buckle can function as brass knuckles by one simply unhooking the buckle from the belt. Many such belt buckles in the form of brass knuckles are the perfect size to be function and do indeed unhook from the belt for dual use as a punch enhancer.
Merely having such knuckles when the possession is as a weapon in any way is illegal under Penal Code § 21810. It is also illegal to sell or manufacture brass knuckles. As part of the Realignment Act of 2012, all the weapons listed as illegal (including brass knuckles) under Penal Code § 12020, et. seq., were given their own new code section. For example, Penal Code § 12022(a)(1) addressing brass knuckles, was renumbered as Penal Code § 21810.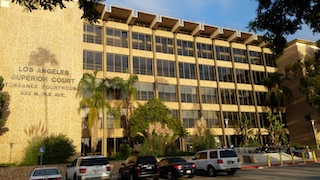 Torrance Courthouse
Section 21810 is a "wobbler," meaning the offense can be charged as a felony with a maximum sentence of three years and a fine of up to $10,000 plus penalties and assessments that can total $42,500. It can also be charged as a misdemeanor with a maximum punishment of one year in county jail and up to a $1,000 fine, plus penalties and assessments (total of approximately $4,250). The decision on how to charge the offense will consider the facts of the case (the client's age, how the discovery of brass knuckles was made, if anyone was injured, how the suspect cooperated with police), the suspect's prior criminal history (especially as to gang affiliation and prior prison sentences) and any other factors relevant to how brass knuckles are prosecuted in the particular courthouse.
Probation is often possible, especially if the client has no prior history. A felony sentence would be served in country jail, not state prison, unless the defendant is a registered sex offender, or has a prior conviction for a serious or violent felony listed in Three Strikes statutes.
Having brass knuckles is also illegal under Penal Code § 16590, under a list of "generally prohibited weapons. Brass knuckles are listed at subparagraph (o). Other weapons listed under section 16590 include an air gauge knife, ammunition that contains a flechette dart, ballistic knives, belt-buckle knives, a bullet containing or carrying an explosive agent, a cane gun, a cane sword, a nunchuku, a shobi-zue, a short-barreled rifle or short-barreled shotgun, a zip gun, a writing pen knife and a host of other ingenious weapons.
The defenses to possession of brass knuckles are primarily that what you had does not meet the definition of brass knuckles or that you were not aware that the weapon had such characteristics of brass knuckles. These are tough arguments to make. Less commonly, you may have a special permit for possession of the brass knuckles. More commonly, however, one will try to suppress the discovery of the brass knuckles by arguing that it was found during an illegal search or there was some other police misconduct such as evidence planting.
For more information about issues related to brass knuckles, please click on the following articles:
Contact us.