What Is the Law About Being a Peeping Tom (PC § 647(i))?
If you were or someone you know was arrested for "peeking while loitering" or "peeking," the first concern you may have is what is the punishment and will a conviction for this impose a requirement to register for life as a sex offender. Further questions involve how may this charge be resolved for another offense to avoid the stigma of being a convicted "Peeping Tom" and whether one's record can be erased or sealed later.
In a Nutshell: A violation of Penal Code § 647(i), commonly known as being a "Peeping Tom," involves someone trespassing onto the property of another and lingering long enough by a window or door to stare at a person within, who does not have to be undressed or even know the prowler is looking at him or her. It is a misdemeanor. Registering as a sex offender is not required.
A violation of Penal Code § 647(i) requires that one peers into the window or door of another on inhabited private property without that person's consent. It does not require that the person within be undressed or that the person even notice the person peering in. The person must linger, prowl around, delay or pause long enough to look into the door or window. The person must not have a legal reason for being on the property and therefore involves elements of trespassing.
This is a misdemeanor offense, not a felony, and consequently, the maximum punishment that a judge can impose for a violation of § 647(i) is six months in jail and / or a fine of $1,000 (which when penalties and assessments are added on makes the total about $4,500).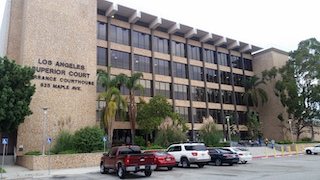 Torrance Courthouse
Probation is certainly possible, but while on probation, one should anticipate that terms would include a stay-away order from the location where the "peeping" took place and a protective order in favor of the person who was the "victim," meaning defendant may not communicate with this person in any way or come within 100 yards of the person. Other terms of probation may include sexual compulsiveness classes, community service and, if drugs or alcohol was involved, Alcoholics Anonymous (AA) or Narcotics Anonymous (NA) classes.
If convicted of this crime, registration under Penal Code § 290 as a registered sex offender is not required. The stigma of having such a conviction on one's record, however, can be similar to having been convicted of a more serious sex offense like child molestation or statutory rape.
The facts of the case dictate whether some creative plea bargaining can result in resolution of the charge on other grounds, i.e. trespassing (Penal Code § 602) or disturbing the peace (Penal Code § 415). For example, if the one was not looking into a door or window, but was nonetheless on private property without a lawful purpose, trespassing may be another charge the prosecutor may be agreeable to amending the complaint to allege and to which the client could resolve the case.
If one was on the property for a lawful purpose, i.e. one was trying to collect a debt owned by the property owner or one was attempting to perform work under a contract, i.e. a gardener, painter or home remodeler, disturbing the peace may be a way to resolve this case.
In certain counties, judicial diversion (until January, 2018 when the program "sunsets") may be available to resolve the case without a conviction. In Los Angeles County, for example, a person with no convictions in the last ten years (and who is not a registered sex offender), facing a current misdemeanor (other than DUI, domestic violence, certain fish and game regulations and not involving violence) may ask the judge for "judicial diversion" under Penal Code §§ 1001.94 to 1001.98.
The judge will require that a person enter a plea to the charge, but delay sentencing for a year and impose certain requirements that the person stay away from the location of the incident and complete such tasks like community service, paying restitution, perhaps taking sexual compulsiveness classes, or other tasks. If the person completes all such tasks assigned by the judge and avoids any further contact with the law, the judge will allow the person to withdraw his "no contest" plea to the charge and then the judge will dismiss the case with order that the record by sealed.
For more information about sex offense issues, please click on the following articles:
Contact us.