What Is the Flannel Doctrine of Imperfect Self-Defense?
In a murder case, self-defense can be an affirmative defense that allows one to be found not guilty. This is considered perfect or pure self-defense. However, the use must be reasonable under the circumstances. It must based upon an objectively reasonable belief that there was an imminent threat or danger of being killed, injured or touched unlawfully and that there was a need to use force to prevent this harm. The person then must use no more force than is necessary to prevent the harm. This can be a tough standard to meet, especially in the heat of the moment when things are happening fast and emotions may be running high.
The Gist of this Article: The Flannel Doctrine deals with the reasonable, but mistaken belief that deadly force was necessary in self defense, which if found true by a jury, means defense cannot be convicted of murder, but voluntary manslaughter instead. The key in avoiding a murder conviction is the jury's finding that defendant truly had a belief that deadly force was necessary.

Quite often, there is instead imperfect self-defense asserted in murder cases. Under California law, this applies when a person kills another person in an honest, but mistaken belief that deadly force is necessary for self-defense.

If a jury find imperfect self-defense was used, the jury may convict the defendant of voluntary manslaughter instead of murder. See People v. Manriquez (2005) 37 Cal.4th 547, 581 ("imperfect self-defense is not an affirmative defense, but a description of one type of voluntary manslaughter"). Indeed, imperfect self-defense is really just a lesser-included form of homicide. People v. Barton (1995) 12 Cal.4th 186.
As might be suspected, the sentence for voluntary manslaughter (three to eleven years) is considerably lower than for murder, especially first-degree murder (25 years to life) or second-degree murder (15 years to life).
Imperfect self-defense is consequently an extremely attractive, and often over-used defense, which judges are careful to strictly limit being used. After all, the stakes are extremely high. If imperfect self-defense is found, it can make the difference between being released from prison and never seeing freedom again. As a reminder, if one is found guilty of murder, one serves 100% of the sentence (not 85%) and the first time he or she is eligible for parole is upon completion of the primary term. Under voluntary manslaughter, one serves a minimum of 85% of the term.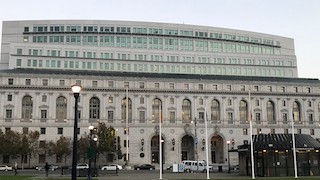 CA Supreme Court San Francisco
The key to finding imperfect self-defense is whether defendant had an objectively reasonable belief that deadly force was necessary for self-defense to prevent death or great bodily injury. People v. Por Ye Her (2009) 181 Cal.App.4th 349, 352 (the unreasonableness of either belief transforms perfect self-defense into imperfect self-defense).
Whether someone had an objectively reasonable belief is based upon the totality of the circumstances at that time. Would a reasonable person have acted in the same way? If so, that is perfect self-defense and the jury should acquit.
If the belief of being in imminent peril or the need to use deadly force was unreasonable, the self-defense is imperfect. In the case of People v. Flannel (1979) 25 Cal. 3d 668, 160 Cal.Rptr. 84, 603 P.2d 1, the California Supreme Court for the first time, established the doctrine of imperfect self-defense.
In Flannel, Mr. Flannel came at the victim, a man named Daniels, with a gun while the Daniels had his hand near his pocket. Flannel was drunk at the time. Flannel knew that Daniels had a knife in his pocket, so Flannel anticipated that Daniels might grab his knife.
In a sudden movement, Flannel shot Daniels in the head and Daniels died. Daniels never grabbed for his knife, but it indeed was in his pocket, police determined later.

Flannel's attorney claimed self-defense and appealed Flannel's conviction up to the California Supreme Court, which then stated that Flannel's use of deadly force was imperfect self-defense and therefore voluntary manslaughter and not murder.

The key to establishing imperfect self-defense is showing that it the defendant's mistaken belief was actually true, then his or her self-defense was justified. This may because the victim was unreasonably aggressive toward defendant. Then one must present the defendant's circumstances in life (his upbringing, any significant experiences with violence in the past), etc., to support the honest, but mistaken belief in the need for deadly force to be used in self-defense.
For more information about self-defense issues, please click on the following articles:
Contact us.