What Is the Corpus Delicti Rule About Sufficient Evidence?
If one watches enough television about our legal system, it can become very confusing as to what really needs to be produced in court as admissible evidence.
If one is a law school graduate, or worse yet, an experienced criminal defense attorney, it can be frustrating to watch how the media, in movies and television shows, characterizes a conviction as a "slam dunk" because defendant admitted or confessed. In another show, prosecutors agonized over losing a conviction because they could not recover the gun used in a bank robbery although they had several witnesses who could identify the robber and describe what he did.
About This Article Briefly: The "Corpus Delicti Rule" does not mean a dead body must be produced to prove a murder took place, but it does mean that the prosecution must produce some independent evidence of a crime before being able to introduce a defendant's confession or admission to a crime.

Similarly, there is no shortage of people who believe one cannot be convicted of murder unless police find the dead body, regardless of if there are multiple witnesses to the crime and maybe even a video. For this reason, many believe that dumping the body in the ocean or a deep lake, or burying it in the desert, is a good idea even when there are witnesses to the crime. This is not a good idea under such circumstances.
Every law student in California, even in the first year, learns the "Corpus Delicti Rule." In Latin, it means body of the crime. It states that in order to obtain a conviction, the prosecution must produce some evidence, independent of defendant's admission or confession, that a crime in fact took place. Jones v. Superior Court (1979) 96 Cal.App.3d 390, 393, 157 Cal.Rptr. 809. This rule is generally introduced as a defense argument.
In evidence class, wherein the law student is taught that unless the prosecutor can produce some relevant evidence, proof, that a crime occurred before the prosecutor may introduce defendant's statements about the crime. Hall v. Superior Court (1953) 120 Cal.App.2d 844, 262 P.2d 351. In practice, we see this rule violated repeatedly without judges or defense attorneys saying a thing.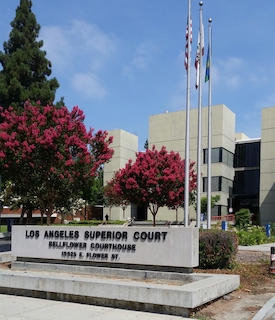 Bellflower Courthouse
Likewise, a defendant's admission or confession without independent evidence that a crime occurred cannot establish proof beyond a reasonable doubt. Rayyis v. Superior Court (2005) 133 Cal.App.4th 138, 147, 35 Cal.Rptr.3d 12.
This fundamental principal has been applied to the context of a preliminary hearing, too. Cases such as People v. Herrera (2006) 136 Cal.App.4th 1191, 1200, 39 Cal.Rptr.3d 578, has held that a defendant cannot be held to answer at the preliminary hearing based on only his or her statements. See also Rayyis, supra, at 145. This is an important principal many defense attorneys seem to overlook, as well as judges.
This rule is simple to follow when defendant is charged with just one crime. However, if defendant is charged with multiple offenses and there are multiple defendants, following this rule can become complicated fast. For example, the "corpus of the crime" cannot be established by an out-of-court statement by a co-defendant.
There are some exceptions to this rule, for example in a felony-based crime involving special circumstances as listed under Penal Code § 190.2(a)(17). In such a case with special circumstances, the corpus of the offense does not have to be proven independently of defendant's extrajudicial statement. Penal Code § 190.41.

In addition, at a preliminary hearing, a defendant can be held to answer based on the uncorroborated testimony of an accomplice.
People v. McRae
(1947) 31 Cal.2d 184, 187 P.2d 741. This exception has been extended to permit a holdover order even when a qualified police officer (under Prop 115) testifies about what a non-testifying co-defendant confessed to out of court incriminating the defendant, as long as the judge finds this reliable.
People v. Miranda
(2000) 23 Cal.4th 340, 96 Cal.Rptr.2d 758. In our experience with such an officer's testimony, we have never seen a judge find the police officer lacking in credibility, which is often frustrating.
For more information about types of evidence, please click on the following articles:
Contact us.