Improper Use of 1108 Evidence Vacates 105 Year Sentence
In many sex offense cases, the horrific nature of the facts often lead to unfair legal standards being applied. The family of the defendant may have abandoned their loved one, leaving no funding to appeal a mistake at the trial court level.
The Gist of this Article: 108-year sex offense sentence vacated after defendant shows the trial court erred in permitting the jury to use a preponderance of the evidence standard to other charges to consider whether defendant committed another specific charge.

The following case against Daniel Blea Cruz, Jr., seems to epitomize this situation. Cruz was arrested in Bakersfield for alleged lewd acts against three victims under age 14.
He was later charged with committing three counts of lewd acts against a child under age 14 (Penal Code § 288(a)) and ultimately sentenced to 105 years to life in state prison.
He appealed the judgment on multiple grounds. This article will only address one such ground. This was that the jury was given an erroneous instruction on the use of Evidence Code § 1108 evidence to show a propensity to commit sex offenses.
Evidence Code § 1108 allows courts to admit evidence of uncharged sexual offenses to show a propensity to commit sexual offenses.
People v. Fitch
(1997) 55 Cal. App. 4th 972, 177-78, 181-82. Over time, since 1995 when 1108 became effective, courts have held that 1108 also allows evidence of charged sexual offenses in the current prosecution to be considered by a jury to show a propensity to commit other charged offenses in the same case.
People v. Villatoro
(2012) 54 Cal. 4th 1152, 1160.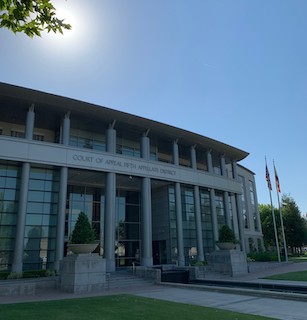 Court of Appeal Fifth Appellate District Fresno
The defendant in Villatoro fought this extension of 1108, arguing that this use of charged offenses to prove other charged offenses was unfair because the jury instruction as to considering charged offenses for propensity did not specify what standard of proof was required. The California Supreme Court disagreed, noting that CALCRIM No. 1191 (a standard jury instruction) said, "[t]he people must still prove each element of every charge beyond a reasonable doubt and prove it beyond a reasonable doubt before you consider one charge as proof of another charge."
Turning to the case of Mr. Cruz and the jury instructions in his case, the jury instructions stated, "If you find, a preponderance of the evidence, that defendant committed any such other sexual offense you may, but are not required to, infer that defendant has the disposition to commit the charged offenses."
The appellate court thus agreed with Cruz, based on
Villatoro
, that the jury instructions were defective, based on the burden of proof the trial court specified.
Moreover, the appellate court pointed out that "it would be an exaggeration to say the task required of the jury by the instruction" (in Cruz's case) was logically impossible. A robot or a computer program could be imagined capable of finding charged offenses true by a preponderance of the evidence and then finding this meant the defendant had a propensity to commit such offenses, while still saving for later a decision about whether, in light of all the facts, the same offenses have been proven beyond a reasonable doubt." We at Greg Hill & Associates agree. It is hard to compartmentalize such analysis.
The appellate court continued, noting that "a very fastidious lawyer or judge might even be able to do it. But it is not reasonable to expect it of lay jurors."
We at Greg Hill & Associates are not so ready to disregard the mental capacity of lay jurors, but we do agree that the jury instructions demand extreme mental discipline and the ability to distinguish between propensity to commit a crime and actually doing so, which often are conflated.
The appellate court thus reversed the sentence, which means the prosecution must now retry Cruz if it so chooses, most likely without the jury instruction that led to Cruz's successful appeal.

The citation for the Fifth Appellate District Court ruling discussed above is People v. Daniel Blea Cruz, Jr. (5th App. Dist., 2016) 2 Cal.App.5th 1178, 206 Cal. Rptr. 3d 835.

For more information about prior conduct to prove conduct in case at present, please click on the following articles:
Sex Crime- Defendant Has Right at Trial to Present Evidence of Alleged Victim's Prior False Sexual Assault Claims
Contact us.