What Is the Community Caretaker Exception to a Warrant?
Why This Article Matters: Amid an exigency, police may conduct a search without a warrant under the "Community Caretaker" exception to immediately enter a place or conduct a search to perhaps save a life or prevent serious imminent injury to another when time is of the essence.

On June 17, 2015, Willie Ovieda's sister called 911 and advised that her brother was threatening to kill himself and had attempted suicide before.

Santa Barbara Police Officer Mark Corbett responded to the 911 call. A second officer called Trevor Case, Ovieda's roommate, and Case confirmed that Ovieda had tried to grab several firearms in his bedroom. Case and his wife had to physically restrain Ovieda from using a handgun and a rifle to kill himself. Case then removed a handgun, two rifles and ammunition and left the house, but told the officer he did not know if Ovieda had additional weapons in the house.
Once the officer arrived at the home, he asked Ovieda to come outside. Ovieda then did so and was detained. He denied making suicidal threats.

Officer Corbett then went into the home, believing it was necessary because it was unknown how many more weapons were in the house, whether they were secure and whether anyone else in the house needed help. He believed he was "duty bound" to make a safety sweep. Another officer present agreed that a safety sweep was necessary to ensure there was no one else in the house and no one was injured and that there were no weapons left in the open.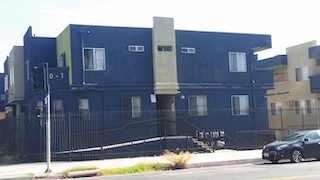 Apartment Building
Once inside, the officers saw in plain view a rifle case, ammunition, magazines and equipment to cultivate and produce concentrated cannabis. They searched further and found three rifles as well as four high-capacity magazines, a firearm silencer, and an assault style weapon (a .50 caliber rifle).
Ovieda was then charged with manufacturing concentrated cannabis (Health & Safety Code § 11379.6(a)) and possession of an assault weapon (Penal Code § 30605(a)). He moved to suppress the evidence found without a warrant. The trial court judge in Santa Barbara County denied the motion and Ovieda was then convicted. The judge sentenced him to 180 days in county jail and outpatient mental health treatment.
Ovieda then appealed the trial court's ruling on the motion to suppress to the California Court of Appeal, Second Appellate District, which affirmed the trial court (People v. Ovieda (2018 DJDAR 600)).
The appellate court agreed that the protective sweep was authorized under the "community caretaker" exception to the Fourth Amendment warrant requirement. It explained that this was first articulated in People v. Roberts (1956) 47 Cal.2d 374, 379-380; see also People v. Ray (1999) 21 Cal.4th 464, 471. The court explained that officers are expected to "aid individuals who are in danger of physical harm," "assist those who cannot care for themselves," "resolve conflict" and "provide other services on an emergency basis."
The appellate court acknowledged that the search was totally unrelated to the criminal investigation of Ovieda. However, "when it comes to choosing between the Fourth Amendment protection against warrantless searches and the preservation of life, the preservation of life controls."
We think this opinion goes far too far and essentially affords police carte blanche to ignore the Fourth Amendment under the justification that lives may be endangered. Justice Perren dissented to the majority, stating that the core of the Fourth Amendment was to draw a firm line against government entrance into one's home. Kyllo v. United States (2001) 53 U.S. 27, 31, 40; Welsh v. Wisconsin (1984) 466 U.S. 740, 748.

In Ovieda's case, Perren points out, the entry was based upon mere speculation by the officers of what could be inside. There was nothing to suggest anyone else was inside. Indeed, everyone reported to be in the house was outside and completely under the officers' control. There were no objective facts to believe there was any danger inside.

The citation for the Second Appellate District Court ruling discussed above is People v. Willie Ovieda (2d App. Dist., 2018) 19 Cal.App.5th 614 (later reversed at People v. Willie Ovieda (2019) 7 Cal.5th 1034.

For more information about exigent circumstances and other exceptions to the warrant requirement, please click on the following articles:
Contact us.