What is Soliciting or Engaging in Lewd Acts in Public?
The stereotype associated with a violation of Penal Code § 647(a), soliciting or engaging in lewd acts in public, is not pretty. It is most commonly associated with gay men who meet each other in public restrooms for sex, often in public parks. There is often a charge of indecent exposure or sexual battery also charged.
About This Article Briefly: A violation of Penal Code § 647(a), soliciting or engaging in lewd conduct in public, is a misdemeanor and one does not have to register as a sex offender under Penal Code § 290 if convicted of this offense. The crime carries with a heavy stigma of shame. Police sting operations usually lead to the arrest.

A violation of Penal Code § 647(a) is a misdemeanor and does not require that one register for life as a sex offender (this lifetime obligation is subject to modification under Senate Bill 384, which will become effective January 1, 2022). However, a conviction for violation of 647(a) carries with it a maximum sentence of six months in county jail and / or a fine of up to $1,000, plus penalties and assessments (which can boost the total owed to close to $4,500).
Summary or informal probation is common, especially for a first-time offender with no criminal history at all. The terms of probation commonly include an AIDS Education and Testing obligation, sexual addiction counseling, a stay-away order from the location of the arrest or incident, as well as a court fine and a small amount of community service or even Cal-Trans.
"Lewd conduct" is commonly considered touching one's "private parts," to include genitals, anus, buttocks or, in the case of females, the female breast for purposes of sexual gratification of oneself or another, or to annoy or offend another person. To commit this crime, one must know or reasonably should have known that there was another person present who would have been offended by such conduct.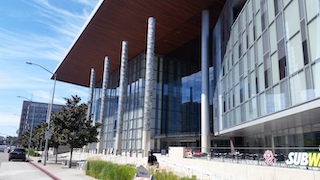 Long Beach Courthouse
Sexual conduct, it should be noted, is not per se illegal in public (i.e. kissing, hugging), but when it is done in a way to offend or annoy another, then it becomes a crime.
A great deal of lewd conduct cases involve police decoys posing as gay men in public restrooms, adult bookstores and public parks. The client may tell us he felt entrapped or baited into the conduct, which often includes masturbation, exposing one's genitals, and proposals for oral copulation or sodomy.
In the Torrance Courthouse, several years ago, the Manhattan Beach Police Department, in response to many complaints, set up a sting operation at a public restroom along the Strand and arrested over 20 men. The Daily Breeze famously then published each of their mug shots in their paper after the arrest. A few of the men were found not guilty and others had their cases dismissed, but the damage to their reputation was permanent.
In the Long Beach Courthouse, over a decade ago, the Los Angeles Police Department set up a sting operation in Machado Park over in Harbor City and arrested dozens of men.
The defenses to this stigmatizing charge boil down to refuting or contesting the facts of the case. Police often exaggerate the conduct in the police reports, it seems. One may argue that he or she did not masturbate as alleged, or touch one's private parts as claimed in the police report. The client may also believe that no one else was present who would be offended or annoyed (a consensual encounter argument).
Perhaps the strongest argument in defense is that one was not in a public place or a place open to public view. Therefore, defendant did not know or reasonable could not have known and should not have known or expected another person to be offended by such conduct. It should be noted that a private movie booth at an adult bookstore is considered a public place, as is a car parked on a public street and a massage parlor.
The weakest argument is that the client was entrapped or coerced, but this may be validated through a
Pitchess
Motion that asks for the production of the arresting officer's personnel records to show a history of false police reports or any other conduct which the client believes was repeated in this case.
A good defense attorney will want to try to get copies of any security camera video, for example, that may exist in an adult bookstore, near a public restroom outside, or in any public park. A good private investigator may also be an invaluable team member to interview witnesses to refute the police report.
When negotiating such a case to a resolution, we seek for dismissal, but when this is not possible, it is often good to try to resolve the case as trespassing or disturbing the peace.

For more information about lewd acts, please click on the following articles: