What Is Required and Involved in a 977(b) Appearance?
It is not uncommon for our office to receive phone calls from people far away, often outside California or even outside the United States, with a pending bench warrant for a felony charge. The caller often asks if we can appear for him or her to recall the warrant "and make the case go away."
Our answer is usually that if his case were a misdemeanor and not a domestic violence case, a violation of a protective order or a DUI, this would be no problem.
Brief Synopsis: Under certain conditions, an attorney can appear on the client's behalf in a felony case without the client present. This is provided for at Penal Code § 977(b). We have done so successfully to even recall a felony bench warrant, but caution that most often, the judge denies our request to do so.

As the reader of this article may be aware, a misdemeanor defendant generally does not need to be personally present in court if counsel appears on his or her behalf, as allowed by Penal Code § 977(a)(1). There are two exceptions. The first is if the accused is charged with the offenses listed in 977(a)(2) (misdemeanor domestic violence under Family Code § 6211 (and Penal Code § 273.5) and violations of specific protective orders under Penal Code § 273.6). The second is if the accused is charged with misdemeanor driving under the influence as provided under 977(a)(3), the judge can order defendant to be present at the arraignment, at the plea or at sentencing.

We then tell the caller that because his case is a felony, he really must show up in person in court to appear before the judge.
However, we then explain that if our client had entered into an oral or written waiver of his right to be present in court in the felony case, we could appear on that waiver for him or her. This is provided for under Penal Code § 977(b).

The conversation then naturally progresses to whether a judge would accept a written waiver not signed in court. What if the caller signs such a waiver in the location he or she is, i.e. in Arkansas or France, and has it notarized? What if he or she then photocopies his or her driver's license or passport, or both, to show the judge that he or she truly is the person executing the waiver? After all, it may be quite expensive for the caller to travel to the United States or even to California, but the pending bench warrant is preventing him or her from being employed.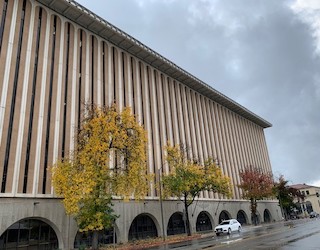 Pasadena Courthouse
We again tell the caller that the judge is legally not supposed to accept such a waiver, but we can try. We tell the caller that such an attempt is a long shot, but it may bring the prosecutor and judge to accepting a restitution payment, for example, that may result in the case being dismissed and the warrant quashed. Such a payment to the court may also allow the prosecutor to amend the complaint to allege a misdemeanor instead of a felony and then, a 977(a) appearance would be acceptable.
Indeed, a judge in a felony case can grant a defendant the right to appear through counsel at certain "nonfundamental" proceedings under Penal Code § 977(b), except for entry of a plea. See Mills v. Superior Court (1973) 10 Cal.3d 288, 304. However, the waiver of this right to be present much be executed by defendant orally or in writing in court.
What are fundamental proceedings? Pronouncement of judgement is certain one such proceeding. Defendant also has a statutory right under Penal Code § 977(b) and 1193, as well as a constitutional right under the California Constitution at Article 1, § 15, to be present at pronouncement of judgment. However, under 1193(a), defendant can in open court and on the record, or in a notarized writing, request that judgement be pronounced in his or her absence and that he or she be represented by an attorney when judgment is pronounced and the court has approved defendant's absence.

Defendant also has a state and federal constitutional right to be present at trial under the Sixth and Fourteenth Amendments to the U.S. Constitution and Article 1, section 15 of the California Constitution. The right to be present at one's preliminary hearing is also a fundamental right.
If no testimony is going to be provided by defendant, the defendant can make an oral waiver of his right to be personally present in court prior to the proceeding or sign a written request to waive his or her right to be present at certain "nonfundamental" proceedings and instead appear instead through counsel under 977(b)(2) and 977(c)(2).
In short, if one faces a felony bench warrant and has never appeared in court, it is unlikely that a judge will honor a 977(b) waiver executed and even notarized outside court, but presenting this to the judge and prosecutor can demonstrate an earnest desire to resolve the case, something that can catalyze an offer by the prosecutor to accept restitution or community service or proof of taking a class and then, amending the complaint to a misdemeanor to permit defendant's appearance through counsel.
For more information about bench warrants, please click on the following articles:
Contact us.