When Can the Police Serve a Bench Warrant That Is for Me?
A bench warrant may be served in any county in the same manner as an arrest warrant. Penal Code §§ 983 and 1198. This surprises most people because an arrest warrant is usually seen as having a great deal more priority and a sense of public safety danger associated with it.
Brief Synopsis: A bench warrant or an arrest warrant arising out of misdemeanor may not be served after 10:00 p.m. or before 6:00 a.m., but a felony warrant can be served at any time. Such warrants must be served within a reasonable time after being issued, which generally means within a few weeks, however, since warrants never expire, service may be effected even years later.

When, then, may an arrest warrant and a bench warrant be served? Generally speaking, both must be served within a reasonable time after its issuance. Otherwise, defendant may ask the judge for dismissal of the case on grounds that he or she has been deprived of the right to a speedy trial.
People v. Mitchell
(1972) 8 Cal.3d 164, 104 Cal.Rptr. 348 (dismissal for unjustified, prejudicial 13-month delay in service).
An arrest or bench warrant charging the commission of a felony may be served at any time. Penal Code § 840. However, a warrant charging defendant with the commission or arising out of a misdemeanor or an infraction may not be served between 10:00 p.m. and 6:00 a.m. (
People v. Cressey
(1970) 2 Cal.3d 836, 847, 87 Cal.Rptr. 699), unless one of the many exceptions listed under § 840 apply.
More on Warrants: A federal search warrant must be executed within fourteen days from its being issued by a judicial officer, and only between the hours of 6 a.m. and 10 p.m., unless the judicial officer "for good cause expressly authorizes execution at another time" (Federal Rule of Criminal Procedure 41(e)(2)(A)(ii)).

The exceptions are rather intuitive. Service of the warrant, followed by an arrest, can be made if defendant is in a public place or already in custody on another charge or serving a sentence. For example, in
People v. Whitted
(1976) 60 Cal.App.3d 569, 131 Cal.Rptr. 639, a nighttime arrest of a defendant was valid under the "public place" exception.
Also, "when good cause is shown," the warrant can be served at any time, day or night. This exception, obviously, is subject to abuse by police. For example, in
Paddleford v. Biscay
(ND Cal. 1969) 307 F. Supp. 343, a "blanket authorization" by a magistrate issuing a warrant was held invalid because it failed to reflect any exercise of discretion based on the facts of the particular case. Likewise, in
People v. Dinneen
(1974) 45 Cal.App.3d Supp. 5, 119 Cal.Rptr. 186, a nighttime arrest of defendant was ruled improper when the only "good cause" reason given for the warrant allowing this was "for the convenience of the marshals."
LAPD Door Emblem
The arrest can also always be made without a warrant under Penal Code §§ 836 (an arrest may be made by a police officer at any time based on probable cause, usually by the officer witnessing the crime take place) or 837 (a citizen's arrest based on the crime being committed in the citizen's presence or when the defendant commits a felony, even not in the citizen's presence).
If service of the warrant is improper, and an arrest follows, the case is not dismissed based on the unlawful arrest. However, if the unlawful arrest results in a Fourth Amendment violation with an unlawful search and seizure of evidence, as is not uncommon, then the evidence seized as a result of the illegal service of the warrant may be suppressed.
In re Larry C
. (1982) 134 Cal.App.3d 62, 67, 184 Cal.Rptr. 505.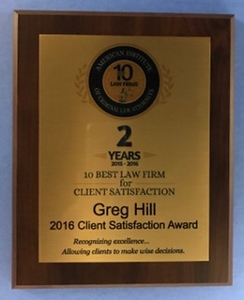 Once one is aware that there is a bench warrant for himself or herself, it is a good idea to find out how much the bail is associated with the warrant and then contact a bail bondsman. The next thing to do is retain an experienced criminal defense attorney who regularly appears in the courthouse at issue to go with defendant to the courthouse to recall the warrant voluntarily, rather than wait for the police to serve the warrant as described above.
For more information about bail in general, please click on the following articles:
Contact us.