What Is Pimping and Pandering? Punishment? Defenses?
Pimping and pandering are often used interchangeably, even by prosecutors and judges. However, the two terms constitute distinguishable offenses. Pimping is more associated with receiving money, whereas pandering is more associated with convincing someone, persuading someone or directing someone to become or continue to be a prostitute. Receipt of money is not an element of pandering.
Pimping is defined at California Penal Code § 261(h), whereas pandering is defined at Penal Code § 266(i). Both are felonies with heavy punishment, although formal probation may be available, especially in a first-time case.

Why This Article Matters: Pimping and pandering are different, distinguishable crimes. Pimping is more focused on receiving money from prostitution, while pandering is more related to convincing someone to continue being a prostitute or to become a prostitute. It is good to remember while these are heavy felonies, there is a misdemeanor variant (PC § 653.23) one should not overlook.

It is good to keep in mind, however, that there are misdemeanor variants of pimping and pandering, at Penal Code § 653.23 (discussed below).
To be found guilty of felony pimping, a jury must find beyond a reasonable doubt that that you received financial support from someone you understood was engaged in prostitution, or you received or tried to receive compensation for finding customers, like a middleman or agent, for a prostitute. Typically, a pimp receives a portion of the prostitute's payment from a "john," or customer of the prostitute.
Sometimes, the pimp had nothing to do with supplying the john to the prostitute, but still collects money from the prostitute for "protection."
The statutory punishment for felony pimping is three years minimum in state prison, four years mid-term and six years maximum as long as the prostitute at issue is sixteen years old or older. There also can be court fines of up to $10,000. If the prostitute is under sixteen years old, the minimum punishment is three years, the mid-term punishment is six years and the maximum is eight years. Sentencing enhancements can apply to make the sentence even longer, i.e. if the use of a firearm was involved.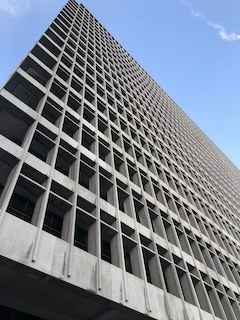 CCB Courthouse
If any prostitute is under 18, a person guilty of felony pimping will be required to register under Penal Code § 290 as a sex offender, Tier 3, which will become relevant as of January 1, 2022.
Pandering is different from pimping. Pimping is generally associated with receiving money from a prostitute or for a prostitute, but pandering (also a felony) is associated more with encouraging or persuading a person to become a prostitute or continue to be a prostitute. The encouragement or persuasion is often through promises, threats, intimidation, violence or other forceful and/or fraudulent methods ("this is a movie audition"). Pandering can also include providing recruiting a person to go work at a hotel known for having prostitutes available or transportation of a prostitute to a customer.
Pandering also includes finding a person a job in a house of prostitution (yes, these still exist, but are more discreet nowadays). It may also include helping someone come into California, often from out of the county, to work here as a prostitute. When this happens, the federal government may be interested in prosecution as well.
The punishment for pandering is the same as for pimping.
In 1989, California enacted misdemeanor pimping and pandering laws. The conduct that falls into the misdemeanor variant of felony pimping and pandering is described at Penal Code § 653.23, labeled "supervising or aiding a prostitute." It includes regularly communicating with a known prostitute, monitoring the person engaged in prostitution (a "Lookout" for the higher-level pimp), driving the prostitute to an area to find "johns," trying to direct others to the prostitute for services and receiving very small amounts of money from prostitutes for his or her work in helping the prostitute find business.
The penalties for violating Penal Code § 653.23 include up to six months in county jail and/or a fine of up to $1,000, plus penalties and assessments. Informal probation may be available for this crime.
The important thing that the reader should understand from this article is that pimping and pandering are straight felonies. They are not wobblers. To resolve a pimping or pandering case as a misdemeanor, one cannot do so through a Penal Code § 17(b) motion. Instead, one must persuade the prosecutor to amend the complaint to allege a 653.23 count, which may be a difficult thing to do, especially if the facts are bad or the client has a significant criminal history.
For more information about the issues raised in this article, please click on the following articles:
Contact us.