What Is Penal Code § 1203.43? Who Does It Benefit?
For many years, prosecutors, public defenders, judges and even private criminal defense attorneys believed that if a non-U.S. citizen entered into a delayed entry of judgment (DEJ) disposition and avoided a criminal conviction, that person would avoid any adverse immigration consequences.
Thousands of non-citizens facing drug charges, for example, entered into PC 1000 programs in reliance upon this advice. The non-citizen would then attend some drug treatment classes and maybe perform some community service. The case would then be dismissed a while later (18 months to 36 months) and most likely, was.
However, such advice by public defenders, judges, prosecutors and private attorneys was wrong.

Brief Synopsis: Penal Code § 1203.43 provides that anyone, not just non-citizens, who entered a no contest or guilty plea in order to participate in a drug diversion program (in mistaken reliance on counsel that such a plea would not have immigration consequences because no conviction is entered) may withdraw the plea and have the arrest record and court filed then sealed and destroyed.

Federal Immigration and Naturalization Act, at § 101(a)(48)(A), states that such a disposition as described above will be considered a conviction when there is a guilty plea, finding of guilt, or admission of sufficient facts to make a finding of guilt, and some form of punishment is imposed. Punishment for purposes of this definition includes any "restraint on liberty," which can be as minimal as attending classes, performing community service or paying fines.

Consequently, many people who avoided a conviction under a DEJ program continue to have a conviction under immigration law. After all, they had to enter a plea of guilty or no contest to the charge to be eligible for the program, but this, in turns out, had consequences at INA § 101(a)(48)(A). This can lead to deportation proceedings or denial of immigration benefits.
As this "dirty little secret" of bad advice became more and more recognized, Assembly Bill 1352 was proposed and passed into law at Penal Code § 1203.43, effective January 1, 2016. It provides that a person who did enter into a DEJ program on or after January 1, 1997, such that there was a dismissal under Penal Code § 1000.3 (i.e. in a PC 1000 drug treatment program), can withdraw the plea, have the plea vacated and have the case dismissed (a second time), presumably for immigration purposes.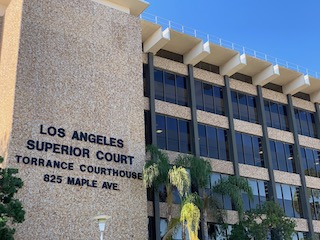 Torrance Courthouse
The underlying reason allowing this is a presumption that the person entered into such a program based on "misinformation," or in other words, bad legal advice and otherwise would not have done so had the person been given correct advice. This is a really big, good thing for thousands of non-citizens. It is a mulligan of tremendous consequence because many face deportation over what is considered by immigration officials as a felony, i.e. a pre-Prop 47 possession of cocaine or heroin or, a transportation conviction.
For purposes of applying Penal Code § 1203.43, the court has jurisdiction over the case even though it was dismissed earlier under Penal Code § 1000.3.
Section 1203.43 has the practical effect of being superior to a Penal Code § 17(b) motion, or, if the conviction is eligible (and the person is not otherwise disqualified) under Prop 47 or Prop 64, a petition to reclassify a felony as a misdemeanor. Such convictions may include those under Health & Safety Code §§ 11350, 11357, 11364, 11365, 11377 and 11550. Section 1203.43 removes the plea entirely and dismisses the case, like an expungement, but only for such cases where improper legal advice was presumably given and adverse immigration consequences resulted or could result. An expungement, however, can have nonetheless be scrutinized in immigration court. Section 1203.43 even removes that possibility by allowing withdrawal of he plea and vacating the conviction.
There is nothing in 1203.43, however, that restricts its reach to non-citizens or folks who accepted DEJ because they simply wanted to avoid a conviction for other reasons. So U.S. citizens can also avail themselves of 1203.43 and have a prior felony drug possession, transportation or sales charge removed from their record, which can have a profound benefit on their employment, professional licensing, applications to rent property and volunteer activities. In other words, while Assembly Bill 1352 was passed into law with the intent to remove certain immigration obstacles, the law, codified at Penal Code § 1203.43, really can be used by anyone who entered into PC 1000, even those who are U.S. citizens.
For more information about expungement, please click on the following articles:
Contact us.